Munk Pack and Flapjacked Bulk Up Portfolios With Protein Cookies
Two better-for-you snack brands are pumping up their portfolios with protein-packed cookies. Munk Pack and Flapjacked both announced plans to debut lines of protein-fortified cookies at the Natural Products Expo West show, being held in Anaheim, California.
The fruit-and-grain pouch leader, Munk Pack, is making its first foray into protein with a shelf stable prepackaged cookie. Meanwhile, Flapjacked, which has always focused on protein within its range of pancake and muffin lines, is positioning its cookie in the baking mix space.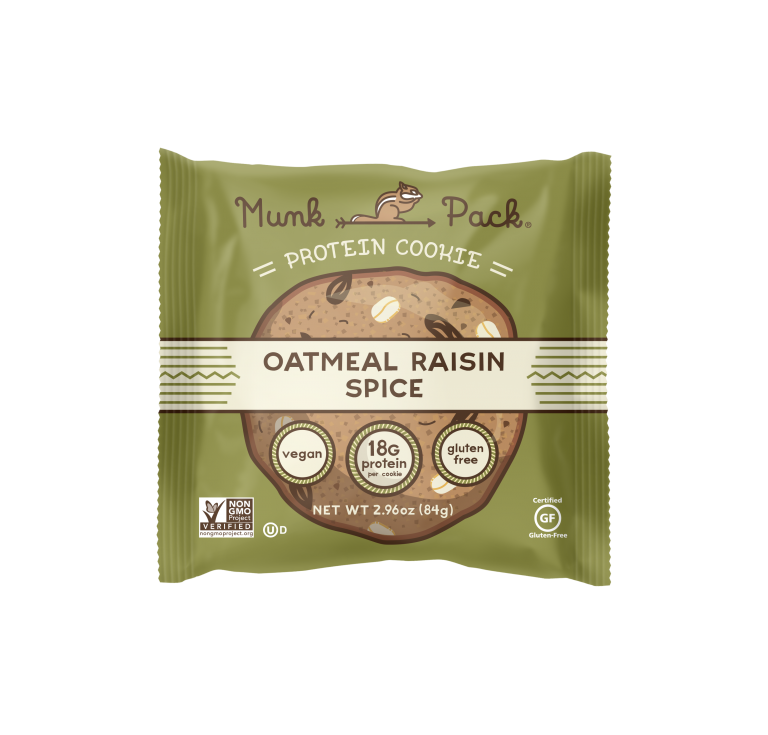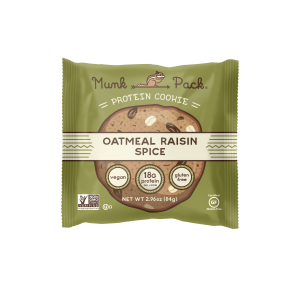 Munk Pack's cookies, which are gluten-free and vegan, and retail for $2.49 per cookie, were approved nationwide with UNFI. Munk Pack's pouches are currently sold in approximately 3,000 stores, including Publix, Whole Foods, and Wegmans.
Co-founder Michelle Glienke told NOSH the company decided to launch the new cookies as a second product line not only because consumers were demanding a higher calorie, higher protein option, but also because it fit with the brand's message of healthy, nature-based eating on-the-go.
"When you think of a chip munk, it only eats healthy foods from nature so we are expanding that message across the brand is really important to us," she said.
Glienke said the jump into a new category does not mean she is worried about pouch sales, which, according to the company, are continuing to see growth. Instead, she said, Munk Pack is looking to plant its stake in the protein world, adding that it has always been the company's goal to cultivate beyond the pouch category.
"We are continuing to expand our offerings in both our oatmeal options and also pursuing other potential snacks outside of a pouch," Glienke said. "But we are really excited to branch out because we think the Munk Pack brand is something that transcends packaging format or product line."
Though innovation will not be ruled out for future protein pouch product lines, Glienke said it's also "not something the company is necessarily focused on or speaking to currently."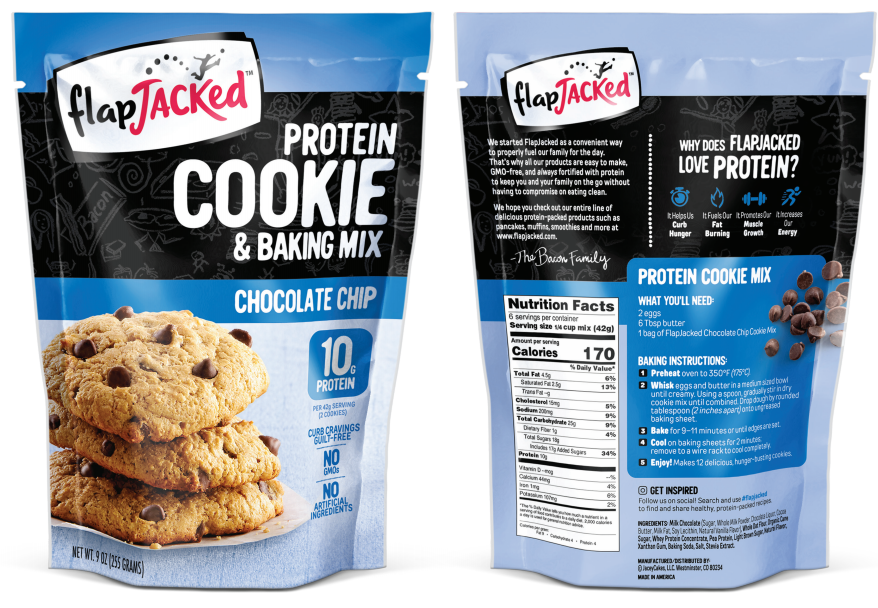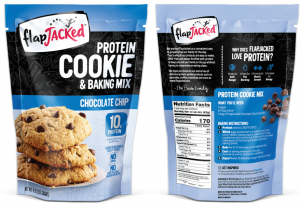 Flapjacked, meanwhile, is no stranger to the protein space. The Colorado-based protein pancake, muffin and baking mix-brand caters to athletes and fitness-oriented families looking for better-for-you indulgences they can incorporate into their meal prep routine. Co-founder Jennifer Bacon told NOSH that she and her husband thought this made its venture to pea protein cookies mix seem like an organic next step for its portfolio offerings.
"I think it is really hard to find Lenny and Larry's and all those kinds of cookies being put into meal prep," she said. "They are more of a last minute, grab-and-go snack, rather than something thought out for your day. I [would] much rather have a moist cookie that tastes fresh than have something that is prepackaged."
The mix retails for $6.99 and is being sold on the company's website as well as Amazon beginning this week. Flapjacked products are currently sold in 12,000 stores, but the company said it is still working to sign on the new mix with its retailers. However, when the product does hit shelves, Bacon said she is hoping it will not be in the natural section.
"We feel that this can compete heavy into conventional cookie baking," Bacon said. "More people need to understand that there are better options out there. They may not typically walk down a natural aisle, but I think we have a really good chance at surviving against some of the bigger hitters out there."
Flapjacked's cookies aren't the company's only recent innovation hitting store shelves. The company also announced last month it launched a Protein Smoothie Mix, declaring its product the first high-protein smoothie mix to use a shelf-stable Greek Yogurt base.
The protein cookie category has been relatively open within grocery up until this point. Brands like Lenny and Larry's have seen little competition despite the rise of protein-boosted products in recent years. But there is a definite demand for healthier, more functional baked goods.
Google trends shows that search traffic for "protein cookies" has been on the rise since 2012, peaking last month.
"We see this as a trend that is currently not being catered to" Bacon said. "You go down the cookie aisle and it's laden with sugar and fat. There needs to be more options."