Industry Responds to New Peanut Allergy Advice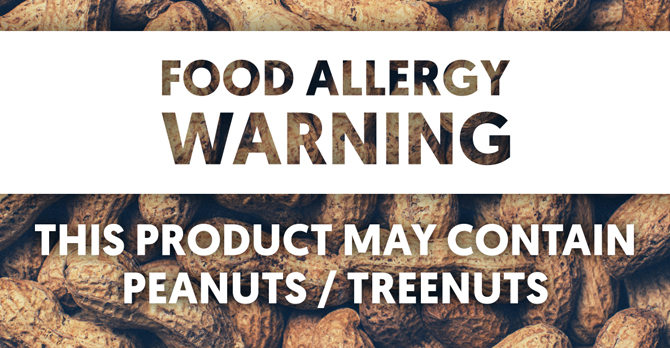 While children fear monsters under their beds, parents of children with allergies fear a different kind of demon: peanuts.
More than three million people in the U.S. are allergic to peanuts, which are one of the most common food allergies and one of the most deadly. According to the Food and Drug Administration (FDA), peanut allergy is the leading cause of death related to food-induced anaphylaxis in the U.S. But, according to two recent studies, peanut allergies may be avoidable with the controlled, early introduction of peanuts to babies. The FDA has taken note and its change in stance is sending waves throughout the food industry.
In response to one of these studies, which was conducted in 2015, FDA Commissioner Scott Gottlieb issued a guideline earlier this month that officially links early peanut introduction with the prevention of peanut allergies in high-risk children, particularly those with a family history of food allergies or children with diseases such as eczema or asthma. This is the first time the FDA has recognized a qualified health claim to prevent a food allergy.
"Our goal is to make sure parents are abreast of the latest science and can make informed decisions about how they choose to approach these challenging issues," Gottlieb wrote in a press release. "We know that there's more to learn about food allergies. The more we learn, the better we can consider how best to introduce allergenic foods, as well as prevent and treat food allergies."
In the guideline, the FDA does note that its recommendation is based on a single study, and that parents should check with their infant's healthcare provider before introducing foods containing ground peanuts.
Unsurprisingly, the National Peanut Board is pleased with Gottlieb's guidelines. "Having convenient, infant-safe foods available is a positive step toward making early introduction of peanut foods easier for parents and infants," the board said in a statement to NOSH.
However, baby food and toddler snack companies that spoke with NOSH during Natural Products Expo East 2017 in Baltimore, Md., had mixed feelings about the guideline. They spoke with NOSH about their reactions and how — if at all — this federal declaration may shape their company's future growth strategies.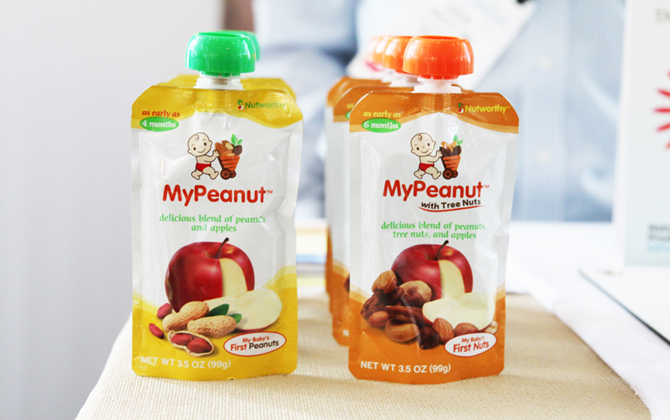 Peanut-inclusive brands like Hello Peanut and MyPeanut were pleased with the recognition of research around the early introduction of peanuts. Hello Peanut's parent company, Assured Bites, originally filed the petition to the FDA for a qualified health claim linking early peanut introduction and the prevention of peanut allergy, which ultimately resulted in Gottlieb's statement.
Hello Peanut founder Dr. David Erstein told NOSH that he's thankful his team's work "has finally paid off."
"This will clearly be a confidence booster for parents to know the FDA recognizes how much early peanut introduction helps to reduce the chance of allergy development," he added.
Hello Peanut sells introduction kits that include seven labeled packets of sprouted oats and varying amounts of peanut powder to increase a baby's exposure to peanuts throughout one week in a controlled manner. With the guideline, Erstein said he has the confidence to expand his line with new products in 2018.
MyPeanut founder Dr. David Scott, who markets his peanut-introduction baby food more traditionally as a meal rather than a testing kit, told NOSH that while he thinks it's a step in the right direction, he finds the guideline "a little nuanced."
"I was surprised the FDA limited it to higher risk children. They were very specific that it's children with eczema or those who have a higher risk of food allergy that could see risk reduction with the early introduction of peanut," Scott said. "As a doctor, my interpretation of the literature — and the interpretation by every doctor that I've ever talked to who knows the literature — is that this is something that could be applied to on a population basis. So I think the guideline was a little weaker than it could have been."
The federal recognition may bring about labeling changes. Brands will still be required to include on packaging if their product contains a "big eight" allergen, such as peanuts; however, the new guideline also will allow peanut-containing brands to proclaim that their products may reduce the risk of allergies. Scott added that he will be filing questions with the FDA to better understand the claims he will be allowed to include on his pouches in the future. Currently, the brand makes no health claims on its packaging or website, instead promoting the results of outside peanut research, like the 2015 study.
"I can't help but think of that scene in the Princess Bride where he's been eating a little bit of poison for however many years and now he's not susceptible to the poison. Peanuts are a little similar to that in some ways." Serenity Kids CEO and cofounder Serenity Heegel
Peanut-free baby food and snack brands also have taken note of the guideline but are still determining a course of action. Andy Dahlen, VP of Marketing at natural baby food brand Beech-Nut, said the company plans to continue its focus on providing real food for babies by incorporating and following the latest science recommendations, but that the brand has no active plans to incorporate peanuts into its future innovations.
"Peanuts are a great tasting, great source of protein, so they are a wonderful ingredient for product development," Dahlen told NOSH. "However, the recommendation to introduce peanuts at the same time as solid foods is challenging, as currently, peanuts are more often used in toddler snacks."
Regardless of the guidelines, many brands plan to stay the course with their own lines. Jane Pinto, founder of allergen-free snack and granola bar line Don't Go Nuts, told NOSH that while she was pleased with the potential implications of the research and guidelines, her company would continue to focus on the millions of children and adults who do have allergies and need safe options. "Tummy-friendly" and allergen-free baby food maker Nurturme expressed similar sentiments.
Serenity Kids CEO and cofounder Serenity Heegel told NOSH that while she thinks brands like MyPeanut are "extremely innovative," and that the science makes sense, her goal is to let parents "make their own choices" by only using meat and veggies in her puree products.
"I can't help but think of that scene in the Princess Bride where he's been eating a little bit of poison for however many years and now he's not susceptible to the poison. Peanuts are a little similar to that in some ways. Do I want to give my kids tiny little bits so that they're not allergic later? Maybe. But I think it's risky," Heegel said. "We want to let [parents] have the widest range of options and not limit them by the ingredients in our products."
The hesitancy from both new and legacy brands in the baby and toddler space is reflective of the overall fear felt by parents when feeding their children. It's an uphill battle that Scott said he expects to face in the years to come. He's confident, however, that this fear will eventually wane as the science behind allergens continues to progress and reaffirm these studies' findings.
"The scientific community totally got this wrong for the last 15 years and, as a result of it, millions of children have peanut allergies that they are now going to have for the rest of their lives," Scott said. "There is a peanut allergy epidemic."
Beyond educating parents, Scott said MyPeanut also struggles with convincing retailers, who claim they worry about the liability in stocking these kind of products. Currently, Hello Peanut only sells products on its website and Amazon while MyPeanut is sold online and in physicians' offices.
MyPeanut hopes the latter distribution strategy will help the company build trust by aligning with experts in childhood allergies. Because their product contains two grams of peanut protein — the recommended amount from the 2015 study, and reduces the risk of peanut-to-skin contact by being packaged in a pouch, it makes MyPeanut an easy food for the medical community to use in food tests.
Scott said he plans to continue his marketing efforts through the medical community because he sees that as "where the trust connection is" for parents. He added that the brand will continue to target specialty stores and natural grocers with highly educated consumers to get his product on shelves, but that he's realistic in that those distribution points may be years down the road.
"As we look toward the next year or two, I think this will continue to be a slow transition in people's minds and the psyches of the country as physicians adapt the new regulations and policies," he said. "Our role is to support this transformation in thinking and really take the long approach. We're not looking to be a huge business in the next six months, we are looking to be the trusted source for getting kids an easy convenient way to get peanut, and just be there as the science unfolds."