Industry Buzzes About Declining Pollinator Population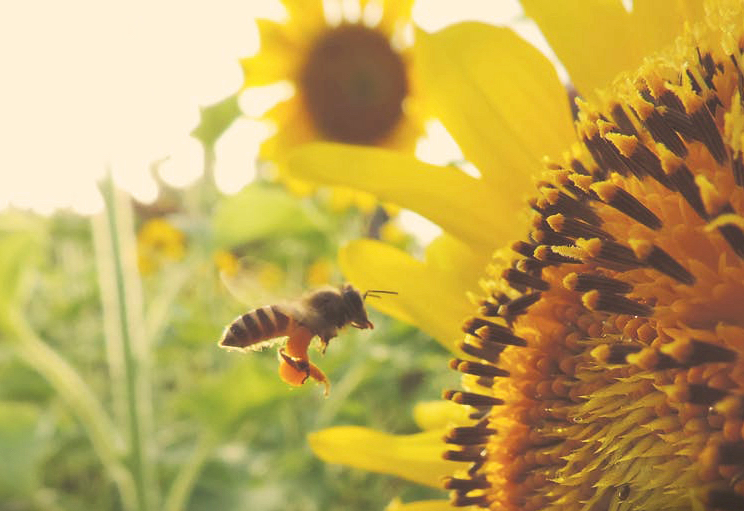 Brands and consumers are sweet on the mission of protecting the world's declining pollinator population, which has fallen dramatically in recent years. Over the past two weeks, numerous brands, like General Mills, Justin's, and Burt's Bees have shared the buzz and set up campaigns about this environmental issue.
While many brands have altruistic motives, pollinator loss can also have implications on company's bottom lines. Many notable ingredients such as almonds, cherries and apples depend on pollinators and more than two thirds of the crops used to feed people, accounting for 90 percent of the world's nutrition, are pollinated by bees. Without them, one out of every three bites of food could disappear, according to the USDA Farm Service Agency.
Consumer awareness can only help the cause. While a BeeAction.org survey last year found that many Americans are concerned about neonicotinoids, an insecticide that causes paralysis and death in sap feeding insects, not all consumers know the bees are in danger. According to a report from the University of Florida, pollinator-related promotions with neonicotinoid-free claims didn't inspire purchases due to consumers' lack of knowledge about both the insecticide and its effect on bees. Here's a look at recent promotions, as well as how and why some brands are aligning themselves with this buzzworthy mission.
General Mills
As part of its goal to to plant 200 million wildflowers, General Mills last week offered consumers across North America free seed packets. The initiative gained attention more quickly than the CPG-giant ever expected; In one week, the campaign not only reached its goal, but surpassed it sevenfold as 1.5 billion consumers requested seed packets.
General Mills is one of the largest supporter of pollinators within the food industry. The company aligned itself with this mission starting in 2011 and since then, the company has donated $4 million to the USDA's Natural Resources Conservation Service, along with millions of dollars to plant thousands of acres of pollinator habitat in North America through its numerous brands: Honey Nut Cheerios, Annie's, Cascadian Farm, Larabar, Muir Glen and Nature Valley.
Honey Nut Cheerios has been the "Queen Bee" in this charge. The cereal brand announced last spring that by the end of 2020, farms that grow their oats will house approximately 3,300 total acres of dedicated pollinator habitat on 60,000 acres of land. The cereal also recently released limited edition boxes featuring a silhouette of a missing BuzzBee, its brand mascot, to highlight the impact the loss of bees would have on the food supply system.
Justin's
After Justin Gold, founder of Justin's nut butter brand, took a deeper look into his product's supply chain, he declared a newfound focus for the brand's mission: protecting the world's pollinators. During a panel at Natural Expo West in Anaheim, Calif., Gold noted that pollinators are integral to the success of his company.
"For [entrepreneurs], it's always about survival," Gold said. "Our mission statement at first was more so just to see the next day and we were so entrenched in that, but, now that we started to take off, we decided to dive down deeper into our supply chain … and we found that almond trees are primarily pollinated through insects."
The new corporate social responsibility campaign focuses on creating awareness and educating consumers on pollinator decline. To help raise awareness, Justin's is partnering with key players like The Xerces Society, a nonprofit that aims to protect bees and pollinators, as well as the People and Pollinators Action Network and Growing Gardens.
Burt's Bees
Burt's Bees wants you to take a selfie for the bees. The beauty product maker, which recently entered the food world with its new plant-based, honey-sweetened protein powder, has promised to plant 5,000 wildflower seeds for every "Selfless Selfie" consumers submit to its website, or for every purchase of a #BringBackTheBees lip balm over the course of this month.
Through these endeavors, the company hopes to plant two billion wildflower seeds and raise awareness about the challenges bees face. The Burt's Bees Foundation has long devoted itself to pollinators, issuing over $2 million in grants, spanning pollinator research, education, conservation and habitat since 2011.
Häagen-Dazs
Since 2008, frozen dessert brand Häagen-Dazs has donated over $1 million to honey bee research. Over the course of 2016, the brand partnered with the Xerces Society to develop custom farm conservation plans for pollinator habitats on its suppliers' berry and nut farmers.
The brand notes on its website that more than 40 percent of its flavors would be impacted if the pollinator population continues to decline.
Whole Foods Market
The leading natural food retailer is helping grow awareness of bee conservation through its ongoing partnership with the Xerces Society. Since 2012, Whole Foods Market and its vendors have donated more than $547,000 to the society.
Whole Foods has previously launched pollinator education initiatives like its annual Share the Buzz campaign, and also advocates for bees through its products. The retailer's private label almond butter uses "pollinator friendly" almonds that are sourced from conservationists at the Xerces Society.