After 33 Years, Vermont Creamery Bought By Land O'Lakes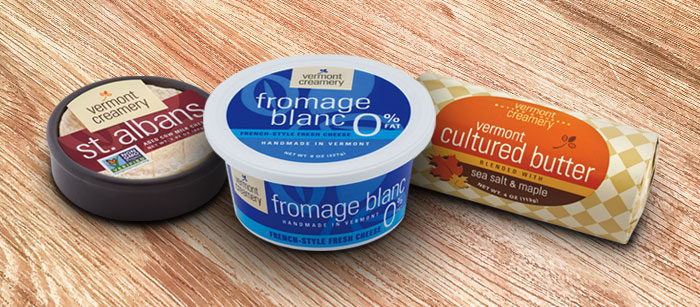 Land O'Lakes made hay while the sun shone today, acquiring venerable artisanal cheese maker Vermont Creamery. Founded in 1984, Vermont Creamery operate as an independently operated subsidiary of the Minnesota-based dairy giant.
The union marks Land O'Lakes' first entrance into the specialty dairy market.
Terms of the deal were not disclosed, but Vermont Creamery founder Allison Hooper told NOSH that business will continue as usual. The Vermont Creamery sales team will remain in place, she said, and all employees have been offered the option continue on with the company. Hooper and co-founder Bob Reese will stay on with the company as advisors and brand ambassadors, while President Adeline Druart will remain as part of the company's leadership team, Hooper said.
The Hooper family will also maintain ownership of their Ayers Brook Goat farm, which supplies some of the dairy Vermont Creamery uses in its goat and cow's milk based cheeses.
Plans to either sell the company or seek private equity investment have been in the works for years, Hooper said.
"We've had great financial results and the business is growing and Bob and I looked and we said 'oh gosh, we keep funding our growth internally but, gee, we don't know if we really have the capital to take it to the next level,'" Hooper told NOSH. "We did everything, we looked under every rock. We hired an M&A advisor and they basically told us 'we're going to take your company to market and we want you to really consider what all of your options are.'"
While the company could have continued on without acquisition or investment, Hooper said that she and Reese would have had to borrow capital to finance some big projects, such as a new loading dock and cooler, that the company would have needed in the next few years.
Last year Vermont Creamery saw sales of $30 million. Its line of butters, aged cheeses, goat cheeses and spreads are sold in thousands of retailers including Publix, Whole Foods Market and Kroger.
A key aspect to the company's success has been its ability to thrive in the conventional channel. While many conventional retailers have sought out artisanal products with unique stories, packaging can be a problem.
"We have well thought-out packaging that is scannable and doesn't require cut and wrap. We also try to make some of these specialty cheeses with rinds with a decent shelf life so that they won't go out of code as soon as they get to the store," Hooper said. "While our products are not the least expensive in the case, they are among the fastest growing… What we're trying to do is upsell the consumer to something that is more artisanally produced or handmade."
Hooper told NOSH that Land O'Lakes was impressed by Vermont Creamery's sales and sees the opportunity to explore goat-milk based products as a "growth opportunity."
Land O'Lakes released a statement affirming their commitment to the company "We both have a culture based on strong rural values and an appreciation for purpose and people. We both have high-quality products and brands and a very deep connection to farmers. Similarly to our dairy business, Vermont Creamery has grown steadily throughout its history and earned hundreds of awards for its family of products. This acquisition gives us the opportunity to expand our portfolio of value-added branded businesses and build an understanding of customers outside of our traditional demographic."
Vermont Creamery, in turn, will benefit not only from access to capital, but also Land O'Lakes' R&D and marketing capabilities. For example, said Hooper, Land O'Lakes could help them explore more green packaging options, something that has been out of reach for the smaller company. Currently Vermont Creamery is roughly half goat-based and half cow-based cheeses, and Hooper told NOSH that Land O'Lakes has new product innovation ideas for cow's milk cheeses for the company, particularly for European-style offerings that don't yet exist in the U.S.
Land O'Lakes, which has been a farmer-owned company since 1921, has 3,825 members, of which 2,079 are dairy producers, 964 are agricultural producers and 782 are co-op members.
Hooper said that Land O'Lakes' close relationship to its farmers was one of the attractive features about the acquisition. To her and Reese, it was indicative that the company would respect their supply chain of local Vermont farmers.
While some shoppers may be concerned that the smaller brand may lose some of what makes it special, Hooper says not to fret. "It's incredibly gratifying to be able to now hand over this company, and in very capable hands, to really let it flourish and let it be a significant employer in central Vermont," Hooper noted. "Whoever knew that a company like Land O'Lakes was going to buy us!"