WFM Quarterly Earnings Call Reveals New Changes For Brands
Last week, Whole Foods Market held its 3rd quarter earnings call, and with it laid out a slew of new information as to how brands will be able to potentially work with the retailer going forward. A common theme throughout the call was shifting from regional efforts to more global, streamlined processes.
While the company said some of the options are still in the testing (or even conceptual phase) it seems the future holds some changes.
Marketing Roles Shifting?
In 2015 Whole Foods announced a series of layoffs as a means of reducing store overhead and labor costs. While it seems that these cuts have benefited the retailer, other expenses gobbled up the savings.
On the call, Walter Robb, Whole Foods Co-Chief Executive Officer & Director, told analysts "Our ongoing expense discipline was reflected in the 82 basis point improvement in salaries; however, these savings were more than offset by higher healthcare, depreciation, marketing, and technology investments as a percentage of sales."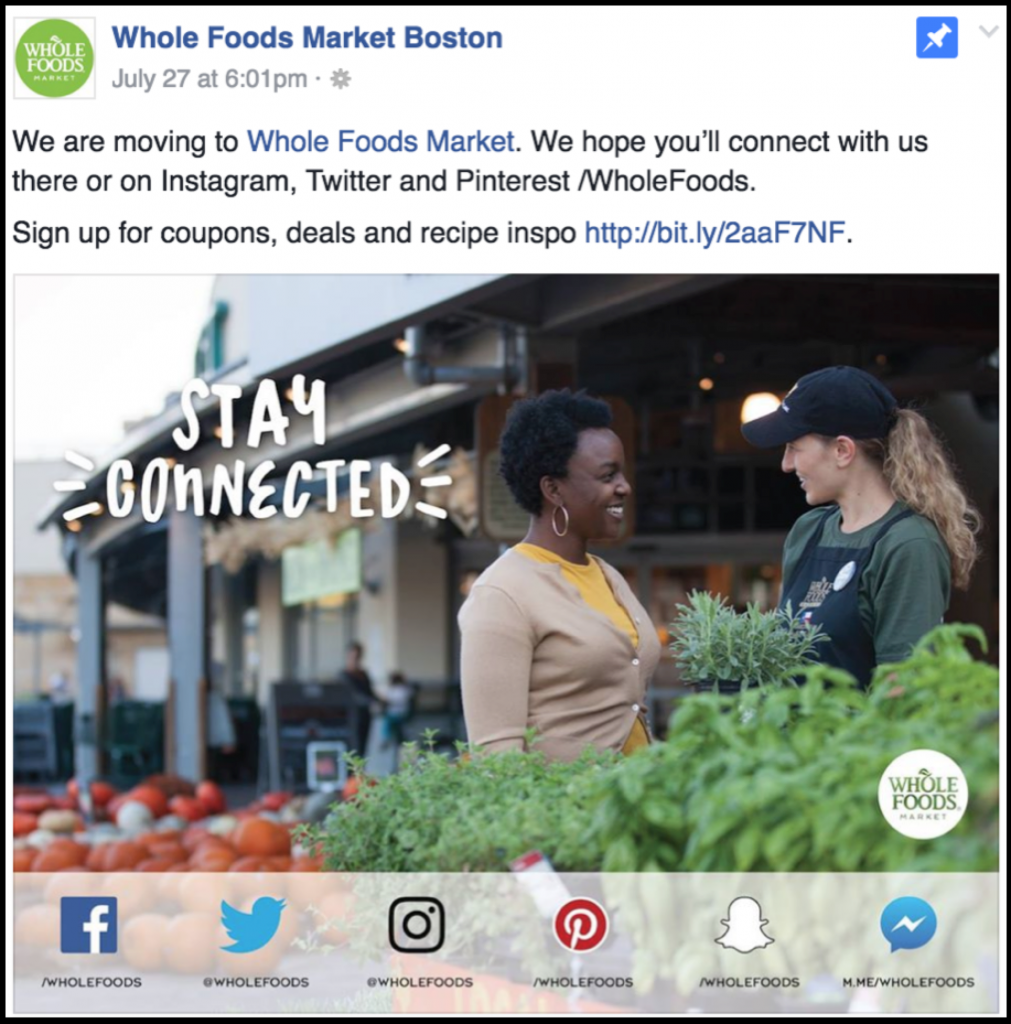 As part of the layoffs last year, many regions reduced their marketing expenses by eliminating store level marketers in favor of "metro" marketers. However, given Robb's statement, it seems these cuts weren't enough.
In the North Atlantic region, individual store level social media accounts have been posting updates stating that they will be eliminating the accounts in place of national accounts. While it's unclear if this is part of cost cutting measures, it will switch the labor efforts from the region to the global headquarters.
Regional social media accounts have often featured brand demos, sales and new products, and this may affect regional suppliers' ability to spread the word about their products.
Are Buyers Going Buh-Bye?
Another role that may see changes is the store-level buyer.
When asked by an analyst about other possible avenues for savings, Glenda Jane Flanagan, Chief Financial Officer & Executive Vice President, noted "Auto-replenishment is going to be a big one when we get to that, because we have a lot of people in the stores who are buyers and we have no buyers in the 365 stores. All the inventory is automatically ordered. So, that's a big one that's going to happen for us at some point."
Although Whole Foods had already combined some buying positions as a means of saving labor, the roles still are labor intensive. Under the current ordering system, the relationships suppliers have with buyers is incredibly important. In the new system, it seems that the only metric that will matter is how fast a product is turning.
On one hand some producers benefit from having great relationships with local buyers, but on the other, it will also remove the costs associated with going store to store and forming those relationships.
Nielsen Means Better Metrics
One complaint among suppliers has been the retailer's proprietary sales reporting system — although that's a window into performance that isn't normally offered to suppliers in other channels. Regardless,this process is also becoming more automated and refined.
Last month Whole Foods announced a new relationship with Nielsen to improve and widen the metrics the retailer looks at, as well as what suppliers have access to.
"Our suppliers are very excited that we are now working with Nielsen," A.C Gallo, President and Chief Operating Officer, told analysts. "Because they'll now have much better data on our categories and on their sales with us so that they can help us manage their products better."
Having better access to statistics will also help suppliers understand how their promotions perform and which types of sales benefit their brands the most.
New Ways to Build Affinity
Given the fact that sales numbers will now be more transparent, there may be more brand interest in taking part in promotions. And, there are even more ways to do so.
On the quarterly earnings call, the retailer spoke to the expansion of its rewards program, the new digital coupons available through its app, and its new national sales flyer. The flyer is the most recent change, having just launched six weeks ago, and shifts flyer promotional sales from a regional level to a national level.
While brands who are only sold in certain regions may see less ability to get into the flyer, they now have the opportunity to offer a digital coupon in the Whole Foods app.
David Lannon, EVP of Operations, noted that so far, the new flyer has been successful. "[It's the] first time in our company's history where customers are actually seeing these…sales across all channels across the whole company at the same time." The combined promotion, executives explained, has been creating bigger buzz about the sales and thus more sales dollars.