Industry Experts Weigh in On Fancy Food Show
At this year's Summer Fancy Food Show many new food trends could be seen in the products that were on display. We polled some of the industry's leading experts to check in about what they saw (and didn't see) on the show floor.
Kale Gets Kicked Out
One of the trends that seems to be waning is the use of kale. Natural products consultant and former former Whole Foods global grocery coordinator Errol Schweizer noted to NOSH that "Kale continues to disappear from snacks, while sea vegetables continue to find new formats and portions." It seems consumers have hit peak kale, and while the ingredient still appeals to shoppers looking for higher fiber options, it's may not be new or unique enough to call out any more.
Schweizer's mention of sea vegetables brings up another change. Certain ethnic foods, such as seaweed, are no longer relegated to the "international" aisles of the Fancy Food Show — or the grocery store. Instead, they've become mainstream snacking options.
"While this trend has been growing steady, ethnic based products… will quickly move out of the international section of the grocery store and integrate into other aisles," Kara Rubin, Natural and Organic Industry Consultant, told NOSH about the shift.
Pulses Gain in Popularity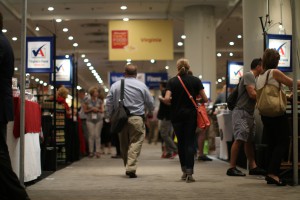 Across the show floor, pulses (that is legume based products) were on trend and expanding into even more categories. It was one of the most widely observed trends across all the experts NOSH spoke with.
"I'm seeing more bean/legume/pulse snacks, such as [those] from Saffron Road and Beanitos," said Bob Burke, founder of Natural Products Consulting, who reports that these products resonate with consumers (and the industry) because they are "higher in protein and fiber and usually intrinsically gluten free and better than similar products made from potato, corn and wheat."
These attributes play to consumers' desire for multi-functional products that hit several dietary needs.
While Kathryn Shear, Product Library Operations Lead at SPINS, observed that "the chickpea might be having its day," Schweizer also noted that some brands are "starting to experiment with and more obscure varieties such as lupini, fava, and broad bean."
A Growing Emphasis on Gut Health
In addition to simply monitoring the food they don't put in their stomachs (such as gluten), consumers are also looking to add beneficial bacteria and probiotics to help with digestion and gut health.
"Whether it is kombucha, krauts or popcorn infused with probiotics: we saw lots of awesome products and brands that are now offering healthier and delicious solutions for gut health," Sean Conner, the chief progress officer at Force Brands, told NOSH.
With a greater understanding of why fermented foods are beneficial, Jeremy Halpern, Managing Director at Edible Ventures and aPartner at Nutter, McClennen & Fish LLP, observed that brands such as Mother-in-Law's Kimchi and Brooklyn Brine are now able to position their products as "premium products."
This especially holds true with certain fermented products with foreign origins like kimchi, which has seen new players that are less about being lower cost, ethnic options with generic branding, and more about being young, trendy millennial-focused brands.
Also helping with the pricing shift is that the range of usage for these items has also changed. No longer simply condiments or flavoring agents, they've now become "fermented snacks" as Wayne Wu, a managing director at VMG Partners, dubbed them.
A Return to Simpler Options with Sugar and Sweeteners
Although lowered sugar content is still a consumer aspiration, rather than turning to artificial sweeteners, consumers are looking to traditional sweeteners — just in lesser quantities and with higher quality products.
Allison Frazier, Account Supervisor at Covet PR, noted a focus on "culinary innovations utilizing maple sap and syrup"
The growth, she observed, is both from consumer demand and product supply. "Several entrepreneurs in the Northeast are capitalizing on this and experimenting with the ingredient; [and] simultaneously, consumers are seeking out more natural sweeteners like maple."
Shift in Snack Foods Focus
Experts especially noted a shift in the snacks highlighted at the show. "A few years ago there were 28 brands of popcorn at the show and that has given way somewhat to interesting dried fruits and [vegetable] snacks from companies like Peeled Snacks, Dang, Rhythm Superfoods and Crunchies," noted Burke.
But there still was plenty of this snack food popping up at the show: "I was a bit surprised at the number of new ready-to-eat popcorns still coming to market," Wu noted.
Also in the snack set, while crackers have always been a focus for specialty food retailers, the category has now shifted from empty calories and carbohydrates to healthier, more nutritionally dense options that utilize unique grains or almond flours.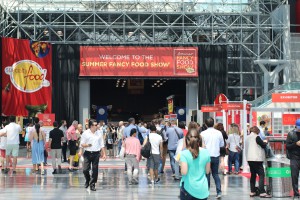 That doesn't mean that these healthier snack options don't taste good. "What is particular in healthy snacking is… [that] you want to eat these products," John Maggiore, founder of Maggiore's Sales & Marketing said. " I know people that 'like' Kale items, but none of them seem to 'love' Kale products like they do these items."
Gluten-Free No longer Good Enough
Many consumers are still avoiding products with gluten, so the sheer number amount of products has continued to grow. Conner concurs with this assessment, saying "Gluten free continues to be hot!"
But as with many better-developed trends, it's simply not enough to not have gluten in your product. "While there are still a lot of gluten-free products, items need to have more to them than just being gluten-free, whereas a few years back just being gluten-free qualified to get you attention," believes Maggiore.