Back to the Roots Fertilizes Growth with Seed Round
Sustainable packaged food and gardening company Back to the Roots announced that it has grown one step closer to its goal becoming the "Pixar of Foods" after raising a $5 million seed round. The Berkeley, Calif. based company plans to use the money to fertilize its growth plan within K-12 schools as well as traditional grocery retailers. A trajectory that co-founder Nikhil Arora hopes will help build brand affinity with consumers both young and old.
Although previous capital has come solely from friends and family, angels and convertible notes, for this round, the six-year-old company used a blend of private investment and crowdfunding. $2 million was raised through traditional angels (including reinvestment by John Foraker, the founder of Annie's, and Blake MyCoskie, the founder of TOMS) and $3 million was raised through crowdfunding platform CircleUp. The CircleUp round will remain open for an additional 30 days.
One investor through CircleUp was Sheryl O'Loughlin, the current CEO of REBBL Tonics and founder of what is now Plum Organics.
"When there was an opportunity to invest in them, I was like 'of course I have to do this,'" said O'Loughlin. "And I say 'have to,' because of how much I love them, how much I love what they're doing."
The investment comes after a pivotal year for the company in which it grew its product line from two SKUs (a mushroom growing kit and aquaponic water garden) to 15, many of which are packaged food. While some of the new items remained gardening centric (such as gardens-in-a-can and seeds), six were in a new direction for the company: CPG, specifically cereal and cereal toppers.
While some may have scratched their heads at the shift from garden to grocery, the risk has paid off. Co-Founder Nikhil Arora told Project NOSH that last year the company sold over half a million cartons of cereal, about double that of the mushroom kits. And due to when the grocery products launched, that was over less than a full 12 months of sales.
Arora says this is a great start, but 2016 will be spent working towards "[becoming] the number one organic cereal. Period." To achieve this goal the investment will be spent towards increasing marketing and sales campaigns, ramping up hiring (including launching a national brand ambassador program), and investing in research and development over the next two years.
Although in a typical company R&D means creating new products, for Back to the Roots that focus also includes ways to work with K-12 schools. To begin with, Arora says the company has to adapt their packaging (in particular pack size), supply chains and distribution channels to work with the school systems. The company also wants to continue encouraging schools to use its "gardening toolkits" and will be developing curriculum guides for teachers. This will build upon Back to the Roots' current partnership with Sodexo, which already has placed over 2,200 garden toolkits in schools.
When asked how a focus on children meshes with Back to the Roots' "serious" message of clean ingredients and sustainability, Arora involves Pixar as an role model. He recounts how at the studio's movies, "adults and kids walk out smiling, for different reasons, but they both enjoyed it." With Back to the Roots, the goal is to see the same happiness and brand love regardless of age. So, Arora says, the company uses the lense of "a four-year-old and a 40-year-old… for all of our packaging, our branding, our products."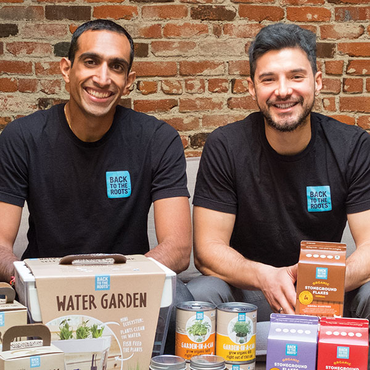 That's a big long-term goal, but those goals take time. It's this understanding that led Arora and his cofounder Alejandro Velez to stick with a raise that didn't involve institutional capital. Arora noted that while institutional capital has its benefits, it also usually comes with investors who want to see returns quickly and often put pressure on companies to seek acquisition. And the more you raise, the more equity (and control of the company) you lose.
Taking a smaller raise is uncommon in other industries in the Bay Area, where even fellow food-related startups often take in huge cash investments for tech-driven products. For example, Cali cool kids Impossible Foods and Hampton Creek have each taken in over $100 million for their cutting edge, plant-based products. But beyond the cash, Back to the Roots also differs with a focus on simplicity and not science.
Arora jokingly noted that the company had "three billion years of R&D through nature" and in a more serious tone continued, "That's weird to us that you patent food. If you're putting it in your body you should know what it's made from."
This focus on basics, is also part of the reason the company maintains a gardening line in addition to their CPG products. Arora noted that the two are deeply tied together and mutually beneficial in building the company's reputation and trust.
"It's a spectrum of convenience. Sometimes you want to grow your own food with your family but sometimes you're so busy you just want someone to make it for you" explained Arora. "How do we bring the trust and transparency from growing your own food to the grocery aisle, and how do we bring the design and convenience of the grocery aisle into growing your own food."
To see more of Project NOSH's coverage of Back to the Roots, please video the video below: