Moringa Moves to Be the Superfood of the Moment
Products across all categories have been calling out superfood additions for years: we've all chewed chia, we're bored of blueberries, hemp is old hat. Faced with the "normalization" of these additions, innovative producers are turning to new exotic parts of the globe for functional ingredients.
Moringa is fast becoming a top option, found in several products that are new or about to come to market. Moringa (Moringa oleifera) is a tree grown in subtropical areas of Central and South America, Africa and South Asia. The moringa tree's seeds and leaves are both edible. However, it's the leaves that are being heralded by Western companies as a superfood.
Practitioners of Ayurvedic medicine believe they can use the plant to cure or prevent around 300 diseases. Gram for gram, moringa is said to have two times the protein of yogurt, four times the vitamin A of carrots, three times the potassium of bananas, four times the calcium as milk, seven times the vitamin C of oranges. There are also many who claim the plant has anti-bacterial, anti-inflammatory, antioxidant and anti-cancer effects.
One company utilizing the superfood is Kuli Kuli. Founder Lisa Curtis became aware of moringa after she was stationed in West Africa with the Peace Corps and experienced signs of malnutrition. Launched widely, in part, from a successful indiegogo campaign, Kuli Kuli's fruit and nut moringa bars are now are sold in over 500 stores across America. The company is currently in the midst of another indiegogo campaign for a new moringa and green tea energy shot beverage.
Also utilizing the leaf is Leaf of Life, a portfolio of lifestyle products which focus on moringa and other African ingredients. Plans are, co-founder Eric Schnell told Project NOSH, to start in the beverage space with a ready-to-drink product and a powder and then use the platform to move across categories.
The company has two celebrity co-founding partners in Elite model Camilla Barungi and reggae musician Rocky Dawuni, but industry stalwarts including Schnell and Thrive Market's VP of Merchandising & Purchasing Jeremiah McElwee are also involved. Dawani has a robust history working with Whole Foods Market's Whole Planet Foundation as one of their Musicians for Microcredit partners. The idea came about because Dawuni's brother is the chief of a tribe in Ghana that is part of a collective of 5,000 villages. It's some of these villages that will band together to grow the moringa.
In addition to its nutritional properties, what's also "super" about the product is the way growers, suppliers and food producers plan to help native farmers benefit from moringa. The countries where moringa grows well also happen to be countries where malnutrition is high. So having support to grow the plants can effect a change in the growers' own diets.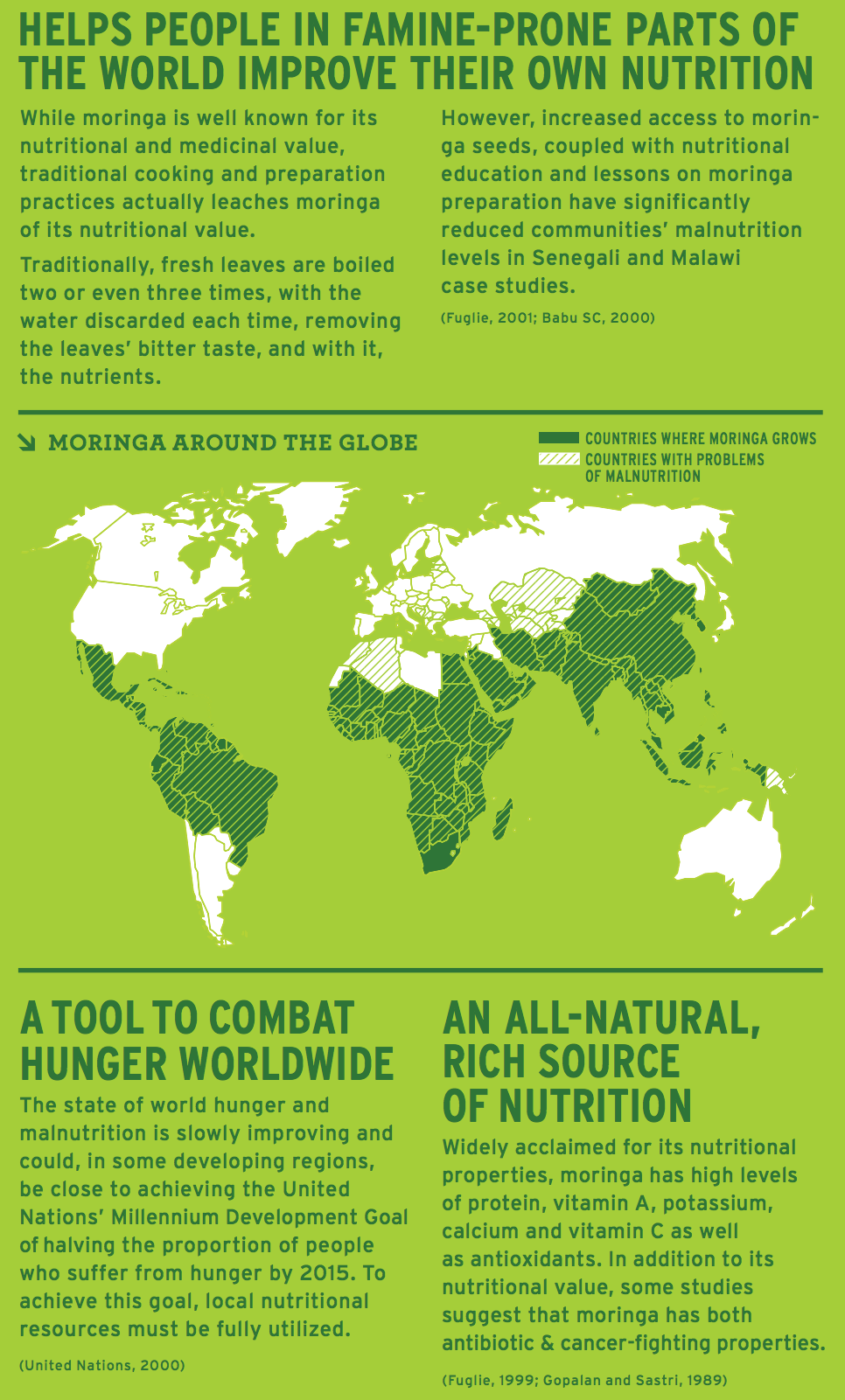 Both Kuli Kuli and Leaf of Life are also committed to making sustainable supply chains that help these areas economically. Since launching their bars, Kuli Kuli has helped provide a livelihood to 500 Ghananese female farmers who have planted over 60,000 moringa trees. Their new shot line will move around the globe and feature moringa grown in long-depressed Haiti.
Leaf of Life prides itself on "harnessing the power of nature for health, development and economic prosperity" and plans to "[use] the power of social enterprise and sustainability to stimulate micro economic activity in African communities and poverty alleviation from the ground up." The goal, says Schnell, is to use this product line to help develop a sustainable, fair-trade inspired supply chain that can also support other brands' products.
Schnell hopes to "Create [a moringa brand] that's about giving back and being charitable…there will be portion of proceeds going back to the local farming cooperative where [they are] sourcing the moringa from." Also, said Schnell, "We're looking at it as a much deeper way to support Africa and the economy. Not just bringing the ingredient here and selling it to Americans, but actually creating a supply chain that gives back to the African improvised people, the farmers that are creating this ingredient."
That said, Schnell cautions brands about leaping onto the exotic superfood bandwagon. "You have to look at the ingredient itself," he said. "Is the ingredient one in that country that you would call a top-three superfood. If it's something so far out that only the deepest tribes in the jungle are using it, it's probably not going to be that successful here."