Fresh Express Introduces 2 New Salad Kit Varieties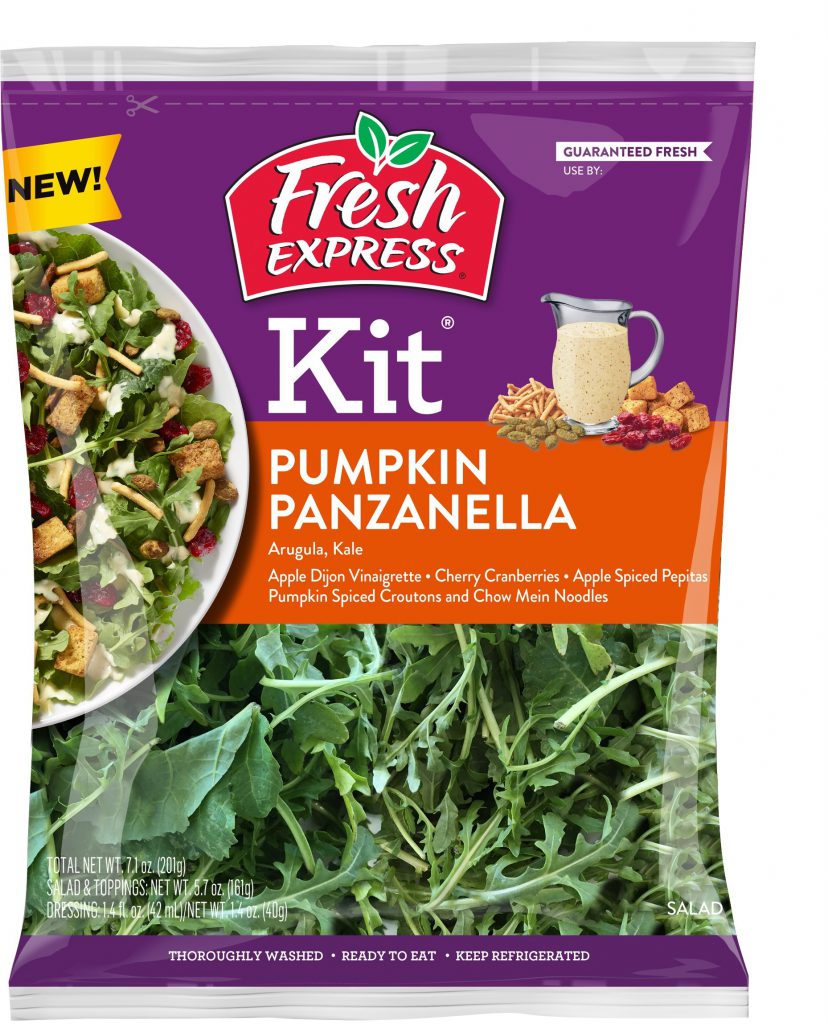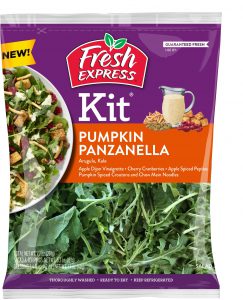 ORLANDO, Fla.— Fresh Express, the leader in retail packaged salads, adds two exciting new products to their growing selection of flavorful salad kit combinations, the Chopped Caesar Kit and a Pumpkin Panzanella Salad Kit.
Fresh Express continues to make it deliciously easy to enjoy salads you love at restaurants in the comfort of your home. By working with culinary chefs, they've created salad kits that replicate favorite flavors and seasonal blends to keep every day meals exciting, yet easy and simple. Caesar, the top-selling salad kit flavor, is now available in the Chopped Kits segment, bringing a conveniently packaged fan-favorite to your local grocer's produce section. The introduction of the Pumpkin Panzanella Kit adds a flavorful seasonal option and gives consumers a taste of Fall in a crisp, refreshing and quick to prepare packaged salad kit. Both new varieties provide everything you need to make a delicious salad for your family.
Available on shelves now, both products demonstrate Fresh Express' commitment to bringing easy to make, chef-inspired salads home by offering both unique and popular flavors.
Pumpkin Panzanella Kit – Enjoy the taste of fall with a delicious blend of arugula and baby kale, pumpkin spiced cornbread croutons and chow mein noodles, apple-spiced pepitas, sweet cherry flavored cranberries, and a delicious Apple Dijon vinaigrette dressing.
Caesar Chopped Kit – This classic favorite is now available with perfectly crisp, chopped romaine lettuce, herb seasoned croutons, cracked pepper, grated fresh parmesan cheese and a deliciously creamy Parmesan Caesar dressing.
"We know that Caesar and pumpkin-flavored products are favorites among today's consumers, and we wanted to make them easy to enjoy at home," shared Michael Golderman, Marketing Brand Leader for Fresh Express. "Chefs at the Fresh Express Innovations Kitchen tested multiple recipes, carefully selecting flavor combinations and unique ingredients, to provide restaurant-inspired salads that our customers can enjoy in the comfort of their home."
New Fresh Express Kits are currently rolling out retailers nationwide. For more information visit, www.freshexpress.com.
About Fresh Express
Fresh Express is the brand leader in Value Added Salads and is dedicated to providing consumers with healthy, convenient ready-to-eat salads, leafy greens, vegetables and fruits. With the invention of its special Keep Crisp bag in the 1980s, Fresh Express pioneered the retail packaged salad category and was the first to make them available to grocery stores nationwide. Today, Fresh Express fresh salads come in more than 150 different varieties offering exciting new flavors and convenient new ways to meet the daily dietary requirements for both conventional and organic fresh produce. More than 20 million consumers each week enjoy healthy, convenient ready-to-eat Fresh Express salads, spinach, vegetables and juicing greens. For more information, visit www.FreshExpress.com.
Like what you're reading?
Subscribe to BevNET+NOSH Today
Subscribe today and get access to the leading industry resources in the food &amp beverage industries. News, trends, industry data, expert analysis and much more.
Access all of these benefits:
Unlimited access to all content on BevNET.com and NOSH.com
Exclusive access to hundreds of educational videos
Watch subscriber-only live programs such as Office Hours