Yai's Thai Unveils New Packaging, Expands Product Line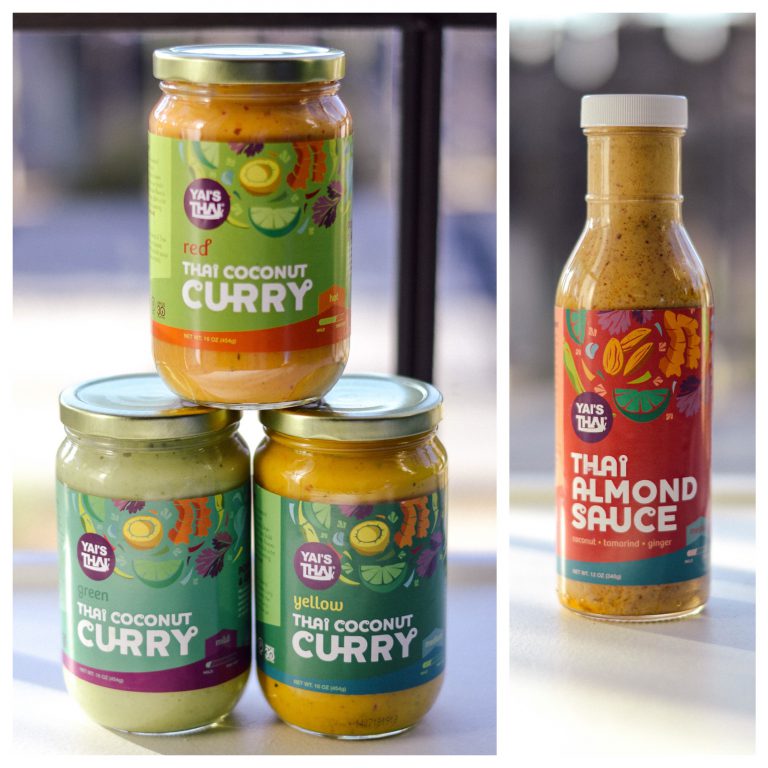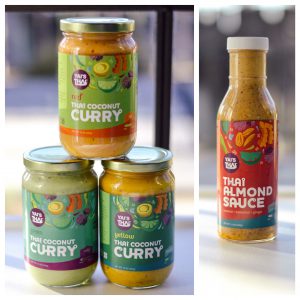 Denver, CO – Denver-based natural food company Yai's Thai, producer of Thai-inspired sauces, debuted a new package design along with four new products earlier this month at Expo West in Anaheim, California. The new products include three Thai Coconut Curry Sauces and Thai Almond Sauce. Both the new look and the new products will be rolled out over the next few months.
The enhanced packaging boasts an ingredient-forward design, with a livelier, brighter color palette that will stand out more on the grocery shelves. A colorful ingredient wheel descends from the top of the label, bringing the company's focus on clean, natural ingredients to the forefront. The design also features more Thai influence, with a new font resembling the looping nature and shape of the letters in the Thai alphabet, as well as angles inspired by Thai architecture.
"We wanted our packaging to visually convey more about our products and values," says Leland Copenhagen, co-founder and CEO. "This design is much more representative of our brand, and it will really pop on the shelves."
The company's new products feature three SKUs of ready-to-eat Thai Coconut Curries include Green, Yellow, and Red curry, each a different spice level ranging from mild to hot. Yai's Thai has maintained its high ingredient standards by using fresh ingredients, adding no sugar of any kind, and keeping the sodium low, which is especially unique among Asian products. In further keeping with its ingredient philosophy, Yai's Thai has omitted xanthan gum and instead uses ground chia seeds as a stabilizer. The sauces do still have a degree of natural separation, but the company believes consumers are increasingly open-minded about this in favor of keeping a simple ingredient list.
Yai's Thai is also releasing a Thai Almond Sauce, a spin-off of Thai Peanut Sauce and the first of its kind on the market. This sauce is geared towards consumers who are avoiding peanuts in their diet, such as those following the paleo lifestyle or the Whole30 program. Instead of adding any sugar, the sauce is made with tamarind juice for natural sweetness. All four new SKUs are shelf stable with an SRP of $7.99, and are vegan, gluten-free, paleo friendly, Whole30 approved, and low in sodium.
"We're excited to be introducing more familiar Thai products to our line," Copenhagen said. "I learned to make curries and peanut sauce from scratch with my mom and Yai, and want to make it easy for people to bring these more traditional Thai flavors into their kitchens."
The release of the new products and packaging will aid in consumers recognizing the brand as a fun, easy-to-use, and better-for-you option, especially in the Asian category.
About Yai's Thai
Yai's Thai brings the vibrant flavors of Thai cooking to bold, meal-enhancing sauces for everyday enjoyment. Co-founders Leland Copenhagen and Sarah Hughes created Yai's Thai to change the way people think of both ethnic and healthy food, with easy-to-use sauces that conquer bland meals. The company draws inspiration from authentic Thai recipes passed down from Leland's Yai (Thai for grandmother). Yai's Thai is breaking the expectation that packaged Asian foods are highly processed and unhealthy by introducing products made with only simple, clean ingredients; no added sugar, low sodium, and no MSG, artificial flavors, colors, or preservatives. The full line is Non-GMO, Whole30 Approved, Paleo Friendly, Gluten Free, and Vegan.
For more information about the Yai's Thai brand and product line, please visit www.yaisthai.com, or follow us on Instagram, Facebook, and Twitter @yaisthai.