Rojo's Debuts New Line of Fresh and Flavorful Organic Salsas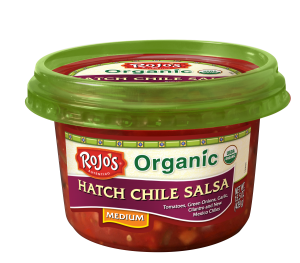 CYPRESS, Calif.– Rojo's, leading maker of refrigerated, restaurant-style salsas and dips, announced a delicious addition to its product portfolio — Organic Salsas. Delivering the same authentic, homemade flavors as its original salsa varieties, the new line now meets a growing consumer demand for organically sourced foods. Fresh-cut USDA and Kosher Organic ingredients boasting traditional Mexican flavors and spices will add a kick to any chip and dip buffet or healthy entrée.
"With Rojo's new line, we're answering a growing consumer demand for healthy, delicious and versatile foods made with clean, organic ingredients," said Mark Miller, vice president of marketing at Simply Fresh Foods. "With our new line of Organic Salsas, health-conscious and flavor savvy consumers alike can satisfy their cravings by adding one of Rojo's Organic Salsas to their favorite recipes and snack buffets."
Available in 15.5-ounce tubs, the new line of Organic Salsas is available in four new varieties, including:
Organic Traditional Salsa, Mild—Authentic ingredients and fresh flavors make for a crowd pleaser
Organic Traditional Salsa, Medium—A classic recipe with a kick of heat
Organic Chipotle Salsa, Medium—A hint of fiery Morita Chipotle adds a kick of smoky flavor
Organic Hatch Chile Salsa, Medium—Grown in New Mexico, these chiles add complex flavor and subtle heat
Like its complete line of artisanal salsas and dips, Rojo's Organic Salsas will be available in the refrigerated dairy/deli case at more than 10,000 grocery retailers nationwide including Safeway, Albertson's, Lunardi's, Mollie Stones, Food 4 Less, Holiday, Haggens, and Ingles stores. To learn more about Rojo's, visit www.rojossalsa.com.
About Rojo's
Founded in 1985, Rojo's has a rich heritage in refrigerated foods, beginning with a secret homemade salsa recipe from Mexico that was brought to the U.S. in 1965. Today, Rojo's is the industry leader in refrigerated, fresh-cut salsa, offering a complete line of fresh, restaurant-quality refrigerated salsas that are the gold standard in the marketplace. At the heart of the company's nearly 30-year legacy are its artisan-crafted salsas, which are made in small batches using premium, fresh cut ingredients in order to deliver great, homemade taste and freshness. Rojo's is available in the refrigerated dairy/deli case in grocery retailers including Walmart, Safeway, Kroger, Albertson's, Ralph's, Stater Bros., Winco, Costco and Sam's Club stores. For additional information, please visit us online www.rojossalsa.com.