MySuperFoods Launches Its First Savory Snack for Kids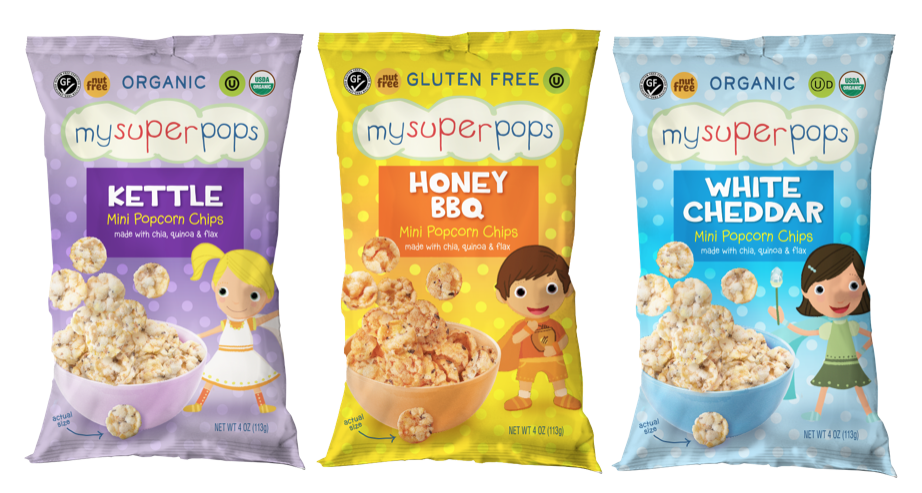 Summit, N.J. – MySuperFoods Company LLC expands its presence in the kids food space with their new snack line, MySuperPops, a mini-popcorn chip packed with chia, quinoa and flax seed. MySuperPops are 100 percent whole grain and available in three kid friendly flavors: White Cheddar, Kettle and Honey BBQ.
"Creating MySuperPops furthers our commitment to provide parents with healthy, clean, snacks for kids while keeping kids excited with fun packaging and a quarter size chip, perfect for little hands," says co-founder Silvia Gianni, "kids today are reaching for a snack three to four times a day, so it's important to ensure that those snacks are made with nourishing superfood ingredients." The mini-popcorn chips are also nut free, certified gluten free and two flavors are also certified organic.
At the heart of MySuperFoods is a mission to end childhood hunger by partnering with food banks across the country. "To date, we have donated over 115,000 meals to families in need across five states and MySuperPops will allow us to expand to our reach," explained Katie Jesionowski, co-founder.
MySuperPops will be available in a 1oz single serve and a 4oz family size.