Bearded Brothers Re-Launches Line of Energy Bars
Austin, TX – Â Bearded Brothers is excited to announce the re-launch of their original and nut-free line of energy bars. The new packages feature stronger color breaks, which will help the products stand out better on the shelves, and allow customers to easily differentiate flavors. There is also more emphasis placed on the flavor name, rather than the brand.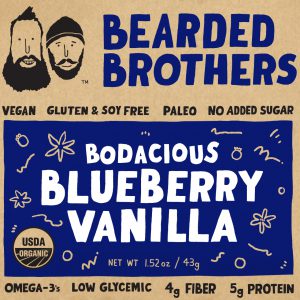 The most significant change though is the drop in size. The bars are dropping from 2oz down to 1.52oz, but so is the price! This puts the bar size more in line with the rest of the market. The new MSRP on the bars is $2.79 per bar, which will make them more competitive with other bars in the space.
Other major improvements are, the entire line is now USDA Organic, and our Bodacious Blueberry Vanilla bar is now Paleo Friendly, along with the rest of the lineup. The new size bars will be available from distributors starting March, 15th, 2017 as well as direct through Bearded Brothers.
About Bearded Brothers
Bearded Brothers makes delicious USDA Organic energy bars with an average of seven ingredients per bar without any added sugars or syrups. The bars are date and nut based, with two nut free options.  The bars are paleo, vegan, gluten & soy free, and are created in hot and sunny, Austin, Texas.