Health Warrior to Unveil Two New Mystery Flavors at Expo East 2016
Richmond, Virg. (September 8, 2016) – Health Warrior, a food and movement brand that delivers nutrient-dense superfoods in convenient forms to power everything you do, will exhibit its newest Chia Bar and Superfood Protein Bar flavors at Natural Products Expo East at the Baltimore Convention Center from September 22-24 at Booth #8614. Launching in January 2017, the two new flavors will join the brand's spread of flavorful Chia and Superfood Protein Bars, all of which will be sampled at the show.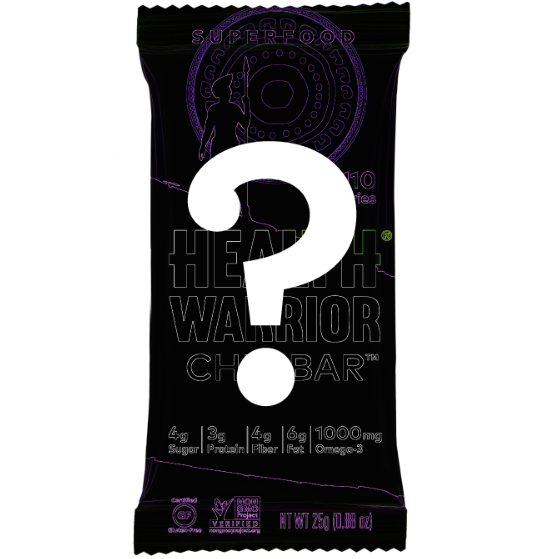 "At Health Warrior we are on a mission to inspire healthy diets and exercise habits in order to help build a stronger society" said Shane Emmett, Co-founder and CEO. "We are constantly looking to create new innovations that reflect the needs of our consumers and we look forward to sampling the newest crowd-sourced flavors at Expo East."
Earlier in 2016, Health Warrior released a voting poll in which fans were asked their favorite flavors in consideration for bar development. After narrowing the selections down, Health Warrior is ready to uncover and sample the two mystery additions. While no flavor profiles have been revealed yet, attendees of the event can try the new bars ahead of the early 2017 launch.
Currently, Health Warrior delivers premium Chia Seeds, as well as the Chia Bars and Superfood Protein Bars. The Chia Bar became the best-selling new bar in 2013, helping launch the brand and growing to a variety of nine flavors over the years with the Superfood Protein Bars recently added to the lineup. Available in more than 10,000 stores across the U.S., including Target, Safeway, Kroger, Whole Foods Market, Sprouts, Wegmans, Amazon.com, HealthWarrior.com, and at select fitness studios and independent retailers, Health Warriors bars are widely available across the nation.
As an additional activation surrounding the tradeshow, Health Warrior has teamed up with nuun and Honey Stinger to host the #liveclean 5k on Friday September 23, 2016 at 7:30 A.M.. Befitting of the Health Warrior brand, attendees are invited to join the tribe on a run around the Inner Harbor Trail. Spots are limited and interested parties must RSVP to paige@nuun.com to confirm a spot.
About Health Warrior: Health Warrior is a food and movement brand that delivers superfoods—the most nutrient-dense foods on the planet—in convenient forms to power everything you do. Health Warrior was founded in 2010 by three college athletes and friends, Dan, Nick, and Shane. As college athletes they approached food as calories to burn during hours of daily practices. But after entering their professional lives, that carefree approach to nutrition met cold, hard, desk-bound reality. They went from running between matches, meets, and games to meetings and day care pick-ups. Eventually, they learned that what matters is the quality of calories over quantity. After reading the best-selling book Born to Run, they discovered one of the most nutrient-dense foods on the planet, chia seeds. This page-turner told of the Tarahumara Indians and their seemingly superhuman long-distance runs. The Tarahumara, like the Aztecs before them, were fueled by chia. Ounce-for-ounce, chia has more omega-3s than salmon, more protein than eggs, and more fiber than flax. The three started eating chia every day. So did their families and then co-workers joined the tribe. This superfood provided powerful nutrition and powerful inspiration. Inspiration to get up from their desks, to move, to make better food choices, and to found a company with a mission to bring this nutrition and inspiration to everyone. Health Warrior products are available nationwide and at healthwarrior.com.