Barely Bread Launches New Gluten-Free, Artisanal Bread Line Nationwide
New York (July 2016) – Introducing Barely Bread, the first and only line of 100% grain-free, artisan-quality breads that taste, feel, and perform like traditional grain-based breads. Pioneering the movement in grain-free eating, Barely Bread is an innovative new option for eaters adhering to almost any diet or lifestyle: grain-free, gluten-free, celiac, paleo, carb-conscious, low-glycemic, preservative-free, or minimally-processed. Available for all eating occasions, the line includes familiar choices such as sliced loaves for sandwiches, sweet or savory bagels, hearty baguettes, and wholesome rolls for burgers or the bread basket.
Barely Bread was born in a kitchen, not a lab. Founder Amanda Orso experimented with honest, clean ingredients found in her own pantry to make the first Barely Bread loaves. Those simple recipes are the foundation for the Barely Bread line today. From a taste, nutrition, and performance standpoint, Barely Bread prevails over other "healthy" breads on the market, including paleo, gluten-free, whole wheat, and sprouted grain options:
High in fiber and protein and low in sugar and carbs, one slice of Barely Bread contains 90 calories, 1 net carb, 5 grams of fiber, and 3 grams of protein. If there's a super-powered bread, this is it.
Barely Bread only uses certified gluten-free, non-GMO ingredients, all of which can be found in a kitchen —that means no artificial flavors, preservatives, emulsifiers, stabilizers, or gums.
All products are free of soy, oats, dairy, yeast, and high-carb alternative flours that can spike blood sugar. Egg whites, whole eggs, almond flour, coconut flour, and flax seeds are several of the powerhouse ingredients in every Barely Bread product.
All Barely Bread is hearty enough for condiments, toasting, dipping, and spreading. Pile on the toppings, spread thick layers of nut butter, or smother in condiments – Barely Bread won't crumble, fall apart, or get lost in your toaster.
"Barely Bread's slow-baked, premium breads are made to delight and reward people who want to eat better, while also preserving the enjoyment and comfort of good food," says Amanda Orso, the founder of Barely Bread. She also emphasizes that the company's products are truly for everyone. "We have consumers who live a grain-free or paleo lifestyle, but we also have those who are gluten-free or are simply looking for healthier, cleaner bread."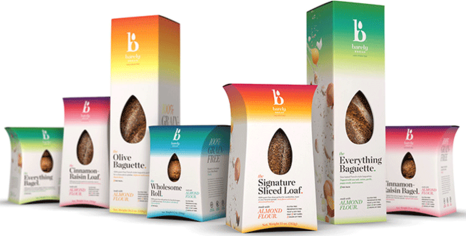 Barely Bread's product line will include:
100% Grain-Free Sliced Loaf Slow-baked artisan loaves perfect for sandwiches, toast, or your favorite spread. Nutty flavor with hints of almond and hazelnut. SRP: $14.99
100% Grain-Free Sliced Loaf, Cinnamon-Raisin Slow-baked artisan loaves delicious toasted or topped with your favorite spread. Made with real cinnamon and raisins. SRP: $14.99
100% Grain-Free Bagels, Onion-Garlic-Sea Salt Slow-baked artisan bagels, delicious toasted with your favorite spread. Topped with traditional "everything" ingredients. (4 per pack) SRP: $13.99
100% Grain-Free Bagels, Cinnamon-Raisin Slow-baked artisan bagels, delicious toasted with your favorite spread. Made with real cinnamon and raisins (4 per pack) SRP: $13.99
100% Grain-Free Savory Rolls Slow-baked artisan rolls, perfect for burgers, sandwiches, or served warm with any meal. Hearty flavor with hints of onion and garlic. (4 per pack) SRP: $9.99
Starting July 1 natural, gourmet, and conventional food stores will begin rolling Barely Bread out nationwide. The bread will also be available online at www.barelybread.com. Later this year, Barely Bread plans to expand its product line to include baguettes, muffins, and snacks.
For more info, visit www.BarelyBread.com or follow us on Twitter, Facebook and Instagram.