Skinnygirl Gluten-Free Bars Help Women Get Their Daily Protein
NEW YORK (November 10, 2015) – Skinnygirl, the solutions-based, lifestyle brand created by Bethenny Frankel, unveils its new line of higher-protein Skinnygirl Protein Tasty Nutrition Shakes and Bars today. Frankel will be making an appearance behind the window of the Skinnygirl Snack Mobile parked at Union Square (Broadway at E 17th St.) helping women to reach their daily minimum requirement of protein.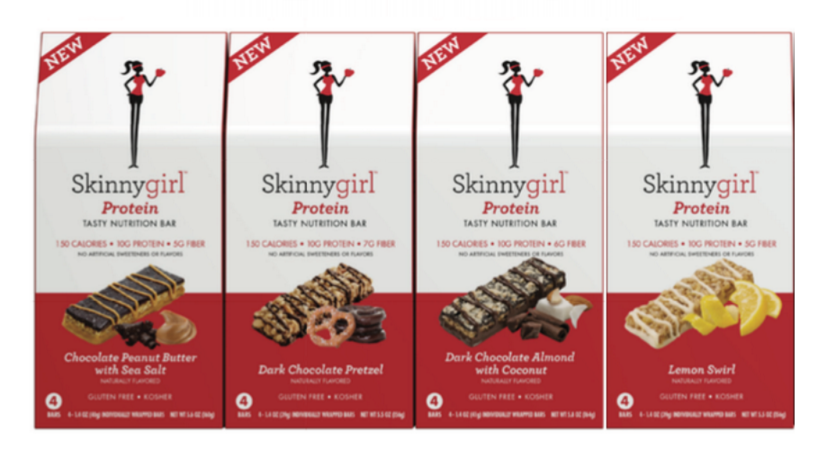 "Protein is an important part of our daily diet, it helps us feel full and satisfied," said Frankel, Founder & CEO, Skinnygirl. "We developed these new protein bars and shakes to make an easy and delicious way for women to get their protein fix."
The newest addition to the Skinnygirl family, Skinnygirl Protein Tasty Nutrition Shakes flavors include: Rich Chocolate Brownie and Vanilla Bean Sundae. At only 80-calories, these gluten-free shakes may taste like desserts but have the benefit of 12 grams of protein, low fat content, zero grams of sugar and no artificial sweeteners or flavors. Skinnygirl Protein Tasty Nutrition Bars are available in four decadent flavors, including Chocolate Peanut Butter with Sea Salt, Dark Chocolate Almond with Coconut, Dark Chocolate Pretzel and Lemon Swirl. Each bar offers a great source of daily nutrients with 10 grams of protein and five to seven grams of fiber with only 150 calories.
"We listened to Skinnygirl fans and 75 percent told us they don't believe they are incorporating enough protein into their diets," said Jessica Lau, Corr Jensen, Skinnygirl Brand Manager. "Our solution was to create a delicious line of shakes and bars that pack in the protein to help them reach their daily goals, and still fall in line with Skinnygirl's 'healthy doesn't mean boring or tasteless' mantra." The new protein shakes and bars will be available in four-packs at select Walmart locations nationwide, and retail respectively for $5.78 (MSRP) and $4.88 (MSRP).
The Skinnygirl Snack Mobile will be visiting various locations around New York throughout the day, check Skinnygirl Daily's Twitter for up to date destination information.
About Corr Jensen: Corr-Jensen is a health and lifestyle company that strives to provide the highest quality products to meet a variety of nutritional needs in the most natural way possible. With a portfolio of brands including Skinnygirl Daily, Ab Cuts, Performix and Training Day, Corr-Jensen has experienced expansive growth in the dietary and nutritional supplements industry since its founding in 2008 and continues to rapidly evolve. Our offices are located in New York City and Denver, CO
About Skinnygirl: Founded on the practical, healthy lifestyle expertise of Bethenny Frankel, Skinnygirl provides solutions to women's most common health concerns making the path to healthier living as fun and straightforward as possible. Products are created with distinctly high standards for the best ingredient quality, nutritional content and taste. Skinnygirl empowers women to lead balanced lives by making healthy choices easy. To learn more about Skinnygirl Daily, please visit skinnygirldaily.com; Facebook.com/SkinnygirlDaily; Twitter:@SkinnygirlDaily.