Summer Fancy Food Show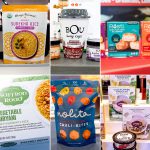 Brands are making the case for consumers to toss the takeout menus, offering a variety of easy frozen, refrigerated and shelf-stable meal options. While some brands put their twist on classics such as pasta, chili and tacos, others got more innovative with products like Swiss hand-held potatoes and cauliflower-based tater tot alternatives.
34 Degrees, the makers of deliciously light and crunchy entertaining and snacking crackers, will unveil a new look for its cornerstone line of savory crisps at the 2019 Summer Fancy Food Show. Inspired by the brand's Australian roots, the updated fresh packaging showcases the versatility of the crisps as well as a stylish new design.
Organic Quinoa and Dark Chocolate pair up in an exciting new truffle release from Cape Cod Provisions. Quin-Noir Petites will be featured at the New York Summer Fancy Food Show later this month as the chocolate company's newest taste creation.
Crunchmaster, the company committed to crafting wholesome snacks that don't compromise on taste, is announcing a new line of grain-free crackers.
Mushroom innovators The Mushroom Benefit Ltd. introduces its new line of Umamis Crunchy Snacks, bringing exotic mushroom goodness to the snack aisles.
Demand from specialty food retailers resulted in the introduction of Chocolate Gift Sets from Cape Cod Provisions chocolate company. As just one of the company's new products to be featured at the New York Summer Fancy Food Show later this month, the gift sets are positioned to boost holiday and year-round sales for retailers with upmarket prepackaged ready-to-go gift ideas.
Saffron Road, a leading brand in the natural and organic products industry, unveiled their latest epicurean additions to its globally-inspired frozen entrée product line: Thai-style Green Curry with Chicken, Coconut Curry Chicken, Vegetable Biryani and Madras Curry with Chicken Meatballs.
The Mushroom Benefit Ltd. startup rolls out its innovative line of Cuisine Bags set to redefine the soups, stock, and sauces retail market. Each mesh sachet (about twice the size of a tea bag) contains a unique blend of exotic mushrooms and natural seasoning and flavors that endow any savory stew, soup, sauce, or marinade with a gourmet touch in a single easy step.