34 Degrees Unveils New Look for Savory Crisp Line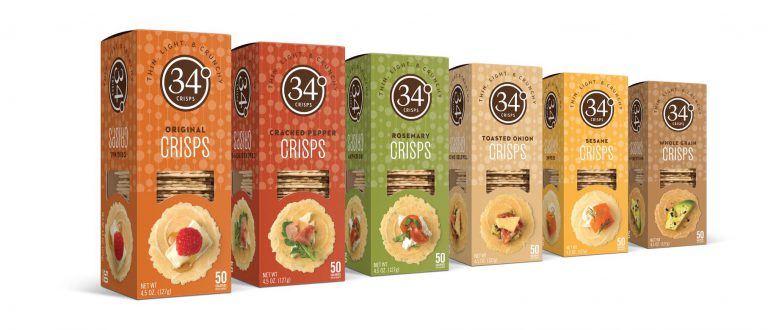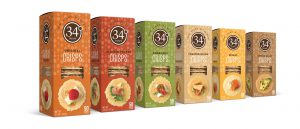 DENVER— 34 Degrees, the makers of deliciously light and crunchy entertaining and snacking crackers, will unveil a new look for its cornerstone line of savory crisps at the 2019 Summer Fancy Food Show. Inspired by the brand's Australian roots, the updated fresh packaging showcases the versatility of the crisps as well as a stylish new design. Elevating any entertaining occasion from holidays to housewarmings, these mouthwatering crisps are perfect for delicious appetizers and creative cheeseboards, as well as a perfect companion for dips, fruits and vegetables. The new packaging will roll out for all six delectable varieties of the savory line, including Original, Cracked Pepper, Rosemary, Toasted Onion, Sesame and Whole Grain, nationwide later this year.
"I created 34 Degrees Crisps to make entertaining fun and accessible to all. We're thrilled to be launching an updated look for our coveted core line of entertaining savory crisps," said Craig Lieberman, founder and president of 34 Degrees. "Between the Whole Grain Crisps with perfectly ripe avocado and a sprinkle of seeds, or our Rosemary Crisps with fresh goat cheese, tomato and basil, our crisps are the perfect foundation for an endless possibility of pairing options. Each package has been thoughtfully redesigned to better communicate and inspire consumers to prepare the spread of their dreams. Our new look conveys the idea that no matter the occasion, you can easily create what's on the packaging and more – the pairing opportunities are simple, yet endless!"
The new packaging features a pattern design inspired by the crisps themselves, brighter colors, modern fonts, a streamlined logo and a clean, simplified image of the crisps with tasty toppings. Each box also includes a cheese board on the side panel for even more inspiration. The brains behind the boxes at 34 Degrees carefully created pairings and cheeseboards that were inspiring, yet accessible for consumers no matter where they do their grocery shopping.
Made with only a handful of simple ingredients, the mouthwatering crisps are created with flavors that are baked until the crisps are perfectly crunchy and delicately toasty. The six flavor varieties will be rolling out to current 34 Degrees retailers later this year. For more information, please visit 34-degrees.com.
ABOUT 34 DEGREES
Headquartered in Denver, Colo., 34 Degrees is the crafter of deliciously light and crunchy entertaining crackers, 34 Degrees Crisps. The company was founded by successful restaurateur and global food explorer, Craig Lieberman, after he discovered a uniquely thin cracker while traveling in Australia. The experience inspired him to create his own irresistibly crunchy crisps, which he lovingly named after the latitude of Sydney – 34 Degrees. Made with only a handful of premium quality, simple ingredients, the company now offers a line of versatile savory entertaining crisps in six flavors, including Natural, Sesame, Cracked Pepper, Rosemary, Whole Grain and Toasted Onion, and four snackable Sweet Crisps flavors, including Chocolate, Vanilla, Cinnamon and Sweet Lemon. 34 Degrees Crisps are available in the deli departments of retailers throughout the U.S. and Canada, including: Whole Foods Market, Kroger, Publix, Sprouts, Target, Wegmans, Loblaws, Sobeys, Safeway, Albertsons, King Soopers and more. 34 Degrees donates 1% of all the crisps it bakes to causes that fight hunger. To learn about the mission, community giving and creative recipes, visit 34-degrees.com. Or, for real-time conversations, visit Facebook, Instagram, Pinterest, and Twitter.