Primal Kitchen Introduces New No Soy Teriyaki Sauce and Marinade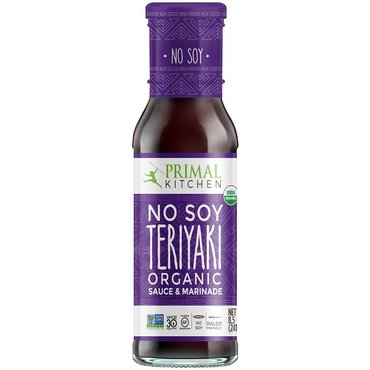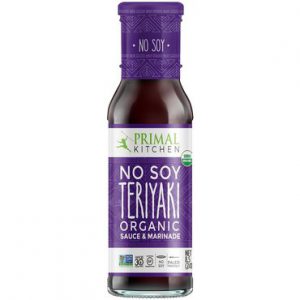 OXNARD, Calif.— From the makers of the best-selling condiment in natural grocery, Mayonnaise with Avocado Oil, introducing PRIMAL KITCHEN No Soy Teriyaki Sauce and Marinade.
No gluten, refined sugar or soy, this versatile stir fry companion has clean ingredients and is bursting with a savory, sweet Teriyaki flavor. It is USDA Organic, Non-GMO Project Verified, Whole30 Approved and paleo-friendly and made with high-quality ingredients, such as Organic Coconut Aminos, Organic Balsamic Vinegar, Organic Ginger and Organic Tamarind.
"With the popularity of PRIMAL KITCHEN mayo, dressings and Organic and Unsweetened Classic & Golden BBQ Sauces and Organic Sugar Free Steak Sauce, a high-quality Teriyaki was a perfect next step," stated founder, Mark Sisson. "Many consumers have an allergy or sensitivity to either soy itself or to gluten, which is often used in the production of many traditional teriyaki sauces. Our all-new No Soy Teriyaki gives discerning shoppers a versatile sauce and marinade for their summer barbecues and Asian meal pairings, while staying true to the PRIMAL KITCHEN brand commitment to delicious flavor and high-quality ingredients."
PRIMAL KITCHEN No Soy Teriyaki can be found Summer 2019 at over 2,500 retailers nationwide and Amazon, Thrive Market and primalkitchen.com. Whether sautéing vegetables or marinating saucy wings, break out the wok and ditch the soy with PRIMAL KITCHEN No Soy Teriyaki Sauce & Marinade.
About Mark Sisson & PRIMAL KITCHEN
Mark Sisson, New York Times bestselling author, media personality, ex-endurance athlete (5th place USA Marathon Championship, 4th place Hawaii Ironman finish) founded the PRIMAL KITCHEN brand in 2015. He has been educating the world on nutrition and the benefits of fat and protein for the last decade via his blog, MarksDailyApple.com. With the launch of the PRIMAL KITCHEN brand, Mark Sisson delivers on his mission to create uncompromisingly delicious condiments, sauces, cooking oils, collagen protein and products that contain no dairy, gluten, grain, refined or added sugar or soy and full of fats we love, simple ingredients. As Mark would say, Eat Like Your Life Depends on It, because it does. Learn more at primalkitchen.com.