Can
Shah Trading Company has been a family-owned and operated company for more than forty years, offering a premier selection of ethnic and natural foods across Canada. The company has become known as the country's leading ethnic food distributor, and now, Shah Trading Company's Dunya Harvest is offering a selection of high quality natural and organic foods.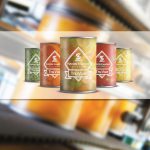 The trend of transparency within the packaged food industry is getting literal.
Project 7 proudly announces new Special Edition gum and mints inspired by everyone's favorite Girl Scout Cookie flavors, created under a new licensing agreement with Girl Scouts of the USA.