Project 7 Announces New Gum & Mints in Girl Scout Cookie Inspired Flavors
DECEMBER 15, 2016 — Project 7 proudly announces new Special Edition gum and mints inspired by everyone's favorite Girl Scout Cookie flavors, created under a new licensing agreement with Girl Scouts of the USA. The announcement comes as Girl Scouts prepares to celebrate the 100th anniversary of Girl Scouts selling cookies in 2017, which has helped generations of girls learn essential financial literacy skills.
Available nationwide at all Target locations beginning January 1, the new Special Edition gum and mints contain no artificial colors, flavors or preservatives, are non-GMO and the gum is made in the USA.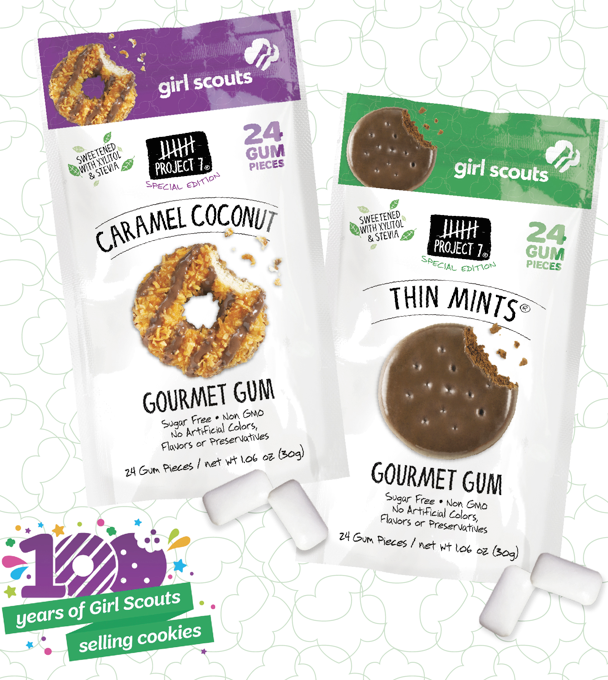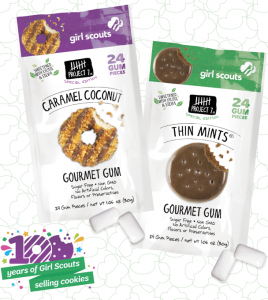 Project 7 Girl Scouts® Gourmet Gum (Sweetened with Xylitol & Stevia):
Girl Scouts® Caramel Coconut – The gum of your caramel and toasted coconut dreams has arrived, inspired by the flavors of Samoas/Caramel deLites.
Girl Scouts® Thin Mints® – Gum inspired by the legendary Thin Mints.
Project 7 Girl Scouts® Mints (Sweetened with Stevia):
Girl Scouts® Thin Mints® – Created to honor the iconic cookie, this naturally sweetened, dual layered mint is so delicious, it will take your (now) minty breath away.
About Project 7
Tyler Merrick founded Project 7 in 2008 to do good and give back around the globe. With the understanding that people are going to buy things, he decided to make things that they were already purchasing and use them to solve everyday problems worldwide. Project 7 makes products that give back to seven areas of need for good around the globe. http://www.project7.com
We're Girl Scouts of the USA
We're 2.7 million strong—1.9 million girls and 800,000 adults who believe girls can change the world. It began over 100 years ago with one woman, Girl Scouts' founder Juliette Gordon "Daisy" Low, who believed in the power of every girl. She organized the first Girl Scout troop on March 12, 1912, in Savannah, Georgia, and every year since, we've made her vision a reality, helping girls discover their strengths, passions, and talents. Today we continue the Girl Scout mission of building girls of courage, confidence, and character, who make the world a better place. We're the preeminent leadership development organization for girls. And with programs for girls from coast to coast and across the globe, Girl Scouts offers every girl a chance to do something amazing. To volunteer, reconnect, donate, or join, visit http://www.girlscouts.org.