Two Brands Look to Protein to Gain New Shoppers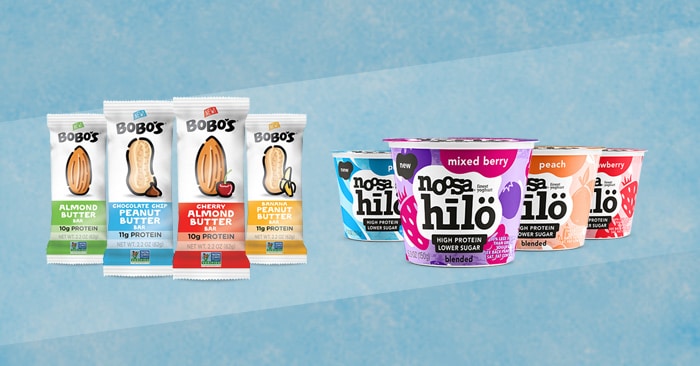 While it's true that consumers prioritize taste, they're also seeking function from everyday products. During a session at Winter Fancy Food Show on key drivers in specialty food, David Browne, market research analyst and brand consultant at research firm Mintel, noted that high protein is "extremely popular" with consumers — and brands that feed the need for both taste and function may be better positioned to win.
Some brands are already heading this call. At the San Francisco show, two Colorado-based food brands known for their indulgent taste profiles each debuted functional food plays designed to attract more discerning health-aware consumers.
Bobo's Launches Nut Butter Bars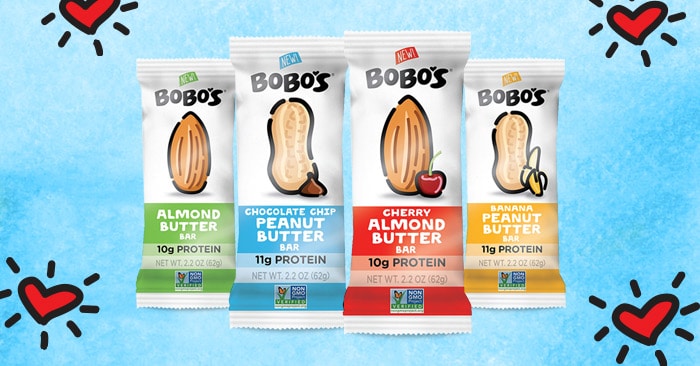 Bar brand Bobo's has always sought to create products that evoke memories of baking at home. While the brand has no plans to abandon its commitment to simple ingredient lists, with the launch of its new Nut Butter Protein Bars, the company is acknowledging that for many consumers, nutritional facts are just as important as taste.
Launching at Whole Foods Market in February as part of the retailer's bar category reset, the line will debut with four flavors: Almond Butter, Cherry Almond Butter and Hemp Seeds, Banana Peanut Butter and Chocolate Chip Peanut Butter. Each bar is 2.2 oz. (compared to Bobo's flagship bar at 3 oz.) and has 11 grams of protein and 260 calories. Unlike Bobo's chewy Oat Bars, the Protein Bars are more like a "slab" of nut butter — similar to several refrigerated bars on the market. However, Bobo's Protein Bars can last at an ambient temperature for 210 days — an advantage given the limited space that still remains for chilled snacks.
CEO T.J. McIntyre told NOSH that the company co-ideated the new bar line with Whole Foods Market after realizing its current Oat Bars might be too much of a caloric load for some customers.
"For consumers who have gotten hyper focused on the [macronutrients] that are in a snack product, they are thinking short term about the snacking window that they are in right now," McIntyre shared. "Bobo's core products have nutritional facts that we are very proud of, but it's very different than a lot of the leading bars in the category."
Each bar will also retail for $2.29 (with the opportunity to promo at $1.99), a new, slightly lower price point that may help reach more consumers.
McIntyre told NOSH that the team didn't make the choice to expand into a more functional offering lightly — for him, veering away from simply focusing on taste and a clean ingredient deck was not an easy move to make. But the end result is one that McIntyre says has solid positioning that will continue to resonate with shoppers — regardless of what dietary trends wax and wane.
"There's a lot of short term dietary trends that the bar category has embraced. With our Nut Butter Bar it's about food and taste— the most durable trends of all," McIntyre said. "[But] if we can formulate something that checks those boxes and also has a nutrition facts statement that will bring on a new consumer, let's do it."
Noosa Launches Lower Sugar, High Protein Option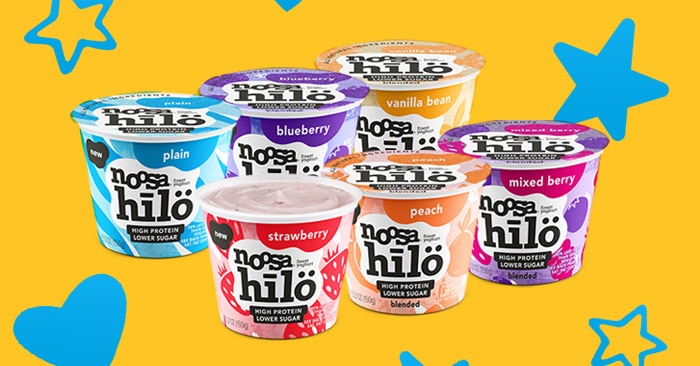 Yogurt brand Noosa has always relied on whole milk for its texture and taste. But as the brand has evolved — and was acquired by food and beverage company Sovos Brands in 2018 — consumer preferences have also changed, with many now wanting more from their breakfast and snacking choices. Thus the brand last month launched Hilo yogurt: a higher protein, lower sugar version of its core line of offerings.
The new yogurt, with 12 grams of protein and 12 grams of sugar, is available in six flavors in 5.3 oz containers: plain, vanilla bean, blueberry, mixed berry, strawberry and peach and debuted to the industry at the Winter Fancy Food Show. Nicole Birmingham, VP of R&D at Sovos Brands, told NOSH the product positions noosa for a more health-aware consumer; Hilo has 30% less sugar than the original line, though it still uses wildflower honey for sweetness. The original yogurt has 6 grams of protein and 16 grams of sugar per serving.
Still, the brand isn't straying too far from its roots. Priscilla Tuan, SVP of marketing, innovation and business leadership at Sovos Brands, told NOSH that whole milk is crucial to Noosa's taste profile, and that is unlikely to change as the brand innovates further. And while Hilo marks noosa's first foray into function-forward products, with nutritionals that may appeal to keto consumers, for example, it's unlikely the brand would steer toward products with a specific dietary callout on the label, or launch a performance-focused line, Tuan noted. Instead, leading with protein and less sugar is "more current" to consumers across many dietary preferences.
"We see protein has been a trend over time; people are more aware of protein," Tuan said. "Taste is always what we pride noosa on, but [we're] interested in supporting claims. It's an area consumers want more of."
And while a foray into plant-based isn't out of the question, the brand has found consumers increasingly appreciating the benefits of whole milk.
Noosa's hilo yogurt will hit retailers nationwide over the next six weeks, including in Albertsons and Safeway, Kroger and Walmart.