Harmless Harvest Co-founders Launch Seafood Snack Brand Goodfish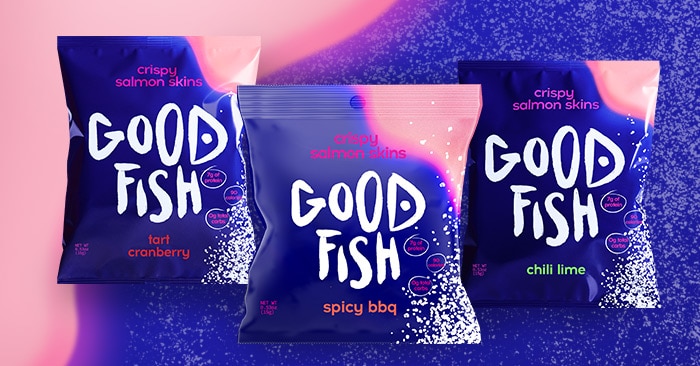 The meat snack set has seen plenty of new skin in the game over the past year as some consumers look to swap out chips and puffs with protein-heavy, low-carb alternatives like pork rinds. Now Justin Guilbert and Douglas Riboud, the co-founders of Harmless Harvest, want to bring seafood into the set with the debut of Goodfish, a line of snackable flash-fried salmon skins.
Launched last week at The Fresh Market in Sea Salt, Chili Lime, Spicy BBQ, and Tart Cranberry flavors, each .5 oz. bag retails for $2.99. To fund the launch, Goodfish closed a round of capital from previous Harmless Harvest investors of family offices and individuals, alongside AF Ventures (formerly Accelfoods).
Guilbert and Riboud developed the Goodfish concept while the two were still involved in the day-to-day operations of Harmless Harvest, but tabled the concept until they brought on Ben Mand as CEO in 2018. Since then, both have remained on the board of the coconut beverage and yogurt brand, and have largely spent time investing in other CPG brands, such as biodegradable water bottle brand Cove.
While they plan to continue investing, they said the Goodfish concept was too compelling, so they decided to take on the project themselves, with Guilbert acting as chairman and Riboud as CEO.
"We realized we were more interested in doing rather than just investing," Guilbert noted. "We had this deep confidence that we had access to resources, we had been educated, trained in this consumer goods world, and wanted to put it towards a project that would have constructive capitalism or progressive practices in consumerism."
Goodfish hopes to make an impact on the global food system by using the skins of wild salmon caught in Bristol Bay, Alaska. In the U.S., fish skin is routinely discarded in production or by the end consumer, Riboud said. And although some might argue that the best way to protect wildlife is to avoid consuming meat, Guilbert believes that by "attaching an economic value" to discarded ingredients, Goodfish is able to "put a positive value to the wilderness" and increase the value per fish caught. This move, in essence, helps build sustainable fisheries against the efforts of unsustainable fish farming practices, he added.
"We didn't look at the market [opportunity first], similar to how we didn't look at the market with Harmless," Guilbert said. "Our approach has always been related to the supply chain and the source and to see if consumerism can have a productive impact on those."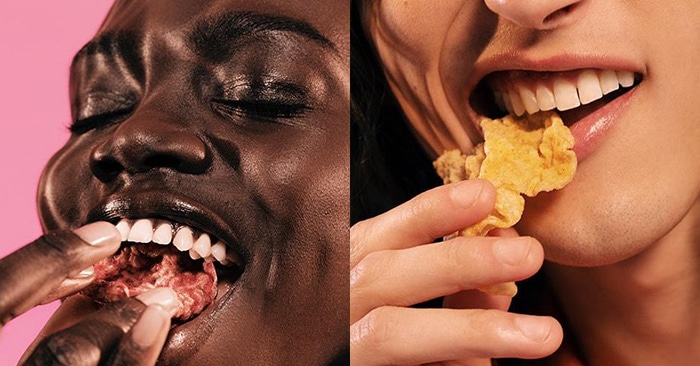 On the operational side, the company has purchased dedicated equipment to run inside of co-packers — Goodfish currently works with Trident Seafood in Seattle and a co-packer in Connecticut as well. Harmless Harvest followed the same model, Guilbert added, starting with co-packers before opening its own factory.
Errol Schweizer, former Whole Foods Market executive global grocery coordinator, has also joined the company as a co-founder and assisted in setting up much of the supply chain and operations.
Both Guilbert and Riboud understand that getting American consumers to start eating fish skins may be a challenge, but note the texture and taste are that of a Dorito crossed with a chicharrone-albeit slightly fishier. Two of the flavors, Chili Lime and Spicy BBQ, were also designed to appeal to the conventional chip consumer.
"We wanted to develop something that was completely disruptive but at the same time, easy to understand and absorb for a broad audience," Guilbert said. "If you don't have a product that says 'yummy,' I can pitch you anything about it, like that it's made of gold and will make you live forever, but it doesn't matter,"
The company will also emphasize salmon's functional benefits — high omega counts, collagen and protein — in order to connect with wellness shoppers who are looking for better-for-you snacks. Branding was designed by award-winning firm Gin Lane, which also worked on cult brands such as Recess, Shake Shack, and Sweet Greens before repositioning itself as Pattern, creating its own D2C brands.
For marketing purposes, Guilbert said he plans to follow a similar model to that of Harmless Harvest (which first invested heavily in the New York City and Los Angeles markets), focusing on specific geographic areas that influence other parts of the country's shopping habits. The brand's first employee is market manager in Los Angeles, where the company is based. Moving forward, Goodfish hopes to expand its distribution over the course of 2020, launching into other retail chains — both conventional and natural.
"I want to be part of the everyday shopping routing of a core audience that then becomes prescriber to a broader [audience]," Guilbert said.