With VMG Investment and New Focus, Lily's Tries to Create a Sweet Platform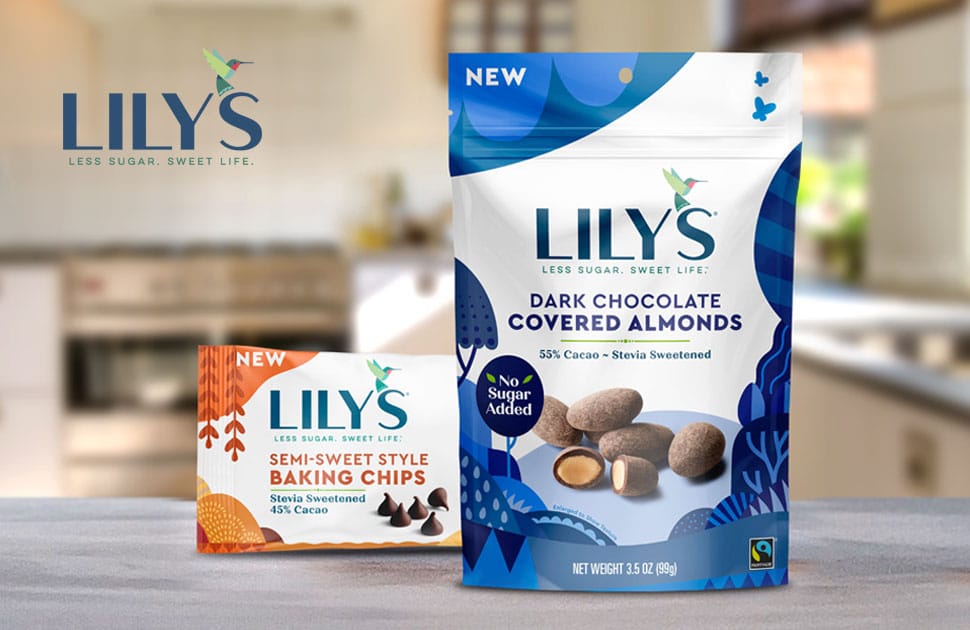 It's time for Lily's Sweets to blossom. So hopes the team of top industry investors and executives backing and working with the no- or low-sugar added line of chocolate. This week the confectionary brand announced the launch of new snacking products as well as a rebrand — both of which follow an investment last year by VMG and the addition of CPG veteran Jane Miller as CEO.
The goal is to help Lily's grow from a stevia-and-erythritol sweetened darling of the natural channel to a mainstream, platform brand through a new look, new executive team and new capital. The move already is resulting in increased points of sale for the brand, which is sold in 10,000 retailers, up from 3,000 in 2017. But there's more room to grow.
The company launched today revised packaging, designed by Bex Brands, featuring bold colors and a modern look to complement the company's signature hummingbird logo.
"The current packaging was beautiful and so loved by consumers. But we also felt like it limited us to being a chocolate brand," Miller said. "Lily's has so much potential to be a platform for low sugar, so we really felt like we needed branding that would allow us to expand beyond chocolate bars and be really able to bring the bar to life in a way that you could expand to other chocolate products and, longer term, to other treats."
That platform also began to take shape this week, when the brand announced the addition of three new snack products (chocolate covered peanuts, chocolate covered almonds and a multipack of individually wrapped chocolate peanut butter cups), each each available in dark or milk chocolate. Lily's will also launch two new SKUs of its existing baking chips. Each product uses Lily's proprietary chocolate formula that uses a mix of erythritol and stevia to provide sweetness.
It's this possibility for expansion that also drew VMG to the company.
"Lily's is going to be an innovation machine of great tasting low-sugar confectionery sweets," VMG managing director Wayne Wu told NOSH. "During our diligence, it was abundantly clear that consumers can't get enough of Lily's and want it in other product formats. We have a shared vision that we should be aggressively taking our amazing tasting Lily's chocolate to many other product formats that consumers have proven to love."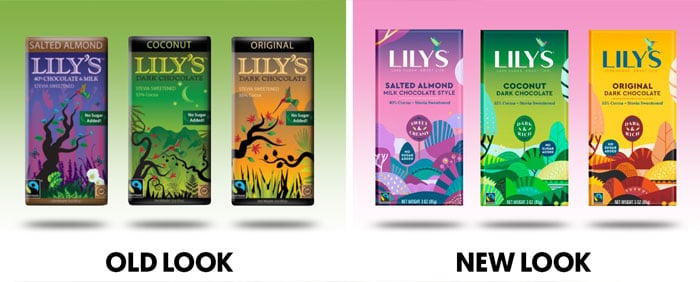 Lily's was a four-person company until last year, run by founder Cynthia Tice. A former grocer and food consultant, Tice, along with co-founder and minority investor Chuck Genuardi, brought Lily's to store shelves with national placement in Whole Foods Market in 2012. Tice told NOSH that as the company grew, she quickly realized that partnership was needed to scale the brand further.
"I had always believed Lily's was going to be successful, but it was way more successful then I even imagined," Tice told NOSH. "And I just wanted to make sure that we did it justice. My skill set is not team building, so [by 2017] I knew that I was going to have to find a partner to help with that. I selected VMG based on our shared values and their history in creating meaningful relationships with founders and management."
Enter VMG, and, soon after, Miller, who was formerly the CEO of Cookie Chips, ProYo and Rudi's Organic Bakery. Since joining nine months ago, Miller has added over 20 employees, including CFO Lonna Borden (former CFO at Justin's and Izze), SVP of Operations Phil Mason (formerly of Thanasi, Evol and Nestle), VP of Marketing Sarah Meis (former VP of marketing for Van's Natural Foods and Purely Elizabeth) and SVP of sales Seth Monette (formerly of Cookie Chips, Interbake and General Mills).
Together the group has spent 2018 focusing on initial expansion of the brand, which doubled its business over the course of the year. In 2018, according to SPINS data provided by the brand, Lily's Sweets was up 165 percent in MULO and saw 95 percent growth in the natural channel. While the natural and specialty channels have served as a testing ground for the brand and new products, conventional retailers have been the brand's major focus.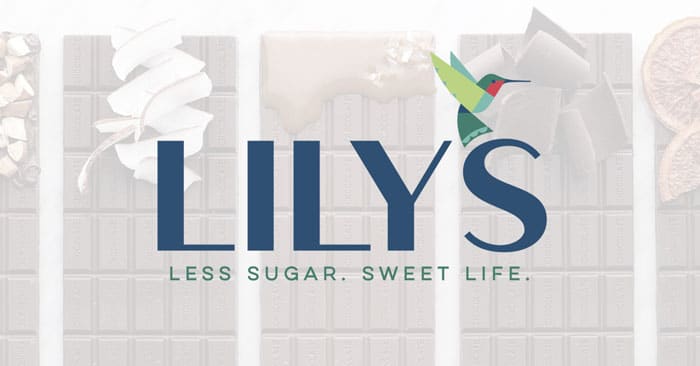 Despite the new look and products, the question remains as to how Lily's will continue to separate itself from the confectionary pack, especially at a time when some large CPG strategics are selling off their chocolate lines and consumers are prioritizing healthy eating. Miller believes the answer by focusing on taste, while avoiding sugar, the brand can offer mainstream shoppers easy ways to improve their diet without sacrificing treats.
"From Mintel research, 84 percent of people are trying to cut back on sugar. This isn't just someone who is on some kind of special diet or even more tuned into labels, the general population really believes that eating less sugar is the right thing to do," Miller told NOSH. "[In the] natural food industry you do have conversations about stevia and erythritol, but if you talk to the average consumer, the thing that they're most interested in is that there's no sugar or low sugar."
While other brands have attempted low-sugar chocolate offerings, the products were generally more medicinal and aimed at those to "couldn't" eat sugar versus those consumers who simply wanted to "avoid" sugar, Tice said. Essentially, a captive audience with no other options. As a result, in these products, taste was less of a focus and brands lack a "lifestyle" feeling, Miller added.
"What I saw [at Lily's] that a lot of the other companies that I've worked with didn't have, is the ability to be a platform," Miller said. "It's not one or two SKUs that are doing well but instead a real opportunity to create a movement. Because this is bigger than just chocolate bars."