Verb Raises $3.5M to Continue Building Text-Commerce Experience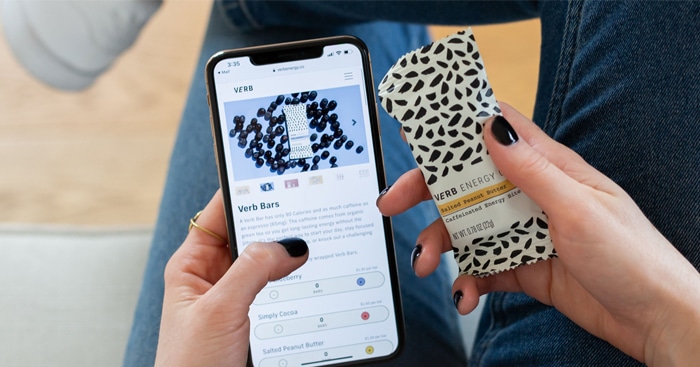 Like its three co-founders, direct-to-consumer energy snack company Verb is graduating to its next stage of life. Last year, two of its three co-founders graduated college and moved Verb's headquarters to Boston from the Yale University campus, where they first created it. Today, the company announced it had raised $3.5 million from investors. The plan is to use the money to scale the brand's text-commerce platform, expand the team, and develop new products.
The funding round was led by Global Founders Capital, which also led a $1.5 million pre-seed round last year to launch the brand. Other participants in the round included Nebari Ventures and Great Oaks Capital, both investors in text commerce drink brand Dirty Lemon and in Verb's pre-seed round. Supernode, FJ Labs, and Kevin Ryan, founder of Business Insider, also participated in the round.
Founders CEO Matt Czarnecki, CFO Bennet Byerly and CTO André Monteiro first created Verb in their dorm kitchen at Yale. Feeling "jittery and unsatisfied" after turning to coffee for a late night energy boost, the founders developed a bar utilizing green tea extract, which also contains the plant-based amino acid L-Theanine, to provide steadier energy. Verb's line of energy bars, called Caffeinated Energy Bites, launched in May 2018, just before Czarnecki and Monteiro's graduation (Byerly graduated this year).
In the company's early days, students who wanted to buy the energy bars would text the founders directly for hand delivery between classes. Noticing that this personalized service differentiated the brand, the co-founders then set out to develop a more formalized text-to-order platform, Verb Flex. While the majority of customers still place their first orders on the company's website, and not via text, Verb Flex can also be used to change flavors, quantity, or shipment time via text. First-time subscribers receive a welcome text message introducing them to the text service (accompanied by a photo of a dog eating pizza, Czarnecki noted) and then receive automated monthly reminder texts for upcoming orders.
Czarnecki said the text platform allows for Verb to "bring people small moments of delight in their everyday, creating a brand that is 'authentically human.'" He added that the conversations between customers often extend beyond the energy bars themselves to everything from memes to music recommendations. By engaging with shoppers beyond just product discussion, Verb has the potential to become part of their everyday lives.
"Texting with us is an energizing experience in and of itself. We send gifs, we encourage people on their day to day, we chat with them about literally anything under the sun," Byerly added. "It's really a radically different customer experience from anything else on the market at this time."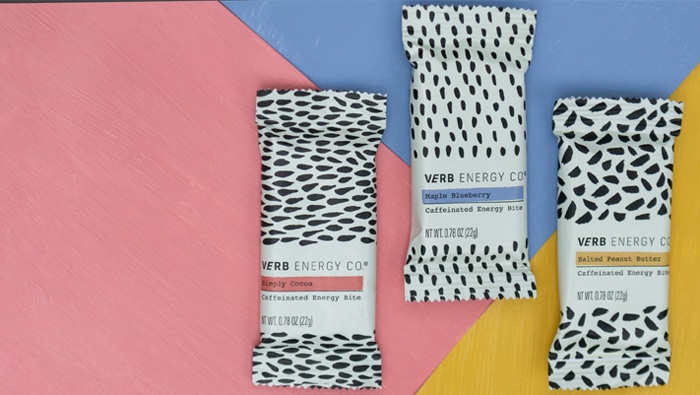 The company now receives thousands of messages per day, and said its subscription base more than tripled last quarter. While the three founders originally answered all of the texts themselves, they've since hired a customer service agent and plan to use the funding to further grow the platform.
"What's really interesting about what we've built is that one individual agent can literally handle many thousands of unique customer conversations every single day and that's not something that any business that's using a Zendesk or a similar sort of standard customer-experience focused platform would be able to say," said Czarnecki.
Going forward, Czarnecki said the company hopes to improve the efficiency of the platform to allow for more conversations to be handled by a single person. They'll continue to focus on the platform's "customer-first approach," making the platform as convenient as possible for shoppers, and testing and refining the language they use in their texts and how they're communicating with customers.
Czarnecki said Verb also plans to use the funding to add new engineering, marketing, product development, and business development hires to the team. Verb will also launch new flavors of the Energy Bites in September. While the platform may be appealing to other brands, the Verb team currently has no plans to license the technology to other companies. Brick-and-mortar retail is something that "may come in the future," but right now the direct-to-consumer format is giving them the advantage to connect with customers.
In addition to providing a way to communicate directly with consumers, Verb also is able to use the text messages to develop a more sophisticated picture of its consumers and their needs. They've found that 90% of Verb's subscribers are women, with over 50% of this made up of 20- to 35-year-old millennial women. From the text platform, they've also found that only 20% of Verb's customers are consuming Verb in place of other bars, with the majority of consumers using the line to replace a caffeinated beverage. Czarnecki said because of this, they see the brand as an "intersection of the energy and snack markets" but are careful to avoid "fad-based trends that aren't backed by real science" going forward.
"People want an energy source that makes them feel more human, and that's something we're crafting with our brand, products and customer experience," said Czarnecki.