The Checkout: Backed By Kraft Heinz, Evolv Ventures Invests in GrubMarket; Maxwell House Partners with Mrs. Maisel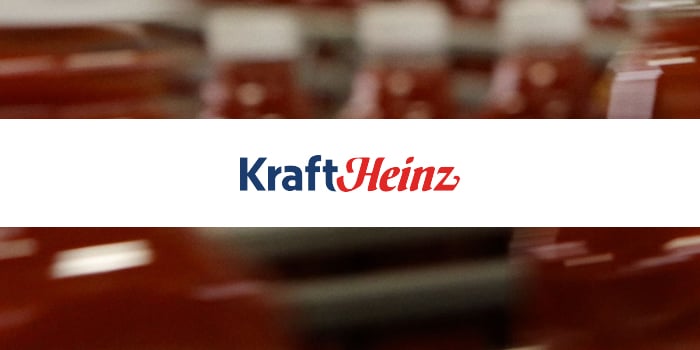 Welcome to The Checkout: an express lane for weekly news you need to know, always 10 items or less.
Backed By Kraft Heinz, Evolv Ventures Invests in GrubMarket
Kraft Heinz wants to help bring the farm to the table. Evolv Ventures, Kraft Heinz's $100 million venture fund, announced its first investment: GrubMarket, a platform that sources local food directly from producers and delivers it to businesses and consumers. In total, the online marketplace raised $25 million dollars, with firms WI Harper Group and Digital Garage leading the round.
GrubMarket primarily offers produce, but also stocks some locally made and nationally distributed pantry staples. The company has a direct-to-consumer model, but also distributes to other restaurants, food service operations and storefronts that may in turn resell the products to consumers.
Launched in October 2018, Evolv Ventures was formed to invest in "emerging tech companies transforming the food industry," according to a release.
"GrubMarket plans to grow its presence and product offerings through both geographic and product expansion," Steve Sanger, General Partner of Evolv Ventures, said in the release. "Evolv Ventures is pleased to support its innovative founders."
Large CPG brands have struggled to maintain a connection with millennial shoppers, and by investing in a local food marketplace, Kraft may find new ways to connect with these consumers and spot early-stage companies that are in-demand with shoppers.
Maxwell House and "The Marvelous Mrs. Maisel" Passover Partnership
For many Jewish consumers, Maxwell House is an integral part of their Passover traditions. Owned by the Kraft Heinz Company, Maxwell House was the first coffee brand to be certified Kosher for Passover in 1923. The company began offering Haggadahs, booklets used to guide the Passover dinner, in 1932, and has since distributed 50 million Haggadahs, becoming the most widely used Haggadah in the world.
Now the classic coffee brand has teamed up with Amazon's hit show "The Marvelous Mrs. Maisel" to release limited-edition Haggadahs with select coffee purchases on online retailer Amazon.
'Midge's Haggadah' also features recipes from the character, a Jewish housewife who discovers her talent for standup comedy in 1950s Manhattan. The character, played by Rachel Brosnahan, is also known for her elaborate Passover Seders.
New Research Reveals Convenience Store Trends
Not surprisingly, consumers want more healthy grab-and-go food. In a nationwide survey of over 1,000 Americans by facilities management and research firm company Vixxo, 1 in 3 consumers said they would shop more regularly in a convenience store if it offered healthy snacks while 50 percent said their convenience stores could improve product quality in variety.
Sixty-three percent of consumers said they would prefer convenience stores that offered more fruits and vegetables, and 68 percent said they would more frequently visit stores that offered healthy sandwiches and salads
Overall, U.S. convenience stores saw record sales in 2018, surging 8.9 percent to $654.3 billion, and foodservice sales accounted for 22.6 percent of in-store sales, according to NACS State of the Industry annual report for 2018.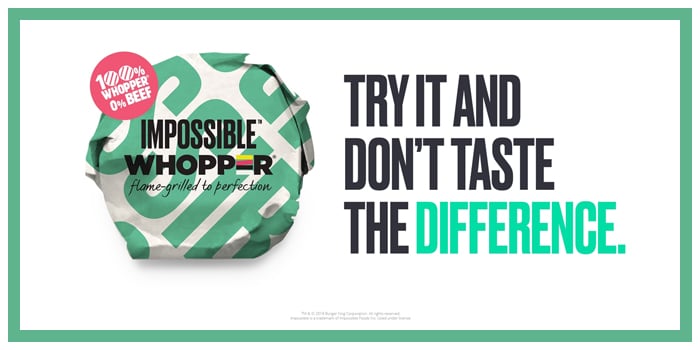 Burger King's Unleashes 'Impossible Whopper'
The 'impossible' is becoming more possible for hungry consumers. The Impossible Whopper arrived this week at Burger King, the second-largest hamburger chain in the U.S. The burger, created by Impossible Foods, debuted in 59 Burger King locations around St. Louis, with a price tag $1 more than the original Whopper.
If the trial goes well, the patties will be available in 7,000 Burger Kings across the U.S., Pat Brown, Impossible Foods' CEO, told Reuters.
Impossible Burgers "deliver all the flavor, aroma and beefiness of meat from cows," according to the company's website. Most notably, the patties "bleed" like beef patties, thanks to the addition of heme, an essential molecule found in both plants and animals that gives meat its savory, juicy flavor. The Impossible Burger's heme is plant-based and made using fermentation.
White Castle began selling Impossible sliders in late 2018, and Carl's Jr. began selling meatless patties by Beyond Meat in January 2019. According to a Zion Market Research report, the global plant-based meat market was valued at approximately $11.92 billion in 2018 and will likely generate around $21.23 billion by 2025.
To date, Impossible Foods has only been sold as a foodservice product, but the brand has stated that it intends to enter retailers in 2019. The company exhibited at Expo West for the first time this year, where it faced stiff competition from other bleeds-like-meat patties from LightLife, Beyond Meat and Sweet Earth.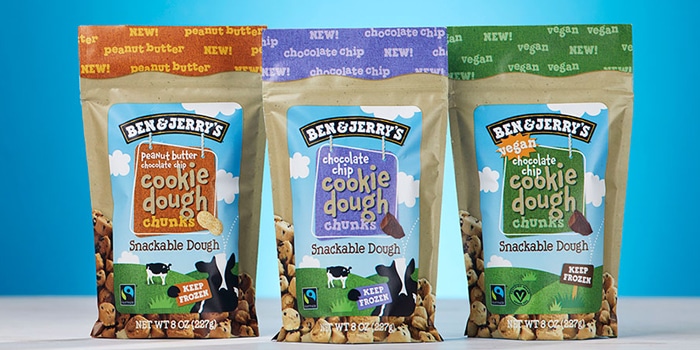 Ben & Jerry's Debuts Cookie Dough Chunks
Cookie dough lovers no longer need to dig for their buried treasure. In a much anticipated launch, Ben & Jerry's cookie dough chunks are now available nationwide.
The snackable bites are available in chocolate chip, peanut butter chocolate chip and vegan chocolate chip, which the company developed when it released a non-dairy version of its cookie dough ice cream in February. The company says the flavor has been its most popular since its debut in 1984.
The frozen chunks are available at retailers nationwide and at Ben & Jerry's scoop shops, with an MSRP of $4.99.
Whole Foods Slashes Prices and Opens First 'Bodega' in NYC
Whole Foods announced its largest price drops to date, with savings on "hundreds" of items and further discounts for Amazon Prime members. Starting Wednesday, April 3, the company said it reduced prices on popular items by an average of 20 percent.
"Whole Foods Market continues to maintain the high quality standards that we've championed for nearly 40 years and, with Amazon, we will lower more prices in the future, building on the positive momentum from previous price investments," John Mackey, Whole Foods Market co-founder and CEO, said in a release.
Last week the company also opened its first bodega-like convenience store in New York City's Chelsea neighborhood, with self-checkout kiosks, bar seating, an açaí bowl station and kombucha on tap. The store sells some common grocery and personal items and features local products like Gotham Greens and bread from Balthazar.
The convenience store launch comes just months after the company announced its plans to transition its lower-priced, private-label focused 365 by Whole Foods Market stores into traditional Whole Foods locations.
NUT-rition and Laura Dern Team Up to Address Pay Inequality
For National Equal Pay Day on Tuesday, snack brand NUT-rition debuted an "Equal Pay Pack," a 20 percent bigger pack of nut mix, available online at paygapisnuts.com and at select retailers. Proceeds from "Equal Pay Packs," which contain almonds, cashews, pecans and dried fruit, will benefit Equal Rights Advocates, a San Francisco-based nonprofit that fights for women's equality.
The limited-edition product, which also includes a marketing campaign featuring actress Laura Dern, is designed to bring attention to gender inequality issues.
"The reality is, women make 20 percent less than men," Dern said in a release. "Through my own experiences and work with NUT-rition, I want to start a dialogue about the gender pay gap."