Report: Specialty Food Industry Continues Steady Growth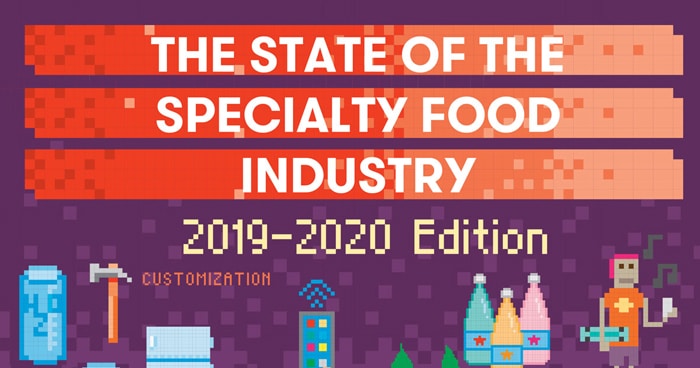 The size of the specialty food market, the top-selling categories and a shift in consumer habits and preferences were just a few of the topics touched on in The State of Specialty Food Industry report published by The Specialty Food Association (SFA) along with research firms Mintel and SPINS/IRI this month.
The industry is strong, according to the report, with the specialty food annual growth rate three times higher than that of all other retail foods, though the rate of growth has dropped by 1% since 2017. Consumers of all ages are shopping for these items across channels as foodservice and online continue to offer new options beyond brick-and-mortar, which still dominates 76% of specialty food sales.
"Diverse consumer lifestyles are taking specialty foods mainstream," said Phil Kafarakis, president of the SFA, in a press release. "To reach these consumers and increase their own sales, food merchants have embraced the vast assortment of specialty products."
Frozen and refrigerated departments saw the fastest growth in specialty retail. The support for brand transparency is also up, as 35% of consumers said they prefer to know the stories behind the brands they buy, up from 26% in 2018. Consumers are also paying attention to reducing packaging and food waste, with the SFA finding that retailers emphasizing such practices gain the attention of approximately one-third of consumers.
Size of the Specialty Food Market
Growth of specialty food sales in foodservice is outpacing that of retail, while online retail is the fastest growing channel for specialty products, at 41% since 2016. However, specialty food sales at brick and mortar retailers still account for the majority of the market, with $113.4 billion in sales in 2018. Specialty foodservice, in comparison, accounted for 22% of the specialty market at $32.4 billion, with 12.9% growth from 2016 to 2018. Growth of specialty and natural food stores from 2016 to 2018 is lagging behind that of mainstream outlets, especially as CPG companies acquire specialty brands and mainstream outlets then offer more specialty products.
One distributor's VP of vendor relations cited in the report noted that larger retailers might move successful products into a warehouse environment, necessitating a search for replacement brands.
The report identifies c-stores as an under-tapped specialty item market, focusing on impulse buys rather than establishing shopper loyalty, though it also notes that a shift is beginning to occur within this channel as c-store chains begin to offer clean label and premium products.
Top-Selling Categories
Refrigerated, fresh, frozen and plant-based specialty foods are leading retail sales and sales growth, led by cheese and plant-based cheese, meat, poultry and seafood. Mintel predicted that the refrigerated entree, juice and functional beverage categories would grow in the next five years.
Categories that grew the most in terms of specialty retail sales between 2016 and 2018 include plant-based meat and refrigerated beverages. Better-for-you frozen desserts, with many low or no sugar, premium and plant-based entries in the category, were the fastest-growing.
Specialty food and beverage sales are up one point since 2016, now comprising 16.1% of the total food and beverage market. Plant-based categories lead specialty market share, including refrigerated plant-based meat alternatives and refrigerated and shelf-stable plant-based milk, though these categories may be more popular in some regions than others, according to the report.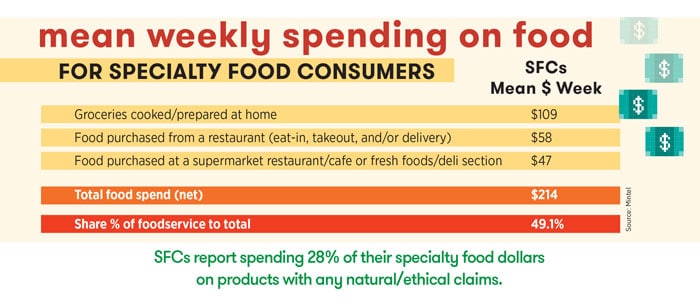 Shifting Consumer Habits
Core demographics of specialty food consumers experienced some "interesting shifts," according to the report. While millennials remain the most likely generation to purchase these products, this generation is split between older and younger subsections. Older millennials' habits align more with those of Gen-X, and this subsection is more engaged in the specialty food market than younger millennials. The report claims that the core specialty food consumer is 35-54 years old.
The report highlighted the habits of Gen-X — the demographic that is most likely to purchase across specialty food categories. This group is most likely to say they impulse-buy specialty foods and to shop across specialty retail channels.
Gen-Z, last year's leading demographic in specialty food consumers, has fallen behind in purchasing specialty foods, which the report attributes to this group being more selective purchasers due to college debt and high unemployment. When they are purchasing specialty food, the report identified that Gen-Z will spend on quality, are health and values-oriented, scrutinize their food choices and favor convenience and personalization. These younger consumers are more likely to turn to meal delivery, rather than supermarkets, for quick meals.
The report also looked at the gender divide of specialty food shoppers, claiming that the likelihood of men to be their household's primary food shopper has significantly increased. While female consumers favor scratch meals and local and regional foods and are willing to pay more for quality food, men favor quick-meal options, shop across retail channels and follow more diet types.
According to the report, specialty food consumers spend an average of $214 on food, mostly spent on groceries, in a typical week.