PROBAR Unveils Outdoor Inspired Rebrand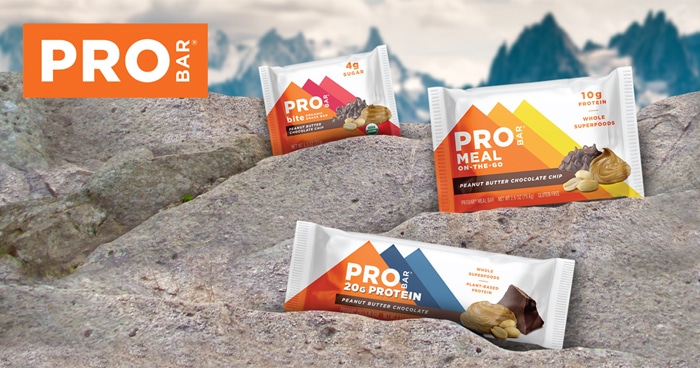 The bar set is ever growing, and even familiar brands are looking to change up their looks in order to stay competitive. Today snack company PROBAR announced a rebrand of its packaging, the first major change for the brand in seven years.
Sold in over thousands of stores, including CVS, Publix, Whole Foods, Sprouts, Kroger and Albertson's, PROBAR produces meal replacement bars, protein bars, chilled bars, nut butters and energy chews. Last year the company brought on CPG veteran Matt Fuller as President. Fuller previously was CEO of Bare Foods before selling that brand to VMG in 2014 as well as CEO of Two Mom's in the Raw, which he transitioned over to the brand Soul Sprout.
Fuller told NOSH the PROBAR packaging change was needed in order to create unified brand messaging and attract new shoppers. The brand's products are available in the bar set, fresh snacking set, nut butter category and supplement set, each with slightly different looks. As a result consumers were confused as to which product to consume when or if they were even made by the same company.
"First, we needed to stand out on the shelf," Fuller said. "We needed to clearly communicate what the products are and what they are for — we didn't do a good job talking about use occasion… there's already enough confusion in the bar set, it's daunting."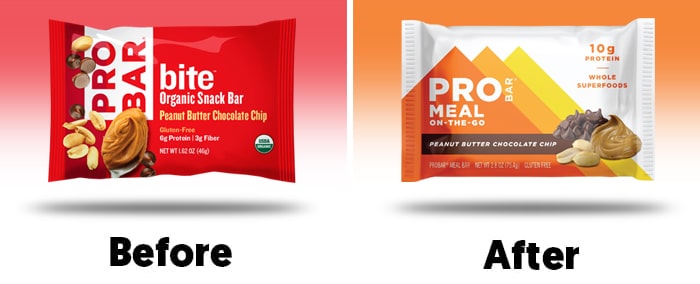 The company also wanted to attract millennial shoppers, who they believe are the top consumers of on-the-go products such as bars. Founder and CEO Jeff Coleman told NOSH that this goal required modernizing the packaging and honing in on which claims to highlight. He also wanted to make sure the company's passion and "integrity" to be reflected on pack.
PROBAR's packaging now also features mountains, a nod to the company's hometown of Park City. Building on the brand's connection to outdoor adventures, PROBAR recently announced its global partnership with U.S. Ski & Snowboard, the national governing body for Olympic skiing and snowboarding. The company kept orange as a key color from the old packaging to the new as well.
Fuller has previous experience in overseeing a product rebrand, having previously done so at Two Mom's in the Raw. He joined PROBAR last fall after meeting the brand during Expo West 2018 while doing investment research. At the time, Coleman said, the company had realized that they needed professional leadership to get to the next stage of growth.
"What really prompted the [leadership] change was that the world got more and more competitive," Coleman said. "We knew we needed to rebrand and we needed to run the business very tight and very organized, by someone with experience in the industry."
Fuller added that he has spent several months improving processes within the company, including forecasting, communication between sales and operations, and marketing and promotional programs. He and Coleman said they hope the brand will pursue further investment or acquisition in order to benefit the company and its employees.
"People want to buy great companies," Fuller said. "So the first goal is to transform this company into a great company… but we think we have a number of years before we can make that claim at the level we want to.