NOSH Live Day Two Recap: Leadership and Communication are Key
The importance of effective leadership and strong communication within a team and with consumers were strong themes carried throughout day two of NOSH Live Summer 2019 in New York City, which saw presentations from co-founders and CEOs of some of the natural food industry's most dynamic brands.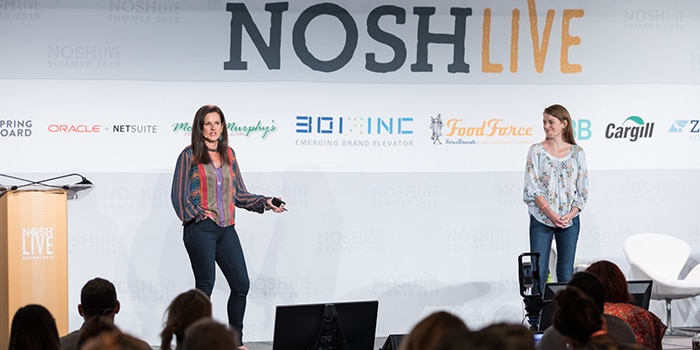 The first session of day two was lead by Sarah Alderson and Laura Rush, Walmart's divisional merchandise managers of chilled packaged goods and frozen foods, respectively, who discussed the retailer's efforts to help brands launch and innovate. Rush stressed the value of the customer for Walmart by identifying a staggering statistic: 90% of U.S. households have been to a store at least once in the last 12 months.
"We believe we should bring healthy foods, innovative foods and good ideas to everyone in the United States," said Rush.
Alderson listed some common misconceptions many emerging brands have about Walmart — it's category killing, corporate or diminishes customer experience — and set out to bust those myths. To launch in Walmart, emerging brands don't have to be ready for 4,000 stores, she said, but actually as few as 10. They also don't even have to be completely ready for their product to launch in stores when they approach a Walmart buyer, as Alderson noted that the chain understand the goals of these early stage brands.
Alderson also noted that Walmart provides emerging startups with an opportunity for brands to receive feedback and data from the store. She identified Halo Top, which attracted new customers to the ice cream category, as an example of what brands should do to catch Walmart's eye, noting that successful he products need to be "something evolutionary, not necessarily revolutionary."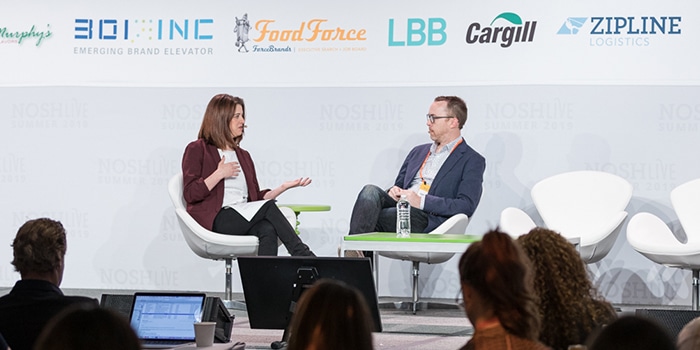 On the topic of large corporations fostering small brands, Daniel Grubbs, managing director of PepsiCo Ventures Group, brought attendees behind the scenes of the soda and snack giant's M&A strategy. The Venture Group's purpose, Grubbs said, is to invest in and support early stage businesses, especially as PepsiCo looks to deepen its presence in better-for-you snacks. PepsiCo's Hive gives brands the opportunity to take the next step forward, while its Nutrition Greenhouse is an accelerator helping brands in their earlier stages.
While Grubb said there's no "typical deal" that PepsiCo strikes with emerging brands, the company often becomes involved with companies at an early stage as a minority investor. They also look to identify a brand's core mission early on and analyze how they deliver on this by relating to the consumer. He said PepsiCo looks for brands that own their space, even if it's niche, and which have the ability to live on and be fresh and innovative going forward.
Grubb said brands that receive minority investment from PepsiCo could possibly be on the path towards full acquisition. He said the company "wants to make sure they don't just ride a wave and crash," as they could own that brand in a later stage.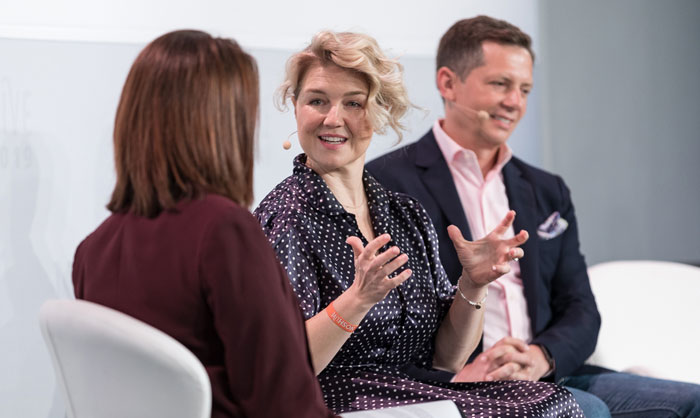 The focus then shifted to emerging brands themselves, as Jeni's Splendid Ice Creams founder Jeni Britton Bauer and CEO John Lowe discussed how their personal dynamic led to success.
"As entrepreneurs, we get our business to the furthest place we can," she said, noting that with the addition of Lowe the brand "could stretch our abilities to the max."
Constant communication and a focus on community was key to their partnership. Lowe, a former corporate lawyer for General Electric, found that he needed to find a different way to communicate with the "loving and caring artists" at Jeni's. Lowe and Bauer have been growing together as leaders of the brand, especially as the team gets larger and roles shift. According to the pair, creating a safe space where they can openly voice opinions is a crucial part of their success thus far.
"We think very differently, respect each other 100% and trust each other 1000%," said Bauer.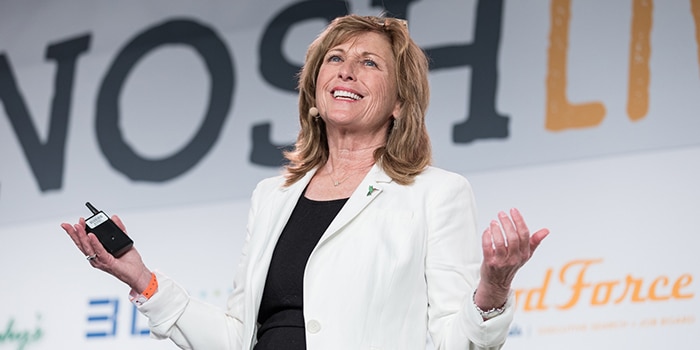 Jane Miller, CEO of Lily's Sweets, continued on the topic of brand leadership, highlighting the inevitability of change as it lends itself to a brand's improvement and growth.
Miller shared a personal story of the moment she understood she needed to adjust her leadership style in order for the brand to grow, realizing her "flamboyant" style was a poor fit in a corporate environment. She learned she needed to communicate more effectively, getting to the facts as quickly as possible.
"I didn't change who I was, I changed how I interacted with people," she said.
Surrounding yourself with good people, having empathy for your team, being honest and transparent, and taking time for yourself were among Miller's tips for finding success.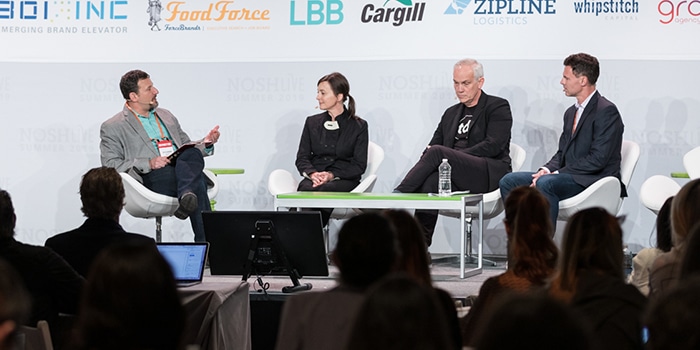 A panel of brokers — TJ Varecka, principal, KMG Group;Tregg Brown, chief sales officer, Team Direct Management; Tracy Miedema, VP of innovation and brand development, Presence Marketing — took a look at the state of retail as natural products move into conventional channels.
Varecka said the mass channel "no longer has to be the last piece of the puzzle." He said large retailers like Target are very easy to work with and provide omnichannel opportunity. Miedema added that they often work closely with brands on development, and that it's often better when new companies are in their infancy and open to outside help. No matter where they launch, Miedema said the pursuit should be getting the product the fly off the shelf.
The broker panel also touched on the state of CBD in retail.
"Everyone is interested," said Miedema. "Those who are jumping in have a higher risk tolerance."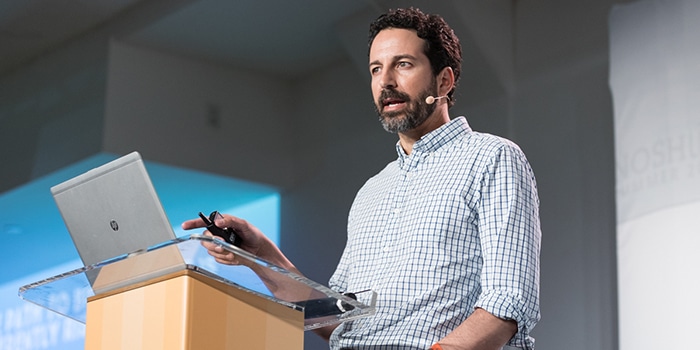 Continuing on the topic of risk, Jaime Athos, president & CEO, The Tofurky Company, discussed the chances brands take when they align themselves with specific beliefs and establish a story to live by.
Athos discussed Tofurky's decision to fight Missouri's law which would ban companies from calling plant-based meat alternatives "burgers." Athos believed that "confusing nomenclature" like the word "simulated" would deter customers from purchasing plant-based products.
For Tofurky, goals with a social purpose are essential in leading consumers away from destructive global trends.
"It's not risky if you're doing the right thing, ultimately," said Athos.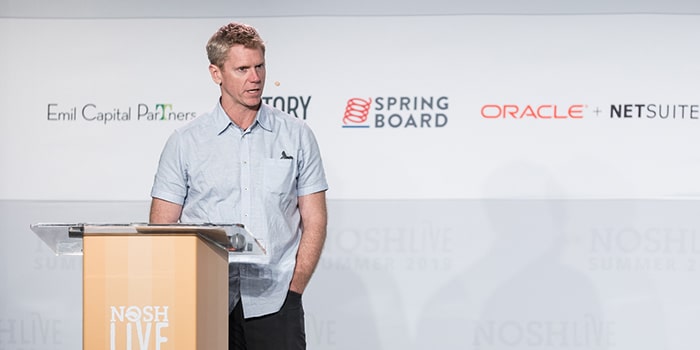 T.J. McIntyre, CEO of Bobo's, closed out the conference with a presentation entitled "Cash Is Like Oxygen," where he outlined lessons from a career in the industry, many of which came from his time with food company Boulder Brands.
McIntyre discussed several "painful natural foods cash lessons" over his career, where he learned the importance of realistic trend forecasting and the financial pressures of rapid business growth. He offered several tips to financial success, including prioritizing revenue, addressing illegitimate deductions and avoiding infrastructure G&A and offered several "bets that pay" including supporting distribution and innovating with purpose.
Through the many business peaks and valleys, McIntyre ultimately learned how to turn his failures into successes.
"The key is to monetize the lessons you pick up along the way," he said.