Miyoko's Creamery: Plant-Driven R&D Can Help Sustain Dairy Farmers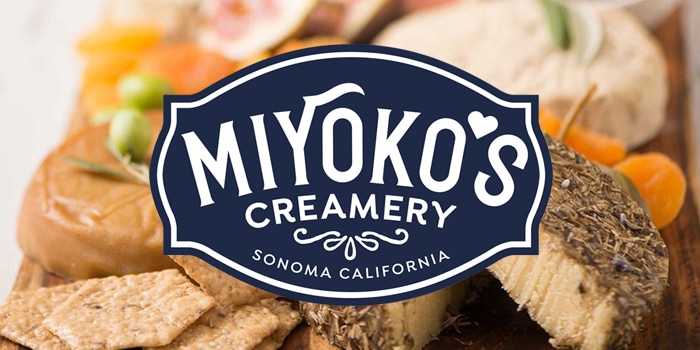 Plant-based meat may dominate the headlines, but many consumers still can't fathom life without cheese.
Plant-based brand Miyoko's Creamery wants to ensure consumers can have their cheese — and properly melt it too. The company will debut a line of pepperjack and cheddar cheese slices, blocks and shreds in spring 2020, along with cultured oat milk butter. The brand will also launch a new legume-based pizza cheese in foodservice outlets.
"[We're] bringing the first real [plant-based] cheddar that has the true flavor and function of cheddar and doesn't taste like processed cheese," founder and CEO Miyoko Schinner told NOSH. "It's very exciting for us."
The new cheeses also have calcium and protein and stray from the cashew base used for the brand's current soft cheeses and mozzarella. Avoiding nuts also allows for a lower price point and can appeal to allergy-sufferers as the brand grows further into mass channels, Schinner explained. Fueling the brand's R&D is a recent investment from talk show host and philanthropist Ellen DeGeneres and her partner, actor Portia de Rossi — both longtime vegans — for an undisclosed sum.
"[Miyoko's Creamery's] cheeses and vegan butter have become staples in our home," DeGeneres said in a release. "As we learned more about the mission behind the products and about Miyoko herself, we knew this was a special and exciting company that we wanted to support."
Future Market Insights (FMI) predicts the vegan cheese market to have a compound annual growth rate (CAGR) of 8.6% between 2018 and 2028.
Miyoko's Creamery, a certified B-corp based in Petaluma, California, launched in 2014. The company is already one of the Good Food Institute (GFI)'s top 10 plant-based cheese brands — which together make up 97% of the retail market.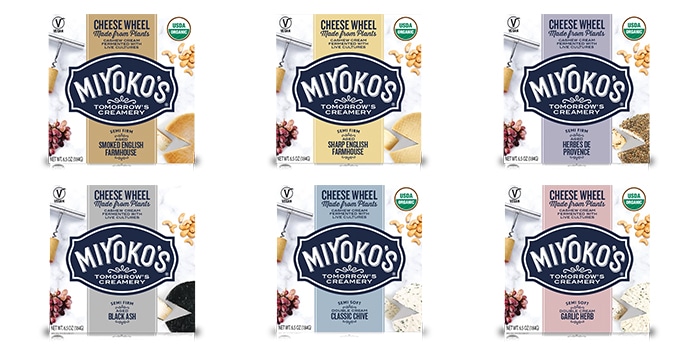 Miyoko's products range from $6.49 to $12.99 and are sold in nearly 15,000 stores, including Whole Foods, Trader Joe's and Walmart. Made from legumes, nuts and plants, the products have proven popular among consumers — and even reached menus in high-end restaurants in the Napa Valley, Schinner noted. But the brand is aiming for more plant-based versions of "everyday foods people eat," such as pizza and grilled cheese, Schinner said. Thus, launching cheese shreds, slices and bricks was natural.
The brand's products are fermented using live dairy cultures — the "secret sauce" for great taste and texture, Schinner noted. Although plant-based cheese competitors aren't as ubiquitous as alternative meat players, Schinner is taking a unique stance: eyeing struggling dairy farmers to help the brand become "Miyoko's 2.0."
"We're taking our products from the premium category we established to mainstream audiences," she said. "We want to prove we're not a threat — we're the solution. There's a new industry rising they can become a part of."
To do so, Miyoko's is seeking a dairy farm to convert to a 100% plant-based operation via a partnership with nonprofit Farm Sanctuary. The idea, Schinner said, has been churning for a long time, and will help the brand's plant-growing operations expand, while dairy farmers will also assist in R&D.
"It brings light on the more systemic problem of food in general — and why it needs to change," Schinner said. "We're not just a CPG company making products, but we also have to answer to a higher calling."
Schinner believes these farmers deserve a piece of the plant-based pie. Many small dairy farmers are already tapping into alternative milk, and with the rapid rise of oat milk products, the opportunity continues to flow.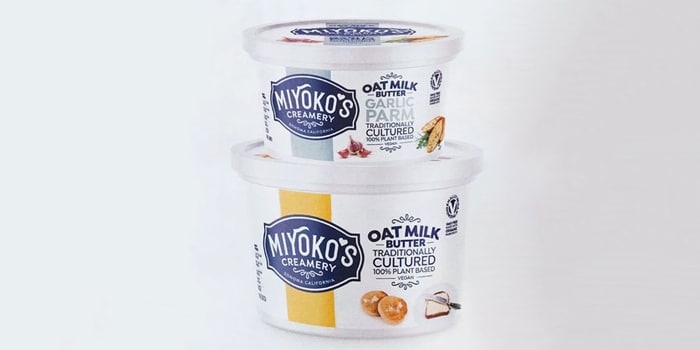 This fall, Miyoko's Creamery's cultured oat milk butter debuted at Natural Products Expo East and will launch at retail for $5.99 for a 12 oz. tub of the regular flavor and a 7 oz. tub of the Garlic Parm flavor. (Miyoko's cashew-based butter sells for $6.49 in 8 oz. tubs.) Finding proper co-packers for oat milk butter — the first of its kind to hit major retail — remains challenging: one facility creates the oat milk base and another creates the butter, Schinner explained.
"We've been thinking about oats for a long time before the meteoric rise of oat milk," she said. "It provides a great creamy alternative to cashews."
Additionally, the brand plans to build and staff a new R&D center and expand its sales team.
"We have enough resources to get us through this year," Schinner said. "We're not at the place of Impossible Foods or Beyond Meat, but [our team] has done an incredible job in the development of the products we're rolling out. We're trying to triple that team — or more."
According to GFI's State of the Industry report, plant-based cheese retail sales grew 41% over the past year. Emerging brands have an opportunity to capitalize on the subcategory, as private label brands hold little share of the market, the report notes.
"I was not sure if it had legs at all because the market didn't exist," Schinner said of the brand's 2014 launch. "Really there were no other [brands] out there — [other than] tiny vegan cheese companies [that] weren't trying to get big and didn't have the range of products we did. The demand became apparent the minute we launched when we had such strong sales."
As the plant-based market grows, Schinner argues that brands should align — not combat each other.
"We need to inspire [dairy] companies to invest more resources and energy into plant-based as they see the writing on the wall — and help them transition to this as well," she said. "Everyone can play a part."