Lehi Valley Expands Portfolio to Cater to Hispanic Shoppers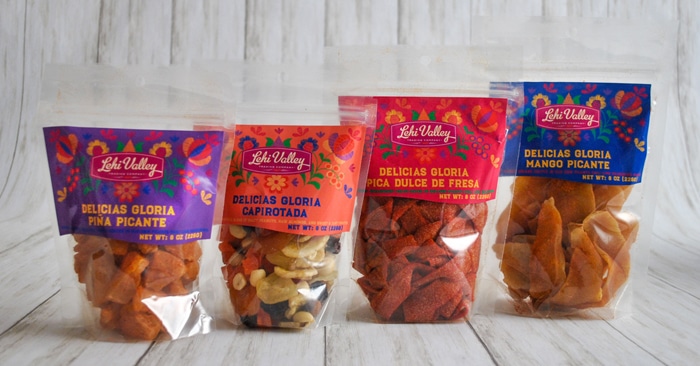 Snack company Lehi Valley Trading Company has provided savory snacks to retailers since 1985. But when production manager Santos Menendez was hired in 2016, he noticed the company wasn't making any snacks tailored to Mexican tastes, a growing consumer segment. Inspired by Menendez' idea, and production operator Gloria Soto's recipes, Lehi is now launching Delicias Gloria (Gloria's Delights), a new Hispanic-focused snack line that the company hopes will help them expand into new channels, broaden their consumer base and liven up the Hispanic snack market using bright, clean, authentic flavors and colors.
The Mesa, Ariz.-based company's portfolio already included over 400 snack items, such as better-for-you line Snackworthy and gourmet brand High Valley Orchard, and it sells both branded and private label products to retailers, including Whole Foods, Albertsons/Safeway and Kroger.
After testing in key Hispanic markets (Arizona, Texas and California) Lehi decided to invest in building out the branding and infrastructure for Gloria's. The new line includes capirotada, a mix of peanuts, raw almonds and sweet and tart fruits; piña picante, sweet and tart pineapple bits with picante chili lime seasoning; pica dulce de fresa, sour strawberry belts with picante chili lime seasoning; and mango picante, mango spears with picante chili lime seasoning. Each has an MSRP between $3.49-$9.99 and features authentic spices while maintaining a clean ingredient deck.
There's opportunity when thinking about serving the quickly growing Hispanic market: according to research firm IRI, the Hispanic community is the fastest-growing ethnic group in the U.S. and spends over $94.7 billion on consumer product goods yearly. Addressing this is crucial in order for CPG companies to keep up. According to consumer insights firm Claritas, the majority of food and CPG purchases is expected to come from Hispanic and Asian consumers between now and 2064, as Hispanics will represent 54% of population growth in the U.S., reaching 72 million by 2024. To tailor to this vast population, brands need to understand their specific tastes and cultural values to offer an authentic connection.
While c-stores are better focused on serving Hispanic populations, VP of marketing Christie Frazier-Coleman noted, grocery stores are generally "not doing a great job" of working with the right distributors to cater to Hispanic tastes. On top of this, she added, there's little innovation in Hispanic snacks. While the product has yet to hit store shelves, due to these factors, interest has been high. "Of all products we introduced in the past couple months," she said, "this one has started to take off the quickest."
Not only are Hispanic customers a prime target market, but Americans too are expanding their palates and craving more authentic ethnic flavors, marketing manager Mya Mejia noted.
Research firm IRI's State of the Snack Industry report notes that while flavor can drive growth, it's packaging that helps elevate a brand's story of authenticity. For Delicias Gloria that meant having the team's designer, who happens to be from Mexico, create a colorful, Mexican-inspired label, which will help the snacks stand out, Mejia told NOSH.
"It's what Hispanic customers really want to see and identify with, rather than just being lost within the market," Mejia said.