How Lehi Valley Is Cleaning Up with Snackworthy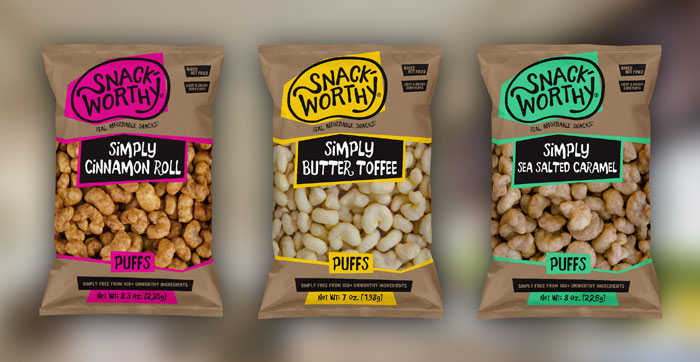 "If it's not broke, don't fix it."
It's an axiom that many food brands tend to follow. But within the convenience sector, some producers are trying something new by looking to healthy options and devoting significant resources to getting ahead of the clean label trend.
Lehi Valley Trading Company, producer of High Valley Orchard, Arizona Snack Company and numerous private label products, launched Snackworthy, a clean-label snack brand, last year. Encouraged by positive response from consumers, the brand announced during this year's National Association of Convenience Stores show in Chicago, Ill., that it's converting some of its most popular — and money-making — SKUs to the new line.
Howard Kaufman, VP of Sales and Marketing at Lehi Valley, told NOSH that while some may consider it risky to alter a lucrative SKU, he thinks the move is reflective of an overall shift in convenience toward healthier items that's being driven by the channel's younger consumers. It's a shift for the company, which while offering branded lines, has been largely recognized for its private label presence within convenience.
"There are deliberate things we are targeting in terms of priorities, but sometimes the wind knocks on your door and that in and of itself could be a significant opportunity and that takes you down a different path," Kaufman said.
Snackworthy is the most recent addition to Lehi Valley's portfolio. Other than Snackworthy, the company's branded lines sell in more than 1,500 stores. Its private label products are sold in thousands more.
Lehi Valley created Snackworthy after doing extensive research and gathering feedback from its retail partners for over two years. Similar to its other offerings, Snackworthy spans everything from nuts and seeds, dried fruit, granola and trail mixes, to popcorn, nuggets, snacks and sweets. But that is where the similarities stop, according to Kaufman.
"As we [were] getting more into tune with our customers and as our customer list was growing, it became very apparent to us early on that there was an underserved market, and that underserved market was the emergence of millennials," Kaufman said. "They key thing with Snackworthy was identifying the growth of the market and the fact that: one, millennials were going to become the prominent buying block within the economy and two, prove that [millennials] want better for you items that are more authentic, cleaner, transparent, but… not pay a lot for it."
Kaufman told NOSH that Lehi Valley has a comprehensive, living document of over 100 "unworthy" ingredients that will not be included in any of the brand's products. This list includes feedback from some retail partners who are adjusting their own private label offerings to be cleaner.
Some innovations from the company's 400-plus total product portfolio, such as roasted nuts, may immediately move under the Snackworthy umbrella; others, like the nuggets, needed to be reformulated to remove some of these "bad actors" like hydrogenated oils.
Reformulating products went beyond switching ingredients. For example, Kaufman told NOSH that the company recently made a "significant capital investment" in new manufacturing capabilities, including extrusion and caramelization equipment, for the "golden nuggets" to become Simply Butter Toffee puffs.
The company feels so strongly about the reformulation that it's diversifying the line to incorporate new flavors including Simply Cinnamon Roll puffs and Simply Sea Salted Caramel puffs. Kaufman added that Lehi Valley is also currently testing how it can puff other items besides corn, including peas and quinoa — a bold move for a company that also produces neon blue cotton candy-flavored taffy.
While Snackworthy caters to the millennial mindset, it also keeps in mind their wallets. The entire line ranges from $1.99 to $5.99. Initial brand research found that millennials are the most cost-conscious consumers out of all age-demographics. Nearly three quarters of millennials surveyed said they "no longer prefer the expensive brand, having realized that the cheaper product offers better value for the money than expected and is of higher-than expected quality." To meet this desired price point, the snacks are sold in smaller sizes in three types of portable packaging options: bags, car cups and tubs.
While Snackworthy's revenues are a minority of the company's total business, Kaufman said he sees "much opportunity" in the market to grow by catering to this consumer age group.
"We think we are really well positioned by investing in new product development, bringing this brand to market, and by investing in new manufacturing capabilities," Kaufman said. "There is tremendous growth in craft products like ours, and as a company who is not Mondelez, we have the flexibility to hone in on that."