How Ingenuity Brands Plans to Sell Parents on Brain Health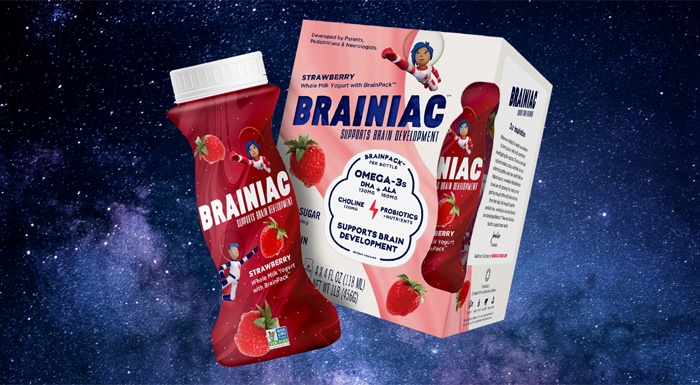 It can take a little ingenuity to get consumers to buy a new product. Over the past decade, that's the (sometimes hard) lesson Jonathan Wolfson and Mark Brooks, have learned. Last week the duo launched their new brain health-focused company, Ingenuity Brands, and its first product line, Brainiac Kids.
The line, which will launch in Central Market this month, consists of yogurt cups and drinks enhanced with the company's proprietary "BrainPack," a blend of key nutrients for brain development which includes Omega-3s DHA and ALA as well as choline. Wolfson and Brooks told NOSH that one serving of Brainiac yogurt provides as much DHA as a child's portion of salmon, as much ALA as one cup of brussels sprouts and as much choline as two cups of broccoli.
The company was initially self-funded by Wolfson, with Luxe Capital, Lerer Hippeau and Slow Ventures taking part in a subsequent round. Wolfson told NOSH that he was interested in the concept of brain-health after researching his three children's nutritional habits.
What he learned, Wolfson said, was that he was "failing them" by not offering the right foods at mealtime. While infant formula addresses brain health needs, toddler foods often neglect this category in favor of more "performance" claims such as height or muscle development.
After developing the BrainPack, which can be used in dry or liquid products, the question then became where to merchandise it on shelf. Wolfson and Brooks ultimately decided on yogurt because of the category's large market opportunity. Regardless of if parents understand the brain-health play, Wolfson said, Brainiacs also fits also trends such as low-sugar and high-protein.
"For us we were looking for a category that we could bring true innovation to and [where we could] drive that category lift," Brooks told NOSH. "There's an opportunity in kids yogurt because it hasn't seen change and it's growing."
As a team, Brooks and Wolfson have experience marrying need, use case and a novel ingredient deck. The duo last worked together at algae brand TerraVia (formerly Solazyme) as CEO/founder and SVP of ingredients respectively. During its time in business, TerraVia sold proprietary algae oils and powders as ingredients and launched two algae-focused consumer brands, Thrive cooking oil and Algenist skin care. However, the company ultimately filed for voluntary Chapter 11 bankruptcy, selling substantially all of its assets to Corbion N.V. for $20 million in 2017.

Wolfson told NOSH he's taken his experience at TerraVia and applied it to Brainiacs, which uses algal oil as the source of its DHA. In particular, Wolfson said he's learned the difference between creating innovation and creating innovation that the consumer can easily grasp. Brainiacs is straightforward with its claims, Wolfson noted, and makes it easy for parents to understand the concept of "brain health" by comparing the product benefits to that of a serving of salmon or broccoli. Yogurt is also a product type that parents turn to from breakfast to snack time.
"We learned the importance of the clarify and focus of our benefits," Wolfson said. "All of these categories are busy and crowded. I think what we're doing is unique but I think we need to find a way, and I think we did, in figuring out how to communicate that."
Wolfson and Brooks opted for a branded product line rather than an ingredient play this time. With TerraVia, they said, turning the functionality messaging over to another brand sometimes left consumers unclear of health benefits — not to mention the long path to full adoption by both companies and consumers.
But most of all, Wolfson said, he learned the importance of passion.
"We learned along the way that leaning into why and how much we cared about what we were doing was not only okay it was beneficial," he said.