Real Food From the Ground Up to Expand Vegetable-Based Snack Offerings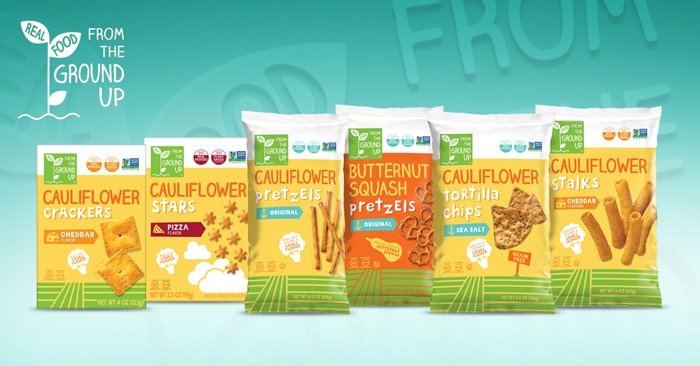 Having conquered rice and pizza, cauliflower is coming for the snack aisle.
Vegetable-based snack brand Real Food From the Ground Up (RFFTGU), formerly known as From The Ground Up, announced today that it will expand beyond its current lineup of pretzels and cheese crackers, adding eight new products to fill other snacking occasions and reach new demographics.
In snacking formats, the brand is adding cauliflower-based stars, stalks and tortilla chips each in a variety of flavors. It also will expand beyond cauliflower for the first time, launching new butternut squash pretzel sticks and twists.
A portfolio company of Halen Brands, RFFTGU launched onto shelves in summer 2018. Since then, the brand has grown rapidly and is expected to have placement in an estimated 10,000 doors by the end of the first quarter of 2019. Existing retailers include Whole Foods, Sprouts, Wegmans, Safeway, Albertsons and Stop & Shop while the brand's new items have launched in retailers including Whole Foods and other smaller specialty retailers.
RFTGU President Aaron Greenwald told NOSH that retail partners asked for the brand to expand deeper into snacking. However, the brand only wanted to add snacks where it could add incremental business. For example, although the brand has cheese crackers, which are similar to Cheez-Its, RFFTGU added an airier "star" shape to offer parents an alternative to Goldfish.
"We don't want to be another me-too with a vegetable people have offered for years," Greenwald said. "So how do we carve ourselves out and offer something that's going to resonate with customers but also get retailers excited about carving out space for these products."
RFFTGU's stalks are a bit of a homecoming for two members of the Halen team. COO Vincent James formerly was the CEO and founder of Mediterranean Snacks, which created Bean Stalks, while Halen CEO Jason Cohen previously founded Veggie Straws.
Beyond formats, RFFTGU is also turning to butternut squash to reach cauliflower averse consumers. In research, VP of marketing Stephanie Latorre told NOSH the company found that butternut squash provided a neutral base and, somewhat surprisingly to her, wasn't perceived as a seasonal flavor.
"Butternut squash wasn't something that had broken into the snack category yet," Latorre said. "It also has a more mild flavor and color which helps us with the transition from mainstream to better-for-you."
Greenwald said that 2019 is expected to continue to be a growth year for the brand, not only thanks to the new SKUs but also through retail additions. In particular the team plans to focus on adding natural and speciality accounts and supporting those retailers with marketing efforts. 2020 will be a key point for the brand, the team added, when RFFTGU will focus more on maintaining turns and growth rather then looking to add new doors. Despite the focus on growth, the brand plans to continue to launch new snack items.
"The message behind the brand is how do we create the recognizable, traditional formats of snacks that people have been eating for 40, 50 years," Greenwald said, "And do that with a vegetable based platform."