From the Expo West Aisles, Themes Emerge
While there were plenty of buzzy, ketogenic, CBD-enhanced, cauliflower-based products lurking in Expo booths, if you looked deeper, you could tease out several larger themes within the natural food industry. Here are a few takeaways to muse upon:
Natural is Still a Vital Channel for Brands
Despite the Walmarts, Targets and Krogers of the world investing heavily in their natural and organic product assortments, there's still a place for natural retailers to serve as a testing ground for new products and brands.
Whole Foods, in particular, offers brands the controlled space to try to sell innovative products to forward thinking consumers, all while still offering a national footprint.
Banza initially launched five SKUs of its new, legume-based rice substitute into Whole Foods' 365 stores last year as a very limited test. This year, it whittled down the line to two options — both of which it was able to tweak thanks to feedback from vocal shoppers — and launched them exclusively into Whole Foods at Expo West. Only if the product succeeds in that channel will the brand explore taking the new grain option into other retailers.
Justin's, which has a broad presence in retail, convenience and mass, also launched its new nut butter-coated nuts into Whole Foods as part of a new emphasis by the retailer on functional snacks.
And even those who stay away at first find their way back. JUST, which had a booth at Expo West for the first time this year, announced its egg substitute will launch into Whole Foods nationwide. The retailer has agreed to carry the product in its egg set, retail space that might be hard for JUST to have carved out with a larger store.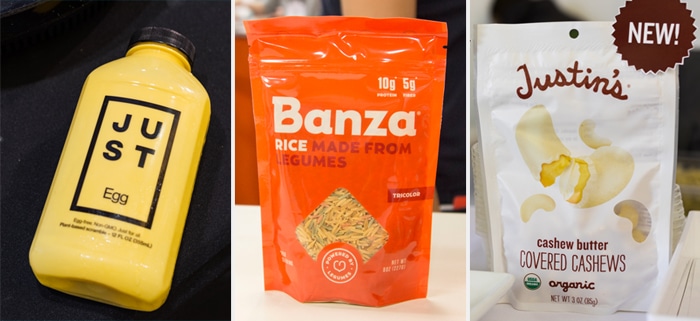 Integrated Sets Have Pushed Snack Brands to Innovate
Junk food has gone upscale. And not just subtle makeovers, the most successful snack brands brand in this set are adding better-for-you benefits to these classic categories.
Perhaps some of the focus on flavor comes from retailers — such as Kroger — turning to more integrated sets that position conventional chips next to natural options. To really compete with classic favorites, brands needed to amp up their taste profiles and offer conventional form factors (such as cheese balls) while still not losing sight of better-for-you goals.
In the snack category, natural brands have long been accused of sacrificing taste in order to hit dietary needs such as vegan or low-fat. But with consumer acceptance of healthy fats and continuous flavor innovation on the flavor-side as well, those brands are hoping that's no longer the case.
At Expo West Beanfields launched five new flavors of its bean-based chips that bring bold flavors to match the company's bold redesign last year. And to go with those chips, Good Karma, which previously expanded from plant-based beverages and into yogurt, sampled flax-milk derived French Onion Dip and Ranch Dip.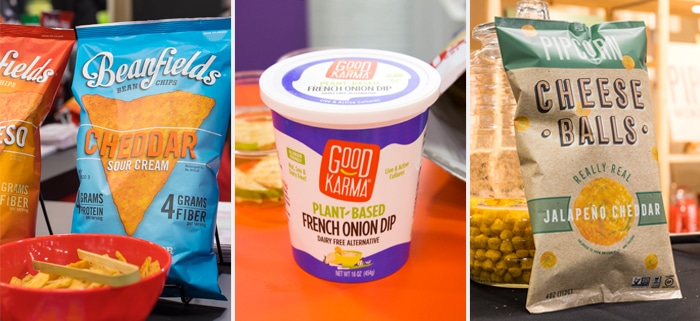 Handheld Is Red Hot
Consumers are on the go, but other then single serve bags of chips, bars, and the ever-present frozen burrito, before the show, there wasn't a lot of innovation coming to handheld meals. At Expo West there were plenty of new entrants offering consumers easy meals that don't have to be eaten at home.
All appeal to consumers who, despite not sitting down for full meals, are increasingly looking for actual mini-meal solutions, rather than just a room temperature energy bar. Technology has assisted in this shift as well — microwaves now are able to provide more consistent cooking (no more frozen centers) and manufacturing equipment allows for classic form factors that incorporate healthier or simpler ingredients.
At Expo West Brazi Bites launched an empanada that has the size, shape and snackability of a Totino's Pizza Roll. Tofurky, which previously released its take on the Hot Pocket only to discontinue it due to manufacturing woes, demonstrated vegan sandwich pockets — many of which use the same "meat" Tofurky sells in retail, but in a portable format.

Don't Forget to Dress
While there are plenty of food tribes that use food restrictions — primal, paleo, raw, vegan — for each, salad is still a go-to meal. And that calls for dressing.
Unilever's Sir Kensington's previously launched several flavors of ranch, but that line was often positioned closer to that of a condiment, as a dip or sauce. This year the brand pushed into new formats with the launch of vinaigrettes, and while the dressings don't address a specific diet, it's a full-fat line that doesn't shy away from healthy fats.
Although the New Primal and Mother Raw's dressings are catering to shoppers who are paleo/primal or vegan respectively, neither sacrifices flavor for function. Both lines also use global flavors — such as tumeric or miso — to differentiate these dressings from the wide swath of products already available and as a way to capture shoppers who may not be looking for a special diet dressing, but are looking for flavor innovation.