From Sea to Spoon: Safe Catch Launches Soup Brand Safe Harvest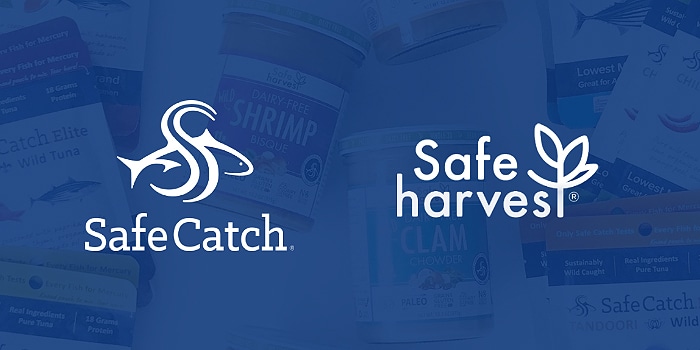 The founders of clean-label seafood company Safe Catch are betting on transparency, both in packaging and ingredient origin. The company has launched a new brand, Safe Harvest, offering a slate of soups made with clean ingredients and packed in reusable glass jars.
It's all part of the company's mission to "change everything upstream" in the food system via product transparency; this is achieved through self-created safety and quality testing, Safe Catch co-founder and CEO Bryan Boches said. Thus, four years after launching their line of canned seafood, the Safe Catch team felt compelled to grab a spoon.
"We saw the same things we were seeing inside of the seafood segment," Boches told NOSH. "Both had lacked innovation with respect to not just product formulations, but [also] consumers looking for healthier options. We were not sure if we would get the same respect [in soup], but saw that there wasn't a brand focused on clean labels."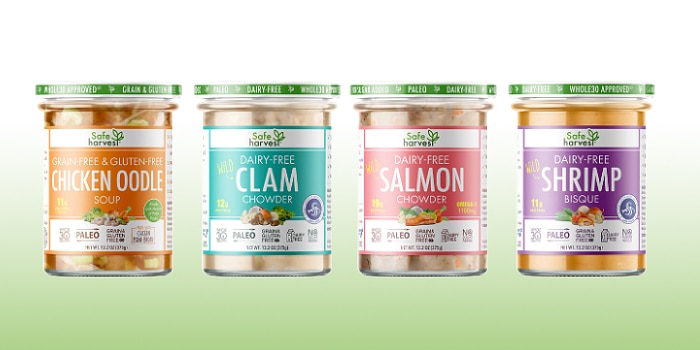 So far the brand has four gluten-, dairy- and grain-free soups in jars, with an MSRP of $4.99: Chicken Oodle (made with hearts of palm noodles), clam chowder, salmon chowder, and shrimp bisque are available in 2,300 stores, including Kroger and FreshMarket. Both chains also sell Safe Catch fish products.
Across both lines, product transparency and quality are the company's key priorities. Originally conceived of as a technology company, Safe Catch's co-founder and president Sean Wittenberg first offered his proprietary mercury testing technology for tuna to larger brands, but all declined. The big companies thought the process would be too difficult and expensive, Boches said, so he and Wittenberg launched their own brand, Safe Catch. Aside from its strict mercury testing, the brand's tuna, salmon and wild sardines are not pre-cooked, but instead cooked in the can, which preserves their natural omega-3 content, Boches said.
"Doing those things is hard to communicate to the consumer," Boches said. "We were told nobody cared — consumers care about price, flavor and [if it's] shelf-stable. We're banking that people will see from the label what we're doing differently."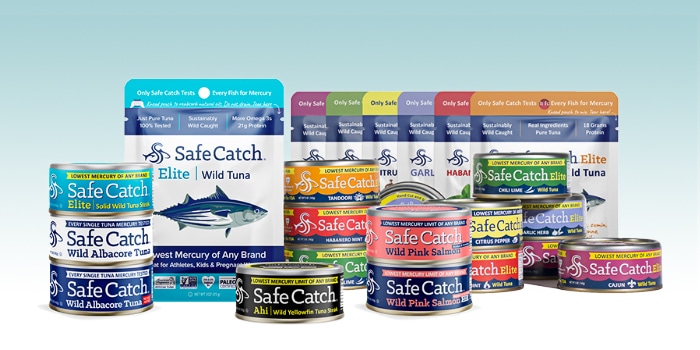 That transparency has proved profitable: the company has doubled in sales each year since launching and currently offers 33 clean-label seafood products in 10 countries. Products are sold in 12,000 stores in North America, 40% of which are in the natural/specialty channel. One cohort finding the brand especially relevant: pregnant women seeking to consume less mercury, Boches said. But many consumers are seeking clean pantry staples, he added, and after raising $5 million last year, the company has pushed to improve its technology and grow its inventory to meet the demand.
With Safe Catch afloat, the team started planning Safe Harvest in March, seeking to clean up America's favorite soups. Boches said the team felt having a separate brand would be less confusing for consumers, and also gives the team the ability to explore proteins beyond seafood.
"We're not a company that's limited to seafood, but focusing on meals that are healthy for you," Boches said. "It was a natural extension for us. A large part of where this is coming from is not so much looking to expand, but as we spend more time in food seeing a lack of options."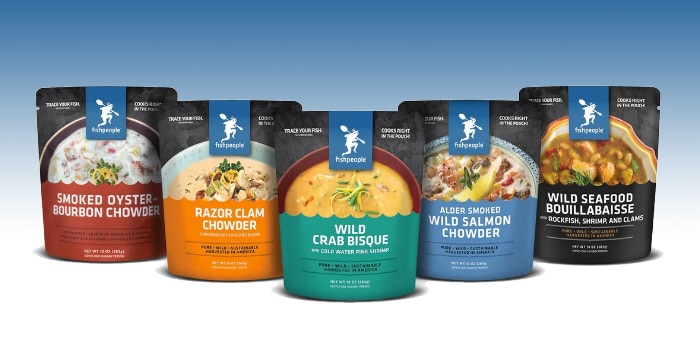 This isn't the first course of clean-label — and transparent — soup innovation, though. Seafood company Fishpeople launched in 2012 with clean, shelf-stable pouches of soup and chowder, and while Campbell's has also sold cleaner-label and refrigerated offerings, along with soup in jars in the late 1990s, it still has further plans beyond the can. Most recently, Italian food brand Rao's launched a line of jarred soups.
Despite such efforts, Boches thinks Safe Catch's bold commitment to transparency will win with consumers. But creating clean-label, dairy-, gluten- and grain-free, paleo, Whole30 soups wasn't simple; Boches said the company worked with a paleo-certified chef and a Poland-based copacker on product formulation. Given the use of clear jars and only "clean" ingredients, making the soup's appearance appealing proved especially challenging. The seafood soups are made in Poland, while the chicken soup is made in the U.S. to adhere to United States Department of Agriculture (USDA) requirements.
"We feel like a startup every day because we keep launching into new categories and products that are entirely different," he said. "Now the question is whether these products can be launched without big marketing budgets."
To expand its mission without much marketing, Safe Catch is in talks with retailers to soon create private-label items, starting with tuna and salmon, that utilize the company's strict quality standards, Boches said. Such items will either be labeled "Safe Catch-certified" or somehow mention the testing on their packaging. The goal is making these healthier staples more widely available; reeling in the business to stay small and focused, while partnering with other brands, can hopefully help do that, Boches said.
"Whether in the value segment or premium segment, it doesn't matter," Boches said. "We just want to provide assured purity to everybody — that's our goal across food."