Emergy Foods, Kencko Raise Funds to Focus on Plant-Based Sustainability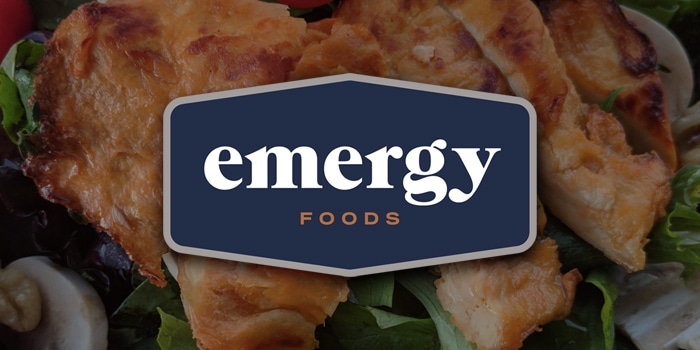 Two plant-based startups, Emergy Foods, producing a proprietary ingredient for meat alternatives, and subscription smoothie mix Kencko, both announced recent fund raises last week. While Emergy Foods looks to expand production capacity at its new Boulder, Colorado headquarters, Kencko will focus on improving its sustainable packaging and expanding its flavor portfolio.
Emergy Foods Closes $4.8M Round to Expand Production Capacity
Plant-based protein startup Emergy Foods closed a $4.8 million venture capital funding round last week, which will allow the company to increase the production capacity of a (yet-to-be-announced) sustainably sourced proprietary ingredient used to create meat alternatives.
Emergy Foods CEO Tyler Huggins told NOSH that the company is using the undisclosed ingredient to produce all-natural, plant-based meat alternatives with the texture of whole muscle meat. He said this will lend itself to plant-based chicken breasts, pork chops, and possibly fish and beef.
"I don't think there's anything on the market right now that can match the textural qualities of a whole muscle meat," said Huggins. "We're looking at different white spaces that we believe are untouched in the market right now, and we'll be coming out with a variety of different products."
The funding round was led by Congruent Ventures, with Prelude Ventures, Better Ventures, 50 Years, New Crop Capital, The March Fund I LP, Trust Ventures, and Bluestein & Associates also taking part. While this was the company's first round of institutional funding, it previously received $1.3 million in grants from the National Science Foundation, the Department of Energy's Argonne National Laboratory, and Chain Reaction Innovations.
Part of the capital will go towards expanding the company's team with more food industry veterans. Morgan Agho, the company's new director of marketing, previously served as brand manager, plant-based at Boulder Brands, executing brand plans for the Gardein brand, among others. The company also will use the funds to grow its production capacity, increasing the footprint of its production facility in Boulder, Colorado. The recently opened facility features full production, laboratory and kitchen capabilities to manufacture its ingredient and soon-to-launch products in-house, and can easily grow as the company increases in size.
"There's so much scalable potential," said Huggins. "The process we're creating is based and rooted in traditional techniques, but then we're using modern advances to make this scalable, safe for everybody, and also affordable."
While many brands such as Impossible Foods and Beyond Meat have found success and media coverage with plant-based beef and sausage, chicken and pork alternatives have garnered less attention. They've also proved trickier to formulate: Beyond Meat discontinued its chicken strips earlier this year over dissatisfaction with the flavor.
Though Huggins was unable to share specifics about its ingredient at this time, he claimed it's "something you haven't seen yet in mass market," adding that it has the same amino acid profile as milk and eggs as well as the fiber content of vegetables. The "natural flavor" of the product reduces the need for masking agents, and it contains no soy, wheat or pea protein. Huggins said producing the ingredient requires fewer resources than pea protein, claiming that Emergy Foods has the ability to produce 2,000 times more protein per acre than conventional agricultural practices.
"There's no limit in the future of how much of our ingredients and our products we can make," he said. "We see the limitation in supply around pea protein– that keeps the price really high. And where are we going to grow all of this stuff? We've already used up most of our land. So we've developed this solution that bypasses that. We want to make sure this technology is shared with everybody."
Huggins and his co-founder Justin Whiteley were previously co-founders of BTRFY Foods, a startup producing plant-based protein crisps called MycoCrisps. BTRFY Foods used mycelium, a network of mushroom and fungi roots, as its protein source, according to an article published by The University of Chicago's Polsky Center for Entrepreneurship and Innovation. Mycelium was grown using water left over from brewing beer, and then was dehydrated and ground into flour.
Huggins said Emergy Foods will serve as the "parent company" for its soon-to-be-announced consumer-facing brand, which the company hopes to launch in September. To start, the company will focus on "boots on the ground engagement" with consumers, including food trucks, pop-ups and inclusion in local restaurants before slowly moving the brand into retail, as well as opening up its proprietary technology to other companies.
"We're not trying to target just the Whole Foods crowd, although that's a great demographic we want to help serve," said Huggins. "Our goal as a company is to make sure everybody can afford healthy, nutritious, clean protein. We want to make sure we create a brand and a product that translates across all demographics, including middle America."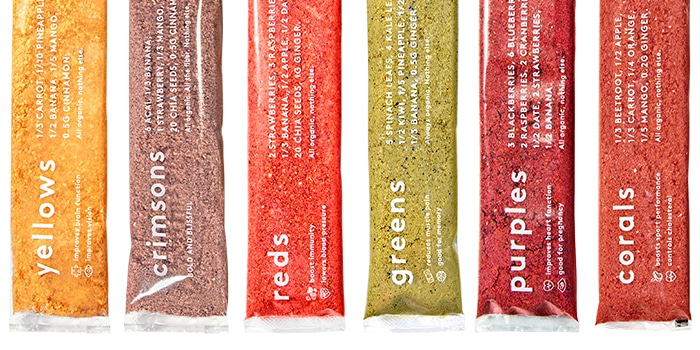 Kencko Raises $3.4M to Develop Compostable Packaging
Plant-based nutrition service Kencko announced last week it has raised $3.4 million to facilitate a move towards compostable packaging for its smoothie mixes and increase its R&D pipeline. The funding round was led by NextView Ventures, LocalGlobe, Kairos Ventures, Techstars and Max Ventures, among others.
Kencko offers flash-frozen and slow-dried 20 g packets that the company says fulfills two of the recommended five-per-day fruit and vegetable servings. Consumers then add cold water or milk and shake.
Kencko was co-founded by Tomas Froes and Ricardo Vice Santos last year after Froes was diagnosed with acute gastritis. Rather than take prescription pills, he turned to a natural treatment– raising his fruit and vegetable intake– and sought an easy way to take these foods with him on-the-go.
Froes told NOSH that the brand will be using the funds to develop compostable packaging for its smoothie mixes. He said sustainability is a significant focus for the company, and it was important for them upon launching that the packaging for the fruit and vegetable mix was recyclable and transparent, so consumers could clearly see the product they were purchasing. However, Froes said the company "wasn't satisfied" with just being recyclable, wanting to take the packaging a step further. With the new funding, Kencko hopes to make the packaging fully plant-based without altering the product's formulation or shelf life.
The company also plans to use funds to double its flavor offerings from six to 12, which are named after various colors (Purples, Greens, Reds) according to their various collections of fruits and vegetables. The products feature advertised functional benefits such as improved metabolism, immunity and heart health.
Froes said Kencko will also add a personal nutritionist to Kencko's in-house team who, in part, will offer one-on-one appointment-based nutrition consultations through its website to consumers.
"Part of our vision and mission is to help the nine out of ten people in America that don't reach their five servings of fruit and vegetables a day, so a big part of that is not only providing the products and tools for people to raise their fruit and vegetable intake, but also to educate them on how to do that," said Froes.
The brand is also developing a mobile app, which they told TechCrunch would be launching this year, but declined to provide further details.
Kencko is mostly focused on a direct-to-consumer model, where Froes believes Kencko can reach consumers on "a more personal level." Consumers can purchase a 20-unit subscription pack for $60, or 60-pack for $150 through the brand's website. While currently available at three b8ta stores, two in New York City and one in Chicago, Froes said the brand isn't seeking out a major retail presence where they can't connect with customers.
"What we're not looking to do is roll out in retailers where we lack control of the experience, which is something we feel is quite important for us," Froes said.