Distribution Roundup: Retailers Scoop Up Ice Cream Brands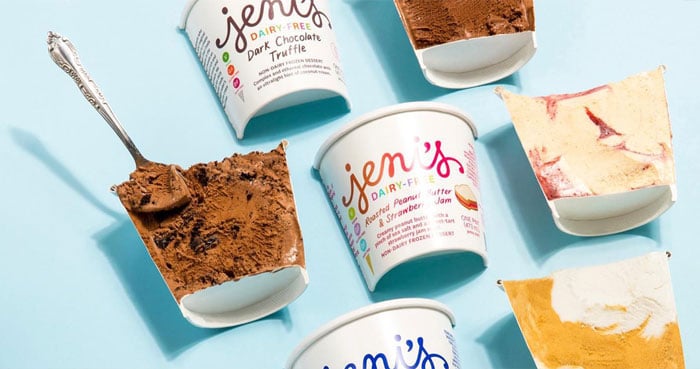 Heading into summer, supermarkets nationwide have added new ice cream options to their shelves, including a new dairy-free line from Jeni's and fresh flavors from Gelato Fiasco.
Jeni's Expands to Giant Eagle and Harris Teeter
Jeni's Splendid Ice Creams is now available at Giant Eagle stores in the East Coast and Midwest and Harris Teeter locations in the Southeast and mid-Atlantic. The artisanal ice cream brand has also expanded its offerings at Publix.
These two new grocery partnerships have grown the Columbus, Ohio-based brand's distribution by 650 locations, expanding its reach to 13 states.
"We are so excited to be on the shelf at Giant Eagle and Harris Teeter," said founder Jeni Britton Bauer in a release. "I've heard from people who first visited our North Market shop in Columbus in the early 2000s and have been ordering our ice cream online ever since because there was no place to find it locally."
After launching at 1,250 Publix's stores nationwide in March 2018, Jeni's is now adding new flavors to its portfolio: Blackout Chocolate Cake and Fluffernutter Pie.
Jeni's announced the launch of a dairy free coconut cream-based line last month which is available in four flavors: Dark Chocolate Truffle, Cold Brew with Coconut Cream, Texas Sheet Cake and Roasted Peanut Butter & Strawberry Jam. At the time of the launch, Jeni's explained that the company had been working on dairy-free options for years, but only was able to move forward with a product when they "realized their premise was all wrong because it's impossible to ask ingredients that are not milk or cream to act like milk or cream."
The dairy free line is also available at Jen's 34 scoop shops nationwide.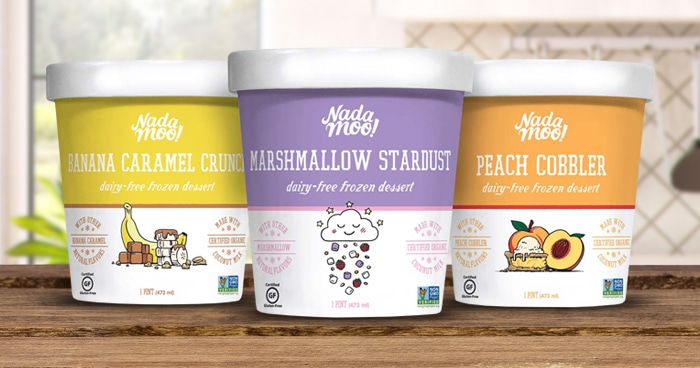 NadaMoo! Adds Target, Wal-Mart, Jewel-Osco
Coconut milk ice cream brand NadaMoo! announced this week it has expanded distribution to select Target and Wal-Mart locations along with 188 Midwest Jewel-Osco stores.
The Austin-based brand is now sold is 400 Target stores across 40 states, a move which NadaMoo! CEO Daniel Nicholson said in a release is a "great opportunity to gain new customers across the country."
The brand has also hit shelves at select Wal-Mart stores in Colorado, Louisiana, Montana, Texas and Wyoming.
"Since day one, it has been our goal to share NadaMoo! with as many humans as possible," said Nicholson of the Wal-Mart partnership. "This new retail partnership with the largest retailer in the world is a great opportunity for our organization to introduce our product to so many new customers."
Jewel-Osco stores in Illinois, Indiana and Iowa will now carry three NadaMoo! flavors, Lotta Mint Chip, Vanilla…Ahhh, and Cookies and Crème. The additions are part of the company's 2019 focus on extending its presence in the Midwest.
Gelato Fiasco Adds Over 1,000 New Stores
Maine-based gelato company Gelato Fiasco has added more than 1,000 stores across the country to its total distribution footprint.
The company's gelato and sorbetto offerings are now available in Big Y in Massachusetts and Connecticut; Albertsons stores in the Southwest, the Intermountain region, Seattle and Portland, Ore.;, ACME in Philadelphia, New York, New Jersey and Delaware; and Winn Dixie.
Gelato Fiasco's newest flavors have also been added to Hannaford's locations in Maine and Harris Teeter stores in the Carolinas. The new flavors — Nutterfluffer, Mint Brookie Brownie Cookie and Deep Maine Woods Brownie — were announced in February and are also available at Safeway, Albertsons and New England natural food stores.
"I'm constantly consoling people whose grocery stores don't yet carry our product," said Joshua Davis, Gelato Fiasco's co-founder and CEO, in a release. "These distribution gains will go a long way to providing some of our most unique flavors to these customers who yearn for our delightful treats."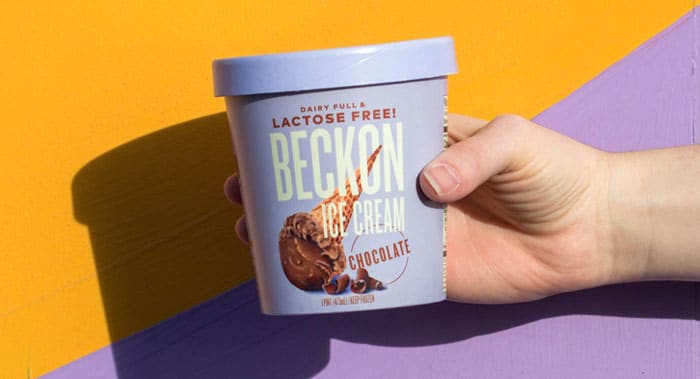 Beckon Expands to Whole Foods Nationwide
Lactose-free ice cream brand Beckon is now available at Whole Foods nationwide, along with several other supermarkets. The Massachusett-based brand, which markets itself as "dairy-full and lactose-free," was formerly known as Minus the Moo before rebranding last spring.
Beckon rolled out its pints, available in five flavors, to 479 Whole Foods nationwide on May 1. Previously, the line was only sold in its local North Atlantic Whole Foods Markets.
The brand is also currently available in Market Basket, Roche Bros, Big Y, Giant and independent supermarkets in New York City and will soon launch in select locations of Wakefern, Heinen's, Busch's, Nugget, Lazy Acres, Market of Choice, Plum Market and Haggen. In total, the brand will now be sold in 925 stores, over triple its 2018 door count of 250 stores.
Re:Think Launches in Northern California
Napa, California-based ice cream company Re:Think announced last month its launch in supermarkets across Northern California.
The low-sugar, high-protein ice cream is now available in Whole Foods, Raley's, Lucky, Nob Hill Foods and Nugget Market in Northern California; greater Sacramento Area Bel Air Markets; and Draeger's, Mollie Stone's Markets and independent stores in the Bay Area.
Re:Think, which launched last year, is available in eight flavors, and announced in a press release that six more flavors are currently in development. Founder and managing partner George Haymaker created the brand while recovering from drug and alcohol addiction after he found himself replacing those vices with unhealthy food choices.
"When I went into recovery, my mind and body screamed out for the sugar that was suddenly gone from the absence of alcohol," said Haymaker. "I started to overdo it on unhealthy treats, especially ice cream."