Jeni's Splendid Ice Creams Launches Dairy-Free Product Line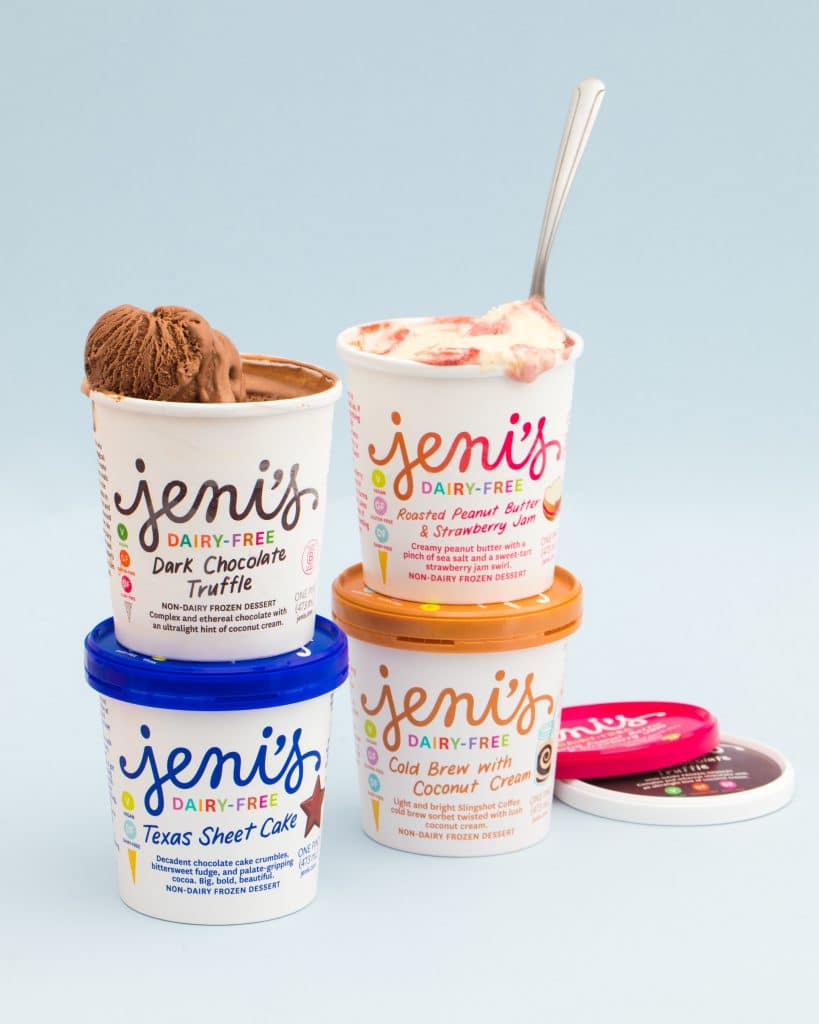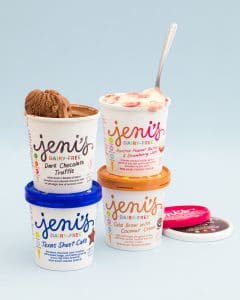 COLUMBUS, Ohio— Jeni's Splendid Ice Creams is shaking up the dairy-free game forever with the launch of its first dairy-free product line nationwide today. As with all of Jeni's imaginative flavors, its take on a dairy-free frozen dessert is so satisfyingly delicious, even steadfast dairy lovers will love them. The collection is available now in Jeni's Scoop Shops nationwide and online.
What Makes Jeni's Dairy-Free Different?
A few years ago, Jeni's set out to make the best dairy-free ice cream in the world. They tried all the trendy ingredients (pea proteins, algae, nut milks). Not one lived up to their standards of flavor and quality. Taking a step back, Jeni's realized their premise was all wrong because it's impossible to ask ingredients that are not milk or cream to act like milk or cream.
They returned to the roots of what it is they do every single day: source the best ingredients they can find and use their expertise to make them shine. Which is how Jeni's came to use pure coconut cream—the most delicate and delicious part of the coconut and the reason Jeni's new flavors are so impossibly creamy. And it means these flavors are as enjoyable licked from a cone as they are from a spoon.
Said Jeni Britton Bauer: "This is dairy-free ice cream that's not jealous of dairy, made by people who love dairy. Bringing people together is the core of what Jeni's is all about — building and inspiring our community. And we're excited to be able to offer the pleasure of ice cream to our dairy-free, vegan and dairy-loving friends."
So Spectacular They Never Needed Dairy
Jeni's launches its collection with four cravable flavors, Dark Chocolate Truffle, Cold Brew with Coconut Cream, Texas Sheet Cake and Roasted Peanut Butter & Strawberry Jam. From the complex and ethereal flavors of Dark Chocolate Truffle, to the light and bright Slingshot Coffee-infused Cold Brew with Coconut Cream, the savory Roasted Peanut Butter & Strawberry Jam with a hint of sea salt and the decadent Texas Sheet Cake with chocolate cake crumbles, bittersweet fudge and palate-gripping cocoa, Jeni's dairy-free collection offers something for everyone.
About Jeni Britton Bauer and Jeni's Splendid Ice Creams
Jeni Britton Bauer is an American ice cream maker and entrepreneur. She introduced a modern, ingredient-driven style of ice cream making that has been widely emulated across the world, but never duplicated. Jeni opened her first ice cream shop, Scream, in 1996, then founded Jeni's Splendid Ice Creams in 2002. Her first cookbook, Jeni's Splendid Ice Creams at Home, won a coveted James Beard Award in 2012 and became the de facto bible for anybody making their own ice cream or thinking about opening a new-style ice cream shop. Today, Jeni's Splendid Ice Creams is a Certified B Corporation with 34 (and counting) scoop shops, an online shop at jenis.com, and distribution in top grocery stores nationwide. As founder and chief creative officer, Jeni is in charge of all creative output—from the ice cream itself to the supporting details that enhance the experience of eating it. Jeni is a 2017 Henry Crown Fellow and has been recognized by Fast Company as one of the most creative people in business today.