Gelato Fiasco Announces Three New Pint Flavors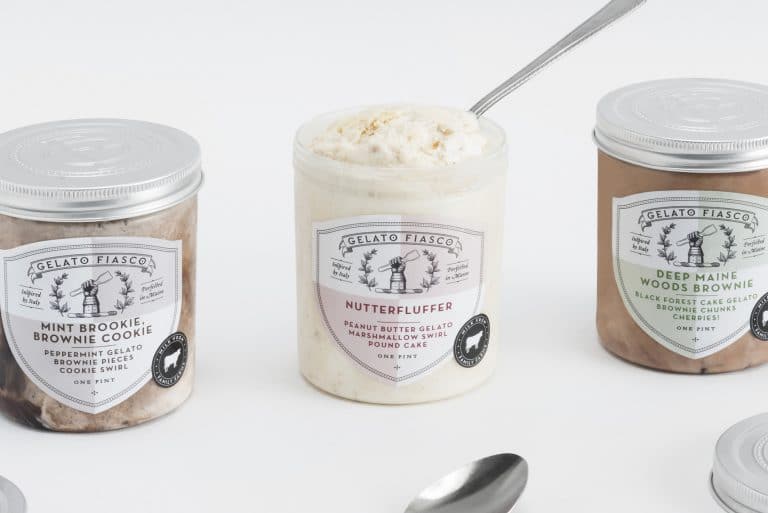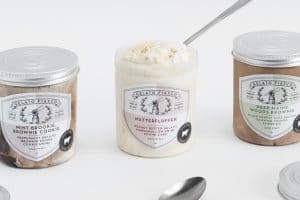 BRUNSWICK, Maine — Fans of smooth gelato packed with chunks and swirls, read on: Gelato Fiasco is adding three flavors to its grocery store pint collection for 2019.
The newest flavors continue Gelato Fiasco's position as the market leader in offering interesting gelato flavors made with creative inclusions and variegates. Gelato Fiasco is the number one independently owned brand of gelato pints and the fastest-growing gelato brand in the United States. American grocery store consumers purchased more pints of Gelato Fiasco in 2018 than any other full-indulgence ice cream or gelato brand founded this century and not owned by a big corporation.
The flavors will start rolling out at grocery stores this month, and the release coincides with the annual ExpoWest natural foods convention in Anaheim, California. Gelato Fiasco will present the flavors at its "Perfected in Maine" log cabin booth at ExpoWest.
The new flavors are:
Deep Maine Woods Brownie Gelato: Discover a cherry-swirled black forest cake gelato with whipped cream, brownies and chocolate shavings.
Mint Brookie, Brownie Cookie Gelato: Brownies and cookies combine when dense, perfectly nuanced mint gelato is twisted with chunks of brownie cookies and a fudgy cookie swirl.
Nutterfluffer Gelato: Hear that? With peanut butter, marshmallow swirl, and pound cake, that is the sound of a peanut butter and marshmallow sandwich being squeezed into this pint!
"We used to debate whether we needed a balance of flavors – some creative, some traditional," said co-founder and CEO Josh Davis. "No longer. This year's release proves that we decided to triple-down on interesting, delicious flavors that consumers can't get anywhere else."
The new flavors were designed by Davis with assistance from Gelato Fiasco's in-house innovation team, and recipes were tested and iterated in the company's Brunswick and Portland, Maine, scoop shops.
Initial store placements for the new flavors include Hannaford stores in Maine; many natural foods stores in New England; all Harris-Teeter locations; and a variety of Safeway and Albertson's regional divisions throughout the United States. The brand is also available at Publix; Giant; Stop & Shop; H.E.B.; Sprouts; and many other major grocers.
Gelato Fiasco's flavors have been well-received by both consumers and industry professionals since launching nationally in 2015. In 2018, the company received the Specialty Food Association's silver sofi award for its Big Ole Peanut Butter Pint Gelato. This followed a silver award in 2017 for Mascarpone Pistachio Caramel Gelato and a gold win in 2016 for Ripe Mango Sorbetto.
Other top fan favorites include Sunken Treasure Gelato and Torched Marshmallow S'More Gelato. Gelato Fiasco will be located at booth N1826 for the duration of ExpoWest. ExpoWest runs from March 6 to 9 at the Anaheim Convention Center in Anaheim, California. Attendees are welcome to sample the new flavors, meet Davis, and view copies of Gelato Fiasco's new cookbook.
About Gelato Fiasco
Gelato Fiasco is the fastest-growing brand of gelato in U.S. grocery stores. Pints are sold at more than 5,000 grocery stores across the United States. The company also operates year-round scoop shops in Brunswick and Portland, Maine. It can be found @gelatofiasco on Instagram, Facebook and Twitter, and at www.gelatofiasco.com. It was founded in 2007 by Joshua Davis and Bruno Tropeano.