The Checkout: Minus the Moo Makeover, Batch Takes On New Owners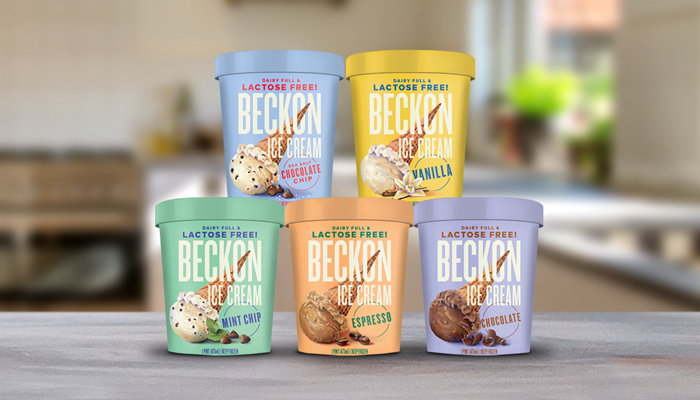 Welcome to The Checkout: an express lane for weekly news you need to know, always 10 items or less.
This week the natural products industry saw new owners, new looks and new products from some of the hottest brands on shelves. Here's the week's top stories:
Minus The Moo Gets a Makeover
Consumers will have a new ice cream band beckoning for their attention as lactose free ice cream Minus the Moo is rebranding as Beckon. The Massachusetts-based company uses cows milk to produce their ice cream, but removes all lactose. By rebranding they hope to better position the product as a premium ice cream and convey to consumers that they are not using almond, cashew or other non-dairy substitutes.
"We chose the name Beckon to illustrate that invitation or call to join in. Our ice cream is not an alternative; it's the real deal," Gwen Burlingame, co-founder of Beckon. We're extending deliciously creamy, dairy-full ice cream to an entire group of individuals who have previously had to compromise."
Unlike other non-dairy ice creams which aim to cater to consumers seeking plant-based products, Beckon is targeting consumers who avoid lactose.
Beckon is currently produces five flavors – Sea Salt Chocolate Chip, Vanilla, Mint Chip, Espresso and Chocolate – and is sold at Northeast retailers including Whole Foods Market, Roche Bros and Big Y. The line will expand distribution to New York City this summer.
Design agency Interact led the rebranding effort.
Batch Gets New Owners
In other Massachusetts ice cream news, all-natural premium ice cream brand Batch was sold from its original owners, Susie Parish and Veronica Janssens, to husband and wife duo Dave and Deb LeRiche. Over the last nine years Parish and Jenssens have grown the line from a small, farmers-market brand to having a retail presence throughout the Northeast region.
The brand is known for its innovative flavors which include Caramelized Banana and Walnuts, Gingers, Mexican Chili and Roasted Almonds.
Batch is produced in Southeastern Massachusetts. Although the LeRich family has plans to expand distribution nationwide, they said in a statement that they will keep the current manufacturers while seeking additional production capacity.
Dave LeRich was most recently the VP of Sales at Truco Enterprises, a producer of tortilla chips, salsa and queso.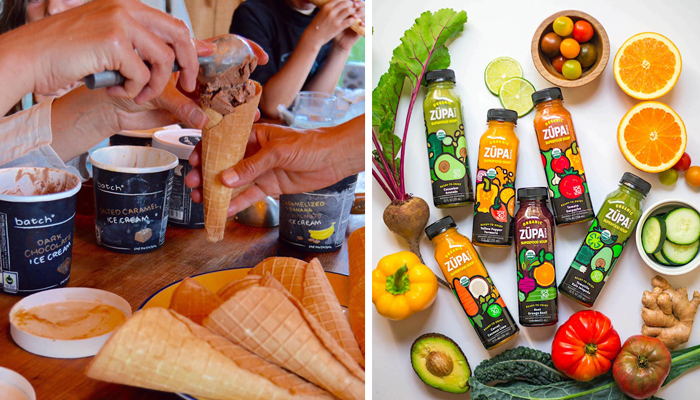 Zupa Noma Releases Whole30 Collaboration
Chilled soup producer Zupa Noma is expanding its portfolio with a limited edition kale avocado soup. The release is being dubbed the "collagen collaboration" and is in partnership with diet brand Whole30. Both brands share top billing on the soup's bottle.
Zupa Noma president Jen Berlinger told NOSH that the line was inspired by social media posts from users showing them adding collagen peptides to their Zupa Noma soups. The Collagen Collab contains 10 grams of protein from grass fed collagen peptides which are pre-blended in.
"When the ZÜPA NOMA team asked me if I'd like to collaborate with them on a soup that pairs added protein from grass-fed collagen with a brand new, smooth, super-green soup blend, I believe my exact response was, "OMG YES PLEASE AMAZING," Whole30 founder Melissa Hartwig wrote in a statement.
Dean Foods Considers Bigger Stake in Flax Milk Producer
This week the Ralph Scozzafava, CEO of milk producer Dean Foods, told Bloomberg that the company is debating becoming a majority shareholder in alternative dairy brand Good Karma Foods.
Good Karma produces yogurt and milk from flaxseed and is sold nationwide. The brand recently expanded out of the dairy cooler with a launch of shelf stable milk.
Originally a private label manufacturer of dairy-alternative milks, Good Karma launched its own branded CPG line in 2014 and brought on longtime CPG veteran Doug Radi as CEO. In 2017 Dean Foods closed a minority investment in the company, which had previously raised capital from investment groups including 2x Consumer Products Growth Partners.
In his interview, Scozzafava noted that Dean Foods would be making a decision about the brand in the next few months. The milk producer previously owned soymilk brand Silk, which it spun off in 2013.
Is Frozen Hot or Cold?
It seems the frozen category has defied thermodynamics and is heating up … or possibly cooling down.
Last week National Public Radio (NPR) covered slumping sales in the frozen department. NPR found that consumers' quest for fresh food has left them feeling cold towards the category and cited experts which blamed unwelcoming temperatures and frosted glass doors for consumers lack of excitement over frozen products.
This week an article in Bloomberg noted that frozen sales were up for the first time in five years and called the set a "bright spot" in supermarket aisles.
Experts told Bloomberg that millennials, in particular, are drawn to frozen products as a means of saving time and effort as well as vegans and vegetarians who are willing to pay a premium price for these items.