Crunch and Go: Small Pickles and Packs Aim for Snacking Set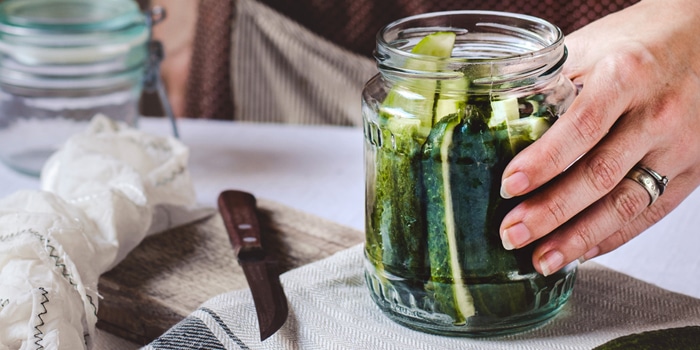 Pickle producers want people to peek past picnics, parties and paper plates. First, they'll need retailers to think of pickles as more than a center store staple — and consumers to see pickles as a refreshing on-the-go snack, not a bulky jar lurking in the back of the refrigerator. To freshen up the pickle set and appeal to busy consumers, companies are creating snack-size pickles in convenient packs, expanding usage occasions for the savory, low-calorie snack.
As convenient pouches trend in snacking and the pickle market grows, brands are spicing up their offerings. They might need to — the global pickle market is forecast for a fairly tepid compound annual growth rate (CAGR) of 3.41% by 2024, with the most consumption in North America, according to a report by market research firm Mordor Intelligence. Pickle options range from fresh, refrigerated Grillo's, which started as a push cart in 2009 and generated $11 million in sales this past year, a 49.6% year-over-year increase, to classic brands like Vlasic; owned by CPG company Conagra and started in 1959, Vlasic generated $170 million in MULO dollar sales this past year. But both well-known and emerging pickle brands think consumers want a briny bite outside of mealtime.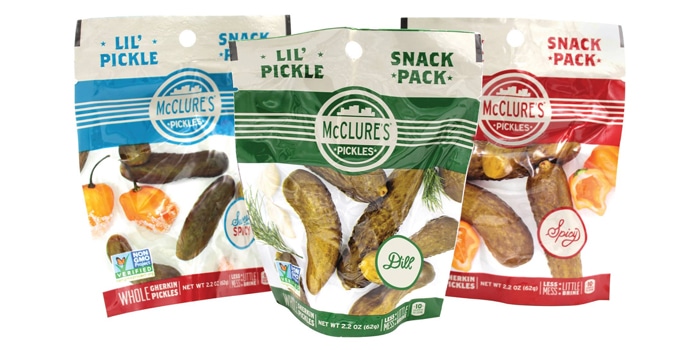 The push to innovate in the pickle category marks a change from the last 40 years, in which pickles were largely an "afterthought" — something to liven up a dull sandwich — and not marketed as a snack, pickle brand McClure's CEO and co-owner Bob McClure told NOSH. To bring the pickle into snacktime, in May Detroit-based McClure's launched Lil' Pickle Snack Packs, bite-sized, 2.2-oz. packs of its top flavors: dill, spicy, and sweet and spicy, with slightly muted flavors to appeal to both kids and adults. The packs are available in about 250 stores, Amazon and on the McClure's website, while the brand's other products are already in over 5,000 doors. The snacks have seen a "healthy velocity" so far, a company spokesperson told NOSH, and McClure's multi-outlet (MULO) dollar sales were over $5 million for the year ending October 6, a 26.6% year-over-year increase, according to data firm IRI.
But a move into snacking isn't so simple. Aside from trying to shift consumer perception of pickles, McClure noted the "relationship dance with retailers," who often hesitate to place pickles with specialty items or at checkout. Most often, he said, pickles are still sandwiched within the condiment aisle.
"We have to really work to convince them that we have a different product," McClure said. "It's going to take some heavier lifting to get people away from thinking of it as a condiment on the side of the plate; 'snackable' creates a different format and use case that hasn't been really explored."
Thinking Outside the Jar
While many pickle eaters are passionate about the topic, they may feel less zealous about pickle-flavored snacks. Realizing this, McClure's recently discontinued its pickle-flavored potato chips, which didn't really fit the brand's "core competency," McClure said. Pickle brand Vlasic, on the other hand, is betting on new innovative snacks to perk up its portfolio. Upcoming pickle creations were announced during parent company Conagra's investor event in April, in which Conagra co-COO Thomas McGough noted shelf-stable and refrigerated pickles are a $1.1 billion category that grew 6% in the past year. But the company is taking a look beyond the juice-filled jar: it will soon launch single-pack pickle slices and vacuum-fried pickle chips, brand manager Joe Boesen told NOSH. A launch date is not yet available.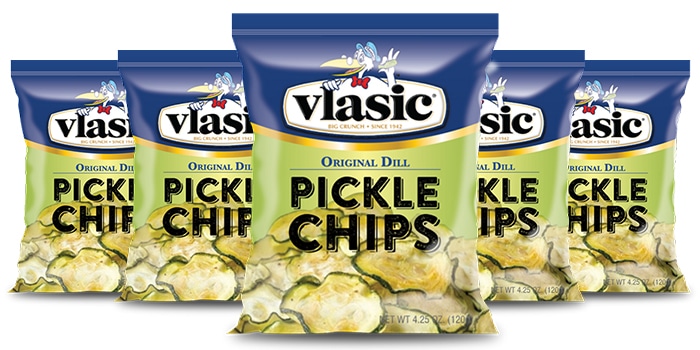 Boesen added that while pickles are a "flavorful twist to snacking," they are also becoming a staple for health and wellness-minded consumers. He noted that small whole pickles, including gherkins, pickle spears and chips, are the fastest growing segment of the pickle category, with their "handheld nature" making them a convenient snack; Vlasic's Snack'mms pickles alone generated over $23 million in dollar sales in the past year, a 14.8% year-over-year increase, according to IRI. But since real pickles can be messy, the brand is betting on to-go packs of slices and crunchy chips made from real pickles to deliver that bright, briny taste.
"Pickles themselves are a great snack, essentially no calories or carbs," said McGough during the event. "But eating pickles out of a conventional jar is inconvenient and messy."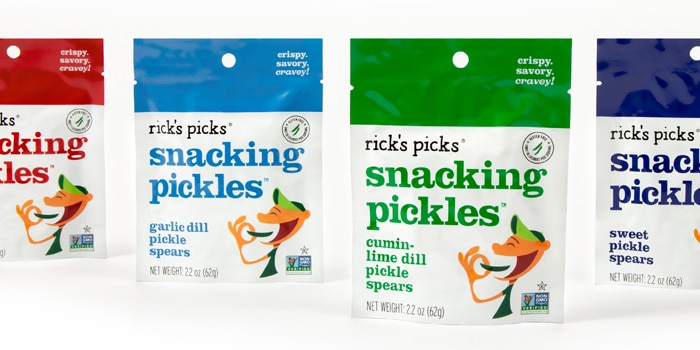 This fresh thinking around pickles for snacks makes sense, as fermented foods and vegetable-forward eating are prominent consumer trends. Rick's Picks' CEO Rick Field noted that while, historically, the pickle category has moved "at a snail's pace," his brand is always in launch mode to please both dedicated consumers and attract new ones. In March, the company debuted single-serve Snacking Pickles with an MSRP of $2.49 in five flavors: sweet, sour, garlic dill, cumin-lime dill and spicy sriracha. With a more accessible price point (Rick's Picks' jarred pickled cucumbers are $6.99), the product sees much faster turns than the original line, which is in 5,000 stores, Field told NOSH. The snacking pickles are currently in over 3,000 doors, including Whole Foods Market and Cost Plus World Market, with Field noting that the new line is helping the company grow beyond the natural channel as it continues to build its portfolio.
The Proof in the Pouch
For decades, fans have taken a juicy bite of a big pickle on-the-go from deli brand Van Holten's. The company, founded in 1898, created the original Pickle-In-A-Pouch in 1949, and its president, Steve Byrnes, said it produces some 38 million pickles per year and is sold in tens of thousands of stores, with most of its business in grocery and convenience, along with value, club, liquor stores and stadiums. And the future of pickles to-go looks bright: the company had over $6 million in MULO sales in the past year, a 23.1% year-over-year increase, according to IRI.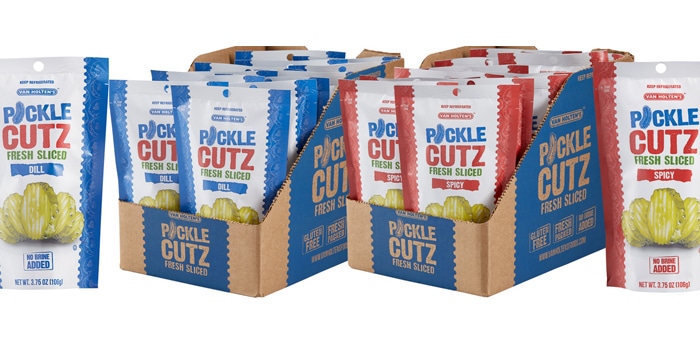 But rather than look to center store, Van Holten's has always eyed the deli, Byrnes said. With other brands producing whole pickles in pouches, Van Holten's is finding new ways to provide pickles on-the-go. Last October the brand launched Pickle Cutz, ½-inch thick pickle slices for on-the-go snacking. The Cutz, in dill and spicy flavors, are fresh-packed without brine for cleaner, more convenient snacking, Byrnes said. The product is Van Holten's first refrigerated offering, which Byrnes describes as "more cucumber-forward" and "crisper and crunchier" than traditional pickles.
This innovation is key for keeping consumers hungry — and finding new ones. Despite a lasting legacy, enthusiasm for the Pickle-In-A-Pouch varies regionally, performing best in Texas and Louisiana, Byrnes noted. Still, the pickle category as a whole has seen a "huge boom," and, with consumers increasingly interested in traditional food preservation methods, Van Holten's business has grown steadily over the last 15 years.
A newer addition to the pickle space is OH SNAP! — single-serve, refrigerated, brineless pickles in two flavors, along with four SKUs of single-serve pickled vegetables. The brand, in over 70,000 conventional and convenience stores, is owned by fermented food company Great Lakes Kraut Company (GLK Foods), which operates seven sauerkraut brands. GLK's first swerve toward on-the-go snacking, OH SNAP! launched in 2015 as consumer cravings for convenient, better-for-you pickles were underserved, OH SNAP! president Ryan Downs told NOSH. Since then, the brand has nearly doubled its year-over-year sales and will expand into a new 67,000 square-foot Appleton, Wisconsin-based production facility — tripling its capacity — in summer 2020. Additionally, OH SNAP! will launch globally-inspired pickles later this year.
"The retail expansion has been strong, and there is plenty of room for continued growth," Downs said.
Beyond Flavor
A magic recipe for snacking success isn't just a potent mix of spicy, sweet and sour. While demand for a more straightforward fermented pickle remains, Van Holten's Cutz offer a less intense flavor experience, focusing more on texture and convenience, Byrnes explained.
"We're a little more careful with new flavors and what we introduce, which is why we focused on not just new flavors, but new concepts," Byrnes said. "There comes a point where adding more flavors of an actual pickle is not a benefit."
Similarly, based on the success of its snacking format, Rick's Picks will continue innovating in that space. Looking beyond the traditional (and breakable) glass jar is important, Field said, adding that 'Eat to complete' drives the brand's marketing strategy. With those ideas in mind, Rick's Picks plans to develop a paleo pack with jerky brand Field Trip and expand its single-serve product line in 2020 to include items like pickled cauliflower, carrots, bell peppers, snap peas and green beans. That doesn't mean jars will disappear, but a refreshing pack format for healthy pickled veggies may be key to fighting future cravings.
"There's a heritage component that exists in pickle categories and a sense of whimsy we can leverage to get people to engage at trial," Field said. "I have a team that I'm working with pushing hard not only to innovate, but to look at the category differently."