Big Geyser Expands Hal's New York into Snacks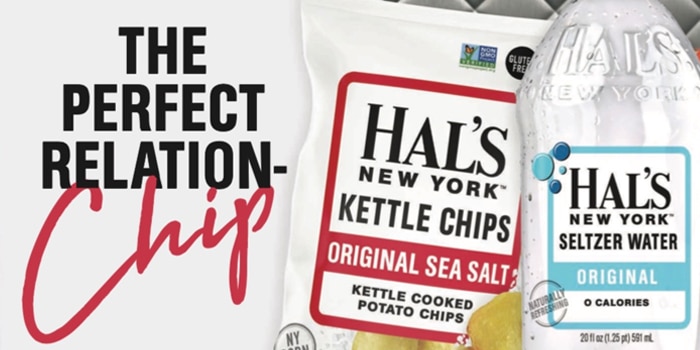 Hal's New York is moving beyond beverage. Last week the brand, which is backed by and distributed through New York DSD powerhouse Big Geyser, launched a line of bagged kettle chips and popcorn.
Hal's started off in 2014 as a seltzer brand for Big Geyser; it was started by Lewis Hershkowitz, the CEO of Big Geyser and son of founder Irving Hershkowitz, who was also called "Hal Irving" or just plain "H."
Speaking with NOSH today, Jerry Reda, Big Geyser COO and VP of Hal's, explained that the snack line shares a similar origin. The brand's owners had long considered expanding into snacks, but held off due to Big Geyser's non-exclusive distribution agreement with kettle chip producer Deep River in the New York metro area. However, when Deep River decided to switch distributors after selling to Wise Snacks' owner Arca Continental in late 2018, "opportunity came knocking," Reda said. Big Geyser will officially cease to distribute Deep River on April 15.
"We just felt that it was the right opportunity and the right time," Reda said. "So much of building a brand, whether it's snacks or beverages, is based on the distribution muscle and relationships that you have in the marketplace."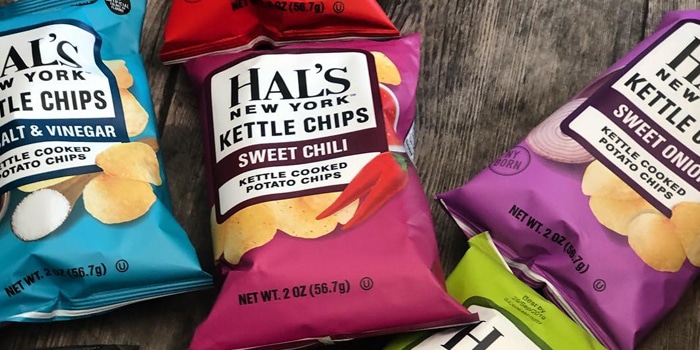 Muscle is one thing Big Geyser has to spare; Hal's seltzers and ginger ale are currently sold in over 18,000 outlets. After one week the snack line is already in over 3,000 stores, Reda said, with distribution expected to quadruple in the next 30 days.
Hal's portfolio of snacks will have both classic and non-traditional snack flavors, and most importantly, fill gaps in Big Geyser's own portfolio, according to Reda. Currently the distributor also distributes Beanfields tortilla chips and Unique Pretzels across New York City's five boroughs, as well as in Westchester, Putnam, Nassau and Suffolk counties. As a result, Reda added, Hal's has no plans to launch a tortilla chip or pretzel at this time.
"As long as we're growing the business and have a good supplier, we're going to continue to stay loyal to that supplier," Reda said. "We don't want to compete with our valued supply partners. Hal's was just at the right place at the right time to fill a void in our portfolio."