Better-for-You Ramen: Mike's Mighty Good Expands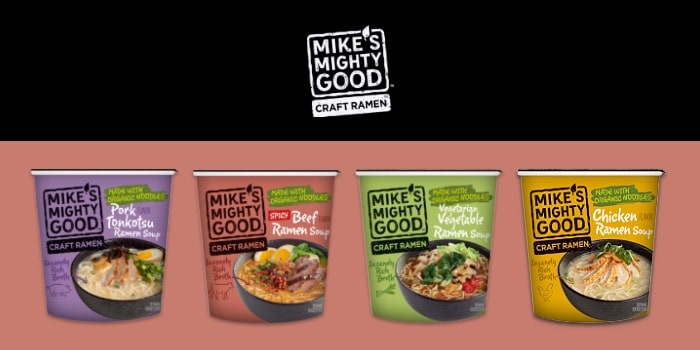 For Mike's Mighty Good, the goal has always been simple: consumers deserve instant soup options that are closer to restaurant quality. Inspired by the uptick in ramen restaurants, Mike's set out to bring a similar experience and taste profile to busy consumers. Since launching in 2017, shoppers seem to have spoken (or slurped): the brand is in over 9,000 stores, including a recent entry into 3,000 CVS locations.
Across all retail channels, retailers are seeking better, convenient, meal options for on-the-go consumers, Carolyn Vinnicombe Yachanin, head of sales and marketing for Bright People Foods, Mike's parent company, said. Thus Mike's has seen pickup across natural, conventional, convenience — and now drug — channels, she noted. Line priced at $2.39 each, the slight cost increase over conventional alternatives has also helped the brand to compete in a variety of retailers, including Wegmans, Sprouts and Whole Foods. In the latter, the company is the top-selling ramen brand.
"Individual buyers at key retailers almost immediately got what we were trying to do and worked with us from the get-go," Yachanin told NOSH. "CVS was looking for a different kind of instant ramen and found us."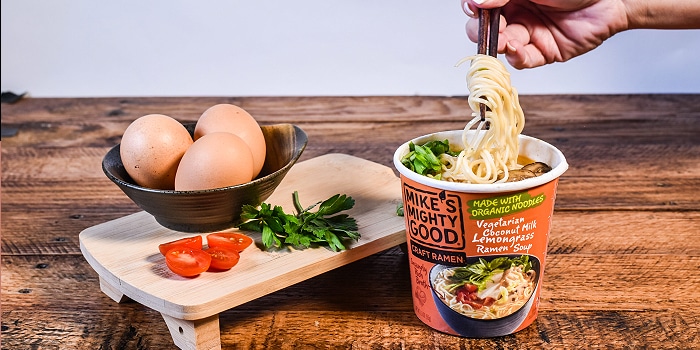 Since starting, Mike's Mighty Good has launched eight SKUs of clean-label soups in cups and pillow packs. Though taking flavor innovations slowly, the brand is turning to its fan base for feedback, having recently worked with its online community to co-create a new Vegetarian Coconut Milk Lemongrass soup. It launched last month as an online-only test and is almost sold out, Yachanin said. Based on the concept's response, Mike's plans to add the flavor to its portfolio of seven SKUS: Chicken Cups, Vegetarian Vegetable Cups, Spicy Beef Cups, Pork Tonkotsu Cups, Fried Garlic Chicken Pillow Packs, Savory Miso Pillow Packs and Vegetarian Kimchi Pillow Packs.
Yachanin told NOSH that the Woodland, California-based company started when her father, Mike Vinnicombe, spotted a hole in the market: consumers loved ramen, but no one offered a restaurant-quality experience at home. At the same time, instant soup options in stores tended to contain long ingredient lists and high sodium levels.
"There was a big difference between things you could get in the store and things you could get in restaurants," Yachanin explained. "It's all about experimenting with flavors, which brought a rich, decadent broth and a gourmet aspect in ramen that had been missing."
The Vinnicombes were already familiar with the instant meal set. Bright People Foods, which was founded 20 years ago, also owns natural meal cup brand Dr. McDougall's. That brand, which has 50 SKUs and distribution in 10,000 stores, caters more to the wellness shopper, offering vegan, no-oil, low sodium meals that adhere to the diet plan of physician Dr. John McDougall, M.D.
After spending a few years building a proprietary manufacturing facility with custom equipment to make organic steamed noodles, Bright People Foods launched Mike's in 2017.
"We're holding our own against ramen brands that have been around for 40 years," Yachanin said. "We're playing a different game, but are doing well at the supermarket. We've given people a tool to express their culinary side and bring the craft aspect to their lives, even when they're super busy."
And it's not just kitchenless, craft-obsessed college kids eating ramen. Instant ramen is a $15 billion category, with 4.4 billion units sold in the U.S. last year, and a 300 million-unit increase in the last three years, according to data provided by Mike's Mighty Good. While some bash instant ramen as a fluff food, Yachanin noted, giving consumers options with real ingredients brings it to life.
"We honor and respect what's going on in restaurants and are so excited and inspired by it," she said. "What's important to us is to elevate and change how people see instant ramen which is a ubiquitous American comfort food. It's pretty cool to see people getting it."