With Happy Healthy, Imperial Hopes to Reinvigorate Frozen Food & Build Portfolio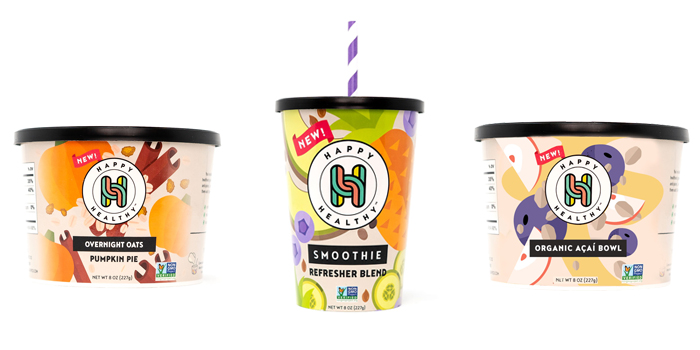 Over the last year, direct-to-consumer frozen food subscription services/providers such as Daily Harvest and Raised Real have reinvigorated consumers' excitement about frozen food options. However, the frozen aisle itself has remained somewhat untouched with legacy brands abound, save for new cauliflower-based innovations scattered throughout. Imperial Frozen Foods wants to change the dialogue — both about the category as a whole and about their offerings — through product innovation and acquisitions.
Last month the 50-plus year old company launched Happy Healthy, a new line of frozen smoothie cups, overnight oats and açaí bowls. The line has already been picked up by 1,000 Walmart locations, Albertsons, Harris Teeter, Fairway and Hy-Vee. Earlier this month the company also acquired the license to produce and sell the Sunkist Snacks brand — which includes Sunkist freeze dried fruit, Sunkist trail mix and Sunkist Bliss Blends — from Snack It Forward, the makers of Peatos.
According to VP of sales Alex McIntosh, who spearheaded the Happy Healthy project, it's all part of Imperial's plan to reinvent itself from a private label and frozen fruit supplier to a "platform of better-for-you food products." A movement set in place when Kenex Holdings acquired the company in 2014 and, in the subsequent years, brought on new executives including McIntosh himself and CEO Kevin Migdal.
"Imperial is a platform for growth, both through internal development and acquisitions," Migdal told NOSH. "That growth may be in frozen or shelf stable products in multiple channels of distribution; we will have many horses in many races."
While the focus is broad, Happy Healthy represents one of the company's most significant investments. The line also came about when Imperial executives after examined other potential uses for its existing frozen fruit and vegetable equipment, McIntosh said. In January 2018, without a product actually created, he presented the line to Walmart and received a commitment for a national rollout.
The end product result is five smoothies that consumers add liquid and blend, three varieties of overnight oats and one açaí bowl. The smoothies contain both cubes of frozen purees mixed with spices as well as individually quick frozen (IQF) fruit and vegetables. McIntosh told NOSH that the larger product portfolio was created in response to retailer feedback.
"We're already shipping these retailers frozen fruit, so we already have the supply chain set up. So that gives us a head start to someone who wants to break into the category," McIntosh said. "Retailers are looking for things that are convenient and grab and go, but they're also looking for that added value… [and] for products that can give the frozen fruit category that next jump."
That jump, he added, is needed in order to bolster decreasing sales of frozen fruit and vegetables sales, McIntosh said. At the same time, he noted, smoothie kits have grown 63 percent over the last twelve months.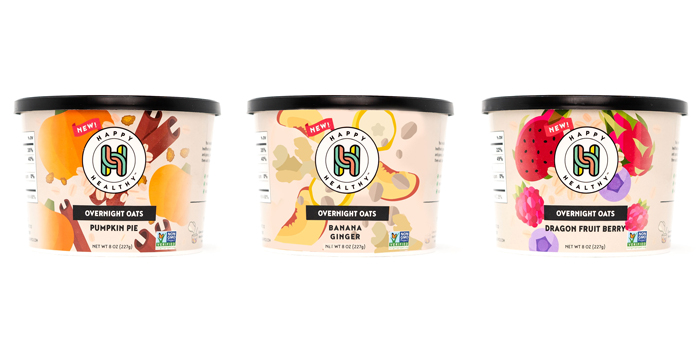 While still reaching natural channel consumers, Happy Healthy believes it can also target a wider audience of mainstream consumers. It also will come at a lower price point; Happy Healthy smoothies and overnight oats have an MSRP of $4.49, compared to from $6.99 to $7.99 a cup for Daily Harvest's smoothies and oats, which contain mostly organic ingredients and added functional benefits.
"If you look at the way we've positioned it and the types of ingredients that are in it, it is all clean label, it is non-GMO," McIntosh said. "The mainstream retailers and grocery stores are trying to offer as many natural and better-for-you products as they can because this is a lifestyle shift we're seeing in the country as a whole. So if you don't have that offering, you'll lose out on that consumer."
One page Imperial is taking from from emerging brands is also offering its products direct-to-consumer. Happy Healthy will ship all orders products for free directly to shoppers starting in January, but with a price tag $2 more per cup. By doing so, McIntosh said, they are able to ride the wave of direct-to-consumer marketing while still make sure consumers are also aware the products are in retail.
"Retailers have seen the success of the direct-to-consumer model, and they are threatened by it as a whole," McIntosh said. "We're going to see if we can acquire a customer through direct-to-consumer and then…we're going to tell you where you can go buy it in store. So this is a unique and different angle where retailers can be excited that.. they can compete."