With $90M Investment, Bowery Seeks to Revolutionize Fresh Food Supply Chain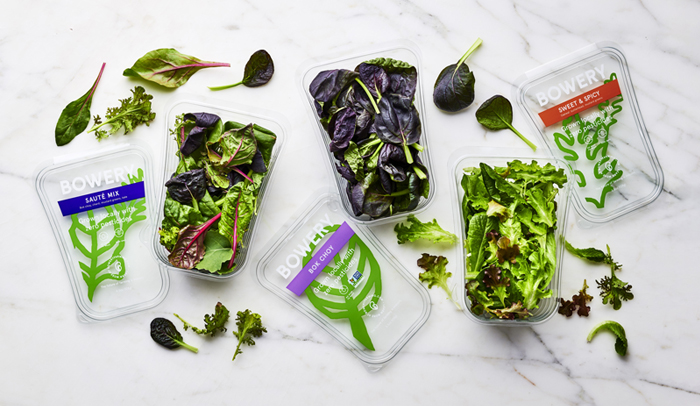 How do you stop a potential food crisis? Bowery believes by starting at the beginning and disrupting the how food is grown — and investors agree. The company announced today the close of a $90 million round of funding led by GV (formerly Google Ventures), and with participation from Temasek, Uber CEO Dara Khosrowshahi, Almanac Ventures, First Round Capital, GGV Capital, and General Catalyst.
Bowery currently sells eight SKUs of packaged leafy greens and herbs, all of which are grown in the company's two state-of-the-art indoor farms and distributed in the Tri-State area to retailers including Whole Foods and New York City restaurants such as Craft, Sweetgreen and Dig Inn.
The company has raised $117.5 million in total, with its last raise of $20 million closing in June 2017. This round of capital, Bowery CEO and founder Irving Fain said, will go towards opening new farm facilities, expanding both product offerings and distribution, and hiring new team members. Bowery currently has 65 employees.
Fain told NOSH that he was inspired to start Bowery after observing systemic flaws in the food system.
"Agriculture is at the epicenter of so many of the global issues that we face today," Fain said. "You've got this system of food being stretched, resources dwindling, a climate that's changing and a population that's growing and urbanizing. So we became obsessed with this question of how do you provide fresh food to urban environments and how do you do that in a more efficient and sustainable way?"
Bowery's farms utilize Bowery OS, a proprietary computer system that allows the company to tweak nutrients, light and growing conditions to grow its greens more efficiently and more sustainably.
Fain told NOSH that 750 million pounds of pesticide are used in the U.S. every year (globally that number jumps to five billion pounds per year) but by growing indoors, Bowery can produce crops without using herbicides, fungicides, insecticides or other agrichemicals. Per foot, the farms are also 100 percent more productive traditional farmland, Fain noted, and use 95 percent less water.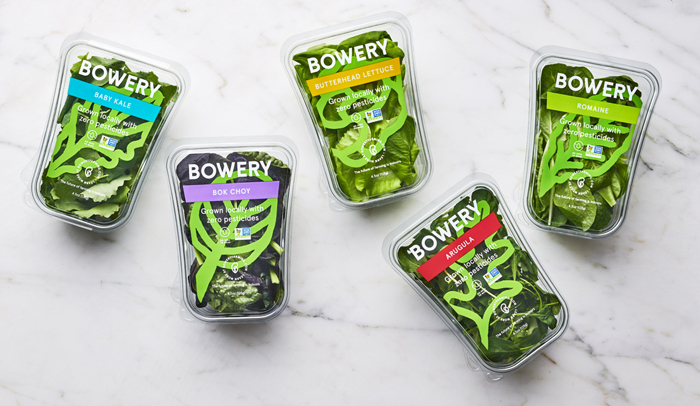 Bowery's local growing model also benefits consumers and retailers. The company is able to get its greens into retailers one to two days after harvesting, which means a longer shelf time (and less shrink) for retailers and less food waste for the end consumer.
"What we're doing at Bowery is not only innovating on the way farming is done, but we're also innovating around the entirety of the fresh food supply chain," Fain said. "By virtue of being local, we're delivering a product that is much fresher."
Although the model reduces waste, it does require Bowery to undertake costly operational upgrades every time it wants to expand distribution. Fain said in 2019 the company plans to open new farms and subsequent distribution outside of the Tri-State area but declined to list specific locations.
Fain told NOSH that Bowery already democratizes access to fresh produce for urban consumers who don't live near farms. However through scale, he hopes to be able to widen this access to Bowery products by dropping prices. Currently Bowery greens are priced in line with other premium organic greens, but there's potential for those prices to drop even further, he added.
Even at Bowery's current price point, Fain said consumer and retailer interest is high. While many are drawn to Bowery's lack of pesticides, Fain said consumers are increasingly interested in the "lineage" of their food, seeking information about where it was grown, who grew it and how it was produced.
"What we can deliver is local, pesticide-free produce year-round. But the other thing that we can do, which is becoming increasingly more important, is we can deliver a level of transparency but also food safety that is isn't possible from the traditional supply chain," Fain said. "The breadth of opportunity is immense"