Weller Raises $1.25M to Launch 'Centering' Snack Line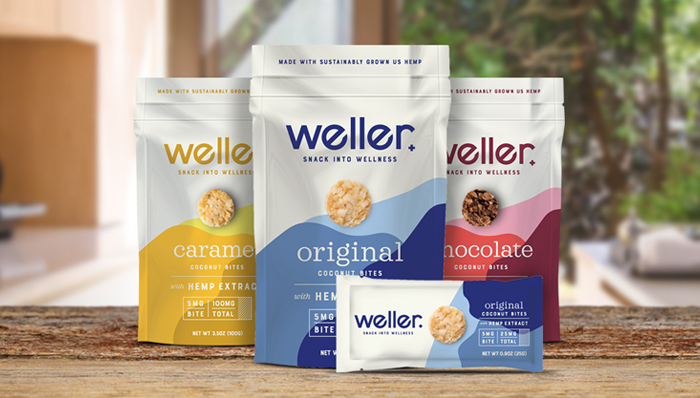 Today new snack brand Weller announced the launch of a line of hemp-extract enriched coconut bites as well as the close of a $1.25 million round of funding.
Weller is led by John Simmons, the founder and former CEO of beverage brand Third Street Chai, and Matt Oscamou, the founder and former CEO of Frontier Snacks. The two met when Oscamou relocated his family back to Boulder, Colo., in 2017 and was looking for his next CPG endeavour.
The launch product is a line of hemp extract enhanced coconut bites. Available in original, chocolate and caramel, the bites will be sold in single serve packs of five bites, with an MSRP $5.99, and multiserve packs, with an MSRP of $19.99. Each bite will have five milligrams of hemp extract, which some consumers have found to assist with anxiety, stress reduction and inflammation reduction.
While much has been made of the increasing number of brands utilizing CBD extract or hemp spectrum extract, the Weller team plans to differentiate itself by focusing on taste, transparency and consistency rather then just emphasizing their ingredient deck.
"We wanted to give people the opportunity to really harness the benefits of the hemp plant in a way that they can weave into their life and snack into wellness," Oscamou told NOSH.
Weller will originally launch with the coconut bites, but hopes to soon expand into other categories. The "binding fabric" of the brand will be the use of hemp extract in every product.For many consumers, Simmons said, snacking is an impulsive action that increases in times in stress. Weller hopes to offer consumers a different path for snacking.
"We want to take a little more proactive approach and position it as a snack that turns snacking on its head. We believe our snacks are stressfighters and the superhero of the snack aisle," Simmons said. "We feel like snacking can be mindless and associated with guilt and that, in general, Weller is a little more centering and calming. We want you to be a better you for having had this snack."
The brand's name is a tie into this concept of wellness, Simmons told NOSH. Both the idea of feeling "more well" or "weller" after consumption in addition to empowering the snacks to be "an agent of change — weller — as in one who makes well."
The equity round of funding comes via Harrison Metal, an early stage venture capital firm founded by Michael Dearing, the former SVP and General Merchandise Manager for eBay.com.
"We realized there was an opportunity to get some financial backing from someone we really trust and who can give us great guidance along the way," Oscamou said. "It's a fortunate opportunity to accelerate a beautiful brand."
Simmons and Oscamou said they were drawn to Harrison Metal because of the group's experience with direct-to-consumer and online plays. Typically the firm has not invested in the CPG space.
Like many specialized product plays, Weller's retail plan is to focus on ecommerce at first in order to have the ability to rapidly iterate and be a "flexible food manufacturer." The brand isn't ruling out retail though, and hopes to be sold in the supplement set at some point in the future.
Focusing online will also allow the brand to have a longer and deeper engagement with a consumer, Oscamou said, rather than just a few seconds on shelf. Simmons added that consumers who are looking to incorporate hemp extract are doing copious amounts of online research, so having an ecommerce shop is a necessity in order to educate that shopper as to your presence.
Weller must walk a fine line while doing that education. Recently the FDA sent warning letters to CBD-centric brands that were making unsubstantiated claims about their products.
Simmons said that in many ways, the burgeoning hemp-extract industry reminds him of the chai and kombucha categories when they were first gaining traction and the "path those products travelled into our culture."
"We want to elevate the conversation," Simmons said. "Our approach is with the power of CBD-infused into snacks to empower our consumers to relax your mind and recharge your soul."