Watermelon Road Named Pitch Slam Winner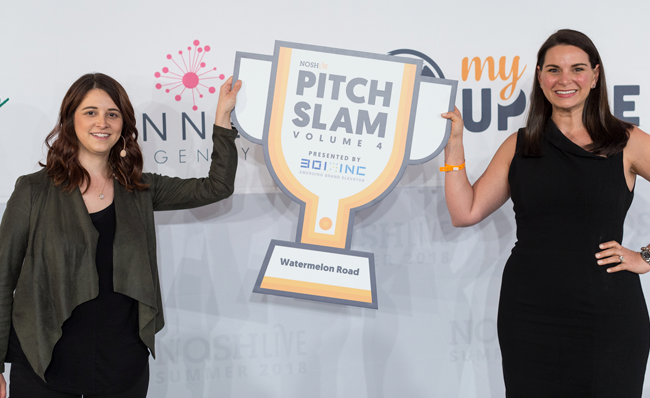 Watermelon Road is striding down victory road, taking the top prize today at Pitch Slam Volume 4 during NOSH Live Summer 2018 in New York.
Five snack makers fought for the title, including popped lily seed maker Bohana, natural ice cream line Grateful Sons, better-for-you brittle Sarah's Snacks, and protein ball brand Simply Fuel. But it was Watermelon Road's dried fruit product modeled after jerky that caught the judges' eyes, especially thanks to its Instagram-ready packaging.
Judges included Sonoma Brands founder John Sebastiani, Coolhaus co-founder and CEO Natasha Case, 301 Inc. business development principal Pete Speranza, and Presence Marketing VP of innovation and brand development Tracy Miedema.
"I think this brand has the most opportunity to stretch into multiple parts of the store," Sebastiani said. "I think there is a lot of white space in terms of a potential repositioning and finding a home with a unique twist."
Watermelon Road co-founder and CEO Jamie Melzer focused her pitch on the brand's paleo, vegan and gluten-free credentials, and highlighted its surge in online direct-to-consumer sales that were fueled in part by a recent Wall Street Journal article. The brand, which launched in October, is currently sold l in about 40 New York metro area stores, Melzer said, and has become more popular via word-of-mouth and social media.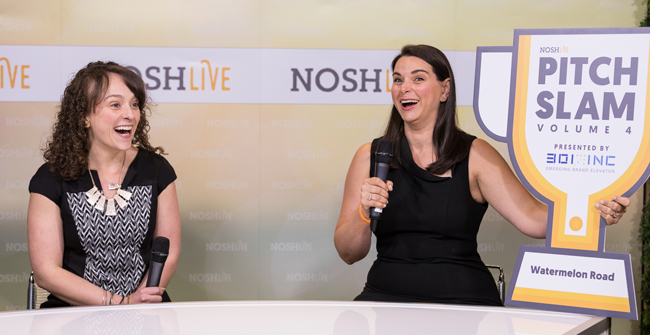 The brand's dried fruit "jerky" offers innovative flavors including Watermelon Lemonade, Apple Pie, Pineapple Mojito and Mango Margarita. The products retail for $6 per package. The judges did note that the brand should lower its price point in order to achieve more mainstream appeal, something Melzer said the company is working on. It was also suggested she err away from fruits like apple and focus more on melons to better fit the brand name.
"There is a tremendous amount of work to do," Melzer told NOSH. "But what I see as our brand and our growth message is getting through to people."
Before naming the winner, the judges said they appreciated seeing brands innovating in fast-growing categories, focusing on functionality, and offering deep nutrition. Speranza noted that he saw the brands following the larger market trends, such as an emphasis on plant-based products.
"You see the megatrends loud and clear," Speranza said.
Melzer was one of four female entrepreneurs competing in Pitch Slam Volume 4, with Bohana, Sarah's Snacks and Simply Fuel also all represented by women CEOs. Speaking to NOSH, Melzer said she did take pride in Watermelon Road being "women-driven" and noted that much of the brand's target demographic is female.
"We are our customer, which really helps," she said of the company's team.
Watermelon Road joins past NOSH Pitch Slam winners TRIBALÍ, Bronx Hot Sauce and YuMaMi's Go-Dip Snacks in taking the top prize. Melzer received not only the title of Pitch Slam champion andan interview on the livestream, but also an awareness package valued at $10,000.