The Checkout: Sales Spike for Halloween, Clean Meat Summit Held in DC
Welcome to The Checkout: an express lane for weekly news you need to know, always 10 items or less.
With Halloween less then a week away, candy manufacturers are ready for their busiest season — running from Halloween, through Christmas, Valentine's Day and Easter. According to new research, Halloween sales in particular should be fairly sweet for producers. And while "clean" products may be the future of the meat category, this week government officials and innovators gathered together to discuss how this emerging category should be regulated. Here's the news you need to know from this week.
Halloween Sales Expect to Match 2017
Halloween sales are expected to reach a total of $9 billion this year, so says the National Retail Federation (NRF). The numbers are expected to be on par with 2017 spending levels, with those who celebrate the holiday spending an average of $87.
Given the holiday, it's no surprise that nine out of ten consumers — 95 percent of those who celebrate — plan to purchase candy. That's more consumers than those who plan to purchase costumes (69 percent) or decorations (72 percent). Candy sales will account for $2.6 billion, second to costume sales at $3.2 billion.
Grocery stores will benefit from increased traffic this Halloween, the NRF found, with 24.1 percent of shoppers planning to purchase some items for the holiday from these retailers.
And food will even play a role in costuming. The number two most popular costume for pets: a hot dog.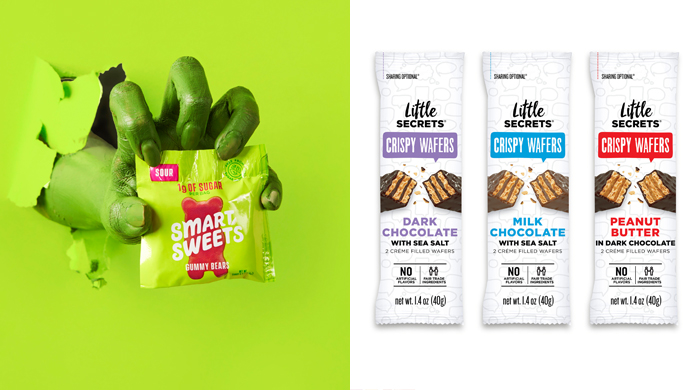 CB Insights Examines Disruption in the Candy Market
Investment research firm CB Insights took a deep dive into the candy market to explore how brands are seeking to disrupt traditional offerings, either through ingredients, attributes or a focus on premium products.
On one end of the spectrum, CB Insights noted, brands are trying to elevate their offerings from a taste and nutritional perspective by using natural and organic ingredients. Little Secrets has enjoyed success with its launch of a line of chocolate crispy wafers in Whole Foods stores nationwide, where the product is positioned as a more premium take on Nestle's Kit-Kat..
Brands also are emphasizing the stories behind their products, such as ethical sourcing or promoting the supply chain as cacao "bean-to-bar."
Alternatively, the analysts found, some candy brands offer consumers healthier "guilt-free" options of classic favorites. In March SmartSweets — which produces low sugar confections — raised $3 million and recently launched a line of Halloween treats.
In looking to the future, analysts from CB Insights noted several areas where the industry should expect to see further candy innovation. Changes aimed at sugar reduction, including the use of natural alternatives like stevia and monk fruit, could be on the horizon, especially as the formulations of these sweeteners have continued to improve. Additionally, the analysts noted that mushrooms may play a role in candy production. Startup MycoTechnology has found a way to block bitter tastes using mushroom molecules, which could ultimately allow candy brands to use less sugar while achieving the same taste.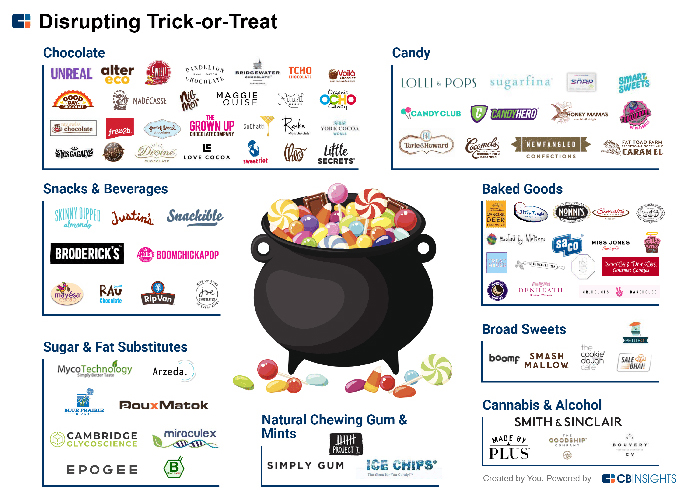 Clean Meat Meeting Held in DC
While it might seem a bit like an experiment from Dr. Frankenstein's lab, clean-meat — that is meat grown in laboratories instead of coming from animals — has been getting closer and closer to the possibility of an actual retail launch.
As a result, questions have emerged about what to call these products and what government agencies should regulate them. This week, officials from the U.S. Food and Drug Administration (FDA) and the U.S. Department of Agriculture (USDA) met in Washington to hold a joint meeting open to the public about the future of lab-grown. Both Agriculture Secretary Sonny Perdue and FDA Commissioner Scott Gottlieb were in attendance at the meeting.
According to reports, clean- eat startups in attendance opposed the use of the phrase "lab-grown meat" to define their products and argued that they should be allowed to use terms such as "meat" or "beef,"along with modifiers, in consumer facing communications. Unlike plant-based meat alternatives, clean meat is actually derived from the cells of the animals.
In response, a representative of the National Cattlemen's Beef Association opposed the use of the term "beef" and accused the FDA of turning a blind eye to other labeling "abuses" involving plant-based dairy products. The National Chicken Council (NCC) also opposed the term "clean meat" as it appears to disparage conventional animal products.
The public can continue to submit comments on the topic until November 26. Government agencies have not offered further details as to when the official regulations will be released.
Quaker Enters Oat Beverage Market
Soon consumers will be able to wash down all that Halloween candy with a new entrant to the plant-based milk space, as Quaker Oats brings the humble oat into refrigerated coolers. The PepsiCo owned brand will launch Oat Beverage, a refrigerated three-SKU line of oat milk, in January. The move follows the rising consumer interest in plant-based dairy products, particularly oat-based beverages.
NOSH sister publication BevNET noted that according to the Plant-Based Foods Association, the plant-based milk market, which has grown 9 percent year-over-year, now accounts for 13 percent of total U.S. milk sales.
On the food side, interest in plant-based alternatives has also been high, with just last week alt-dairy brand Kite Hill announcing the close of a $40 million round of funding.
Oat Beverage marks a return to the beverage space for Quaker, which previously marketed a ready-to-drink Quaker Breakfast Shake. The brand has recently experimented with other areas in which it can migrate, launching Quaker Morning-Go Kits, its first branded chilled product, earlier this year. In the dairy case, the brand previously lent its name to a line of yogurts produced in partnership with the Theo Muller Group under the Muller brand.