SmartSweets Raises $3M to Slay Sugar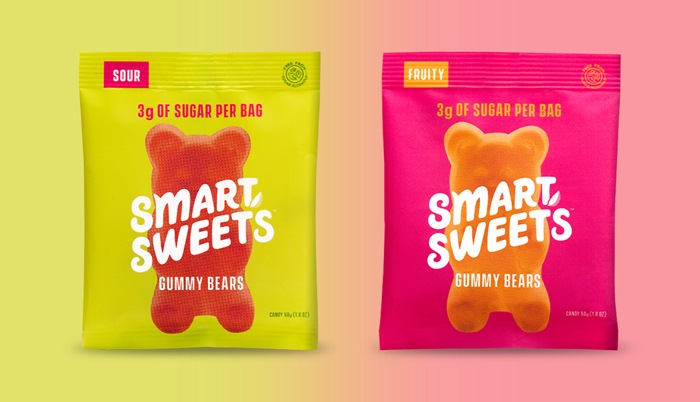 Watch out Willy Wonka, there's a new candy queen in town and she's got a burning question for the confectionery industry: "Why is sugar still in candy in 2018?"
A self proclaimed "candy fiend," Tara Bosch has put CPG giants like Hershey's and Ferrara on notice and captured the wallets — and stomachs — of a new generation of candy lovers with her low-sugar, all natural gummy candies. With the announcement today of a $3 million round of funding and a launch in Whole Foods Market nationwide, the Canadian brand is trying to provide a cross-border answer.
Bosch started the company in Vancouver In 2015 after she couldn't find a low-sugar gummy that was free of sugar alcohols and artificial sweeteners. Armed with $15,000 she had saved from odd jobs, such as working at McDonalds, Bosch dropped out of college, Googled 'how to make candy' and bought molds on Amazon.
"When I started SmartSweets I was really honest with myself that I understood that I really knew nothing about what I was doing, but I had the conviction in my heart that I knew I was going to figure it out," Bosch told NOSH. "[My motivation] was because growing up I developed a really unhealthy relationship with food and it affected my self esteem and my body image."
Bosch's convictions are being borne out at retail. After getting into 2,000 stores in Canada by what she calls 'force of will," — and being selected as a fellow in both Ryan Holmes' The Next Big Thing (TNBT) program as well as by the Thiel Foundation — she attracted the attention of Jason Krolikowski, the global candy buyer for Whole Foods. Although Bosch had requests from a number of American retailers, Krolikowski, she said, helped her understand how a partnership with Whole Foods would be the most "authentic" path for the brand, she told NOSH.
"It was very clear that they wanted their consumers to invest in their health…They really got the 'why' behind what we were doing." Bosch said. "For them, they want their consumer to have the ability to shop the candy aisle without worrying about [ingredients]."
In March, SmartSweets rolled out in Whole Foods nationwide and the brand completed a redesign to stand out the shelves of the natural product retailer. The launch comes at a time when the retailer is working to show that it can still be nimble and work with innovative, young brands as well as be competitive with its product mix.
That growth in distribution required capital, however. So in February the SmartSweets closed a $3 million round of funding from a group of angel investors including Scott Elaine Case, founder of Consumer Private Equity Investors, Terry Tierney, CEO of Daiya Foods and Eric Patel, former board chair of Daiya Foods. Bosch said while there was plenty of investment interest, she didn't want it to be a "distraction" from the company's "radical growth" and so turned to individuals who had already mentored her and could continue to add value to the company.
"[The] goal was to give us the ability to put the gas pedal down in accelerating our mission and really consumers' accessibility to [our products]…. I wanted the ability to grow quickly and this capital is allowing us to do that," Bosch said. "It means the world to know that from a validation standpoint, that other people see the opportunity to create real disruption."
That disruption will continue on in 2018. Bosch says the company plans to release several new candies over the course of the year. The end goal is to have a natural, low sugar analog for every conventional candy on the market. She also hopes to be in over 10,000 stores by year's end.
Research shows the market might be ready to support her. In a 2017 report, Rabobank analysts Andy Duff and Nicholas Fereday noted that "the consumer shift away from sugar has become a global trend… and cannot be dismissed as a passing fad or wished away." The report attributed the shift to a global obesity crisis and recommended sugar reduction as a part of corporate strategy. While many companies may seek to cut sugar, the two wrote, even a 5 to 10 percent reduction has a major effect in taste, texture and bulk, causing "significant challenges" for established brands.
And that's where Bosch believes she might have an edge over candy makers, both fictional and real.